Reports Q3 2021 results on Monday, Nov. 30, after the close
Revenue expectation: $693 million
EPS expectation: $0.76
Without doubt, Zoom Video Communications (NASDAQ:ZM) has been one of the biggest beneficiaries of the global COVID-19 pandemic. Millions of workers and students flocked to its video-conferencing service as governments worldwide mandated work-from-home restrictions. Today's earnings report will likely reflect this boom, validating investors' extremely bullish stance on the stock.
Analysts, on average, are expecting sales to soar more than 300% to $693 million in the company's fiscal 2021 third-quarter, while profit per share will have swelled to $0.76 a share from just $0.09 a year ago. That kind of growth could make the San Jose, California-based company one of the largest producers of growth among NASDAQ 100 companies in 2020.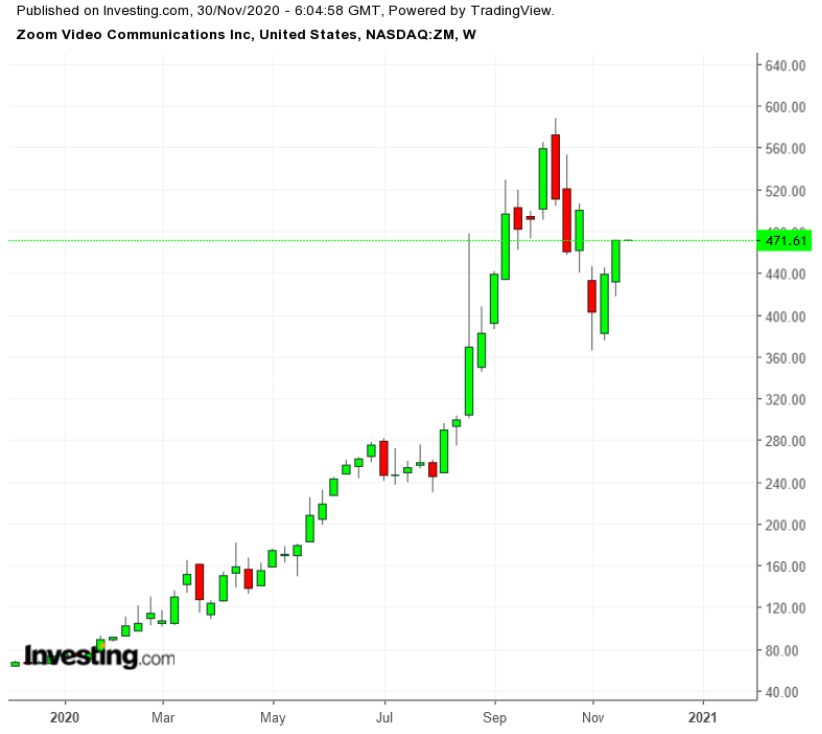 ZM Weekly TTM
Buoyed by this impressive performance, Zoom shares have emerged one of the best-performing NASDAQ stocks this year, gaining about 600%, taking Zoom's market cap to $134 billion. After this year's rally, Zoom is now worth more than 140-year-old International Business Machines (NYSE:) and the high-flying chipmaker Advanced Micro Devices (NASDAQ:AMD).
For investors who are just now thinking of adding Zoom to their portfolio, the biggest question is whether this pandemic-triggered boom will continue once the virus is contained. Zoom management remains very optimistic, saying this is just the beginning. "Zoom is built for this moment and beyond," Chief Executive Officer Eric Yuan said in a recent statement.
"We have the platform to support what the world needs—today, tomorrow, and well into the future."
More Upside
Analysts on the Street seem to agree. Many became more bullish on the stock after the company announced the latest upgrades to its offerings on its October, "Zoomtopia event."
BofA Securities analyst Nikolay Beliov reiterated his buy rating on Zoom and raised his price target to $570 from $475, saying the company is in an early stage of monetizing the largest Global 2,000 companies and is making "significant progress" on its Zoom Phone offering.
Even with its popularity among consumers, the company believes that most of its future growth will come from businesses, in a market where it can thrive by combining videoconferencing, phone calls and text messaging on one platform and sell it to companies looking to modernize their communications systems.
"We believe Zoom's increasing relevance and continued good execution translate into both near-term and long-term upside," Beliov wrote in a note to clients. "Furthermore, new product releases and enhanced capabilities signal Zoom's ambition to become a more holistic collaboration and workflow platform, vs a video and [unified communications as a service] solution," Beliov added.
D.A. Davidson's Rishi Jaluria is another analyst who raised Zoom's price target to $600 from $460 after attending the Zoomtopia event, saying the company has a huge opportunity to grow.
"Our main takeaway was although [Zoom] has had strong traction in COVID-19, it is still underpenetrated and faces a massive market opportunity with runway for sustained growth post-COVID-19," Jaluria wrote.
Zoom, which competes with videoconferencing services from Microsoft (NASDAQ:MSFT) and Alphabet's Google (NASDAQ:GOOGL), last month introduced new tools to help software developers better integrate Zoom into their products. Among the offerings introduced is Zapps, which are apps that users can access without leaving the Zoom platform, including tools from Slack Technologies (NYSE:WORK)
Bottom Line
Shares of Zoom have lost some momentum after this year's powerful rally. Still, for long-term investors, this weakness should be considered a buying opportunity. The company remains in strong growth mode, which is unlikely to slow given the increasing need for people who will likely opt to work and study remotely even after the pandemic fades.
Leave a comment