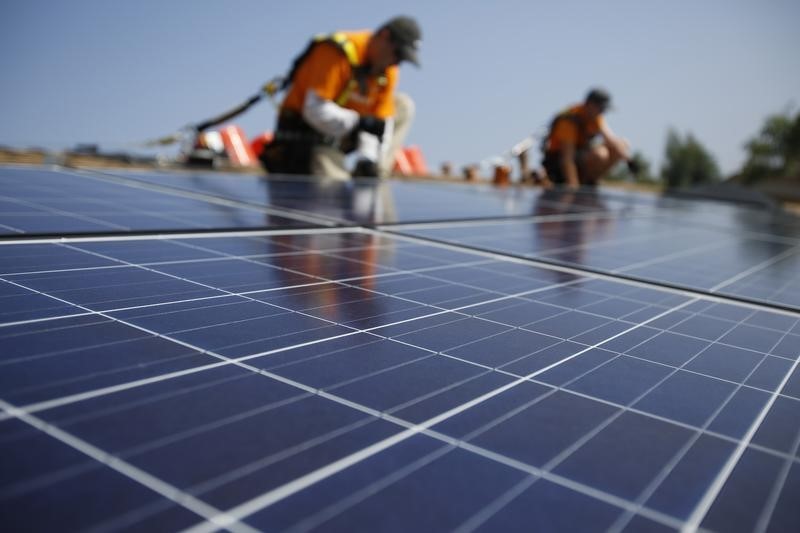 © Reuters.
By Liz Moyer and Peter Nurse
Investing.com — With a solidly blue Congress, President-elect Joe Biden's $2 trillion clean energy plan has a greater chance of succeeding, and that's welcome news to solar companies.
The prospect has lifted the energy sector overall this year after a decade of being the dog of the S&P 500.
First Solar Inc (NASDAQ:FSLR) could be a beneficiary of this trend, but will weakening profitability make it lag peers in the solar panel market?
Investing.com's Liz Moyer argues the growth case for First Solar, while Peter Nurse explains the downside.
The Bull Case
Tempe, Arizona-based First Solar makes solar panels and modules, putting it in position to benefit from Biden's ambitious clean energy plans.
As a candidate, Biden pledged to install 500 million solar panels in the U.S. over the next five years, and he could present other plans that could light up the solar market.
The goal, of course, is to phase out the use of fossil fuels, especially coal. The International Energy Agency said renewable energy is on track to overtake coal as the largest power source by the year 2025, adding that solar energy is leading the pack, ahead of wind and other renewable sources.
First Solar is a key maker of something called thin-film panels, which cost one-third less to make and can operate well in varied climates, including humidity and snow. They are easier to install than traditional panels and function in low-light settings.
The stock hit a 52-week high on Friday and is up 81% over the last year.
It stands apart from others with its balance sheet. First Solar had about $1.4 billion of cash at the end of the third quarter, allowing it to generate interest income or invest in new technologies. Some competitors, on the other hand, owe debt.
First Solar maintained profitability through the pandemic shutdowns last year, too. It is on track to report 2020 year-end earnings per share of $3.62, according to analyst forecasts. That compares to EPS of $1.48 in 2019. Sales also dipped only slightly last year and are seen as returning to 2019 levels — just over $3 billion — by the end of this year.
Early estimates for 2021 do have full-year EPS slowing to $3.44, but it's early.
Another benefit to First Solar is the renewal of a tax credit for investing in clean energy, which could encourage more sales. A green-oriented Congress could also pass more legislation that could boost attention and sales in the solar space.
Solar energy used to cost between $140 and $150 per megawatt-hour (MWh) eve with investment tax credits. But in 2020, the cost was down to $25 to $35 per MWh, according to Motley Fool. That makes solar less costly than fossil fuels, and the cost should continue to fall. That pubs solar on the path to become the lowest cost of bulk energy even considering the cost of the battery.
First Solar's backlog of business means it will continue to see growth, Motley Fool said. The company currently has a backlog of contracts totaling 12.2 gigawatts of system sales and 8.3 GW of additional mid-to-late stage opportunities in the pipeline, the analysts said. "For perspective, the company's current manufacturing capacity is 5.5 GW meaning it has years of future sales lined up."
The Bear Case
It's a truism that solar power stocks will get more love from Washington in the next couple of years than in the last four. Even so, not all solar stocks are equal; First Solar is worth a sell.
The company has streamlined its activities to focus on its core business of making thin-film solar modules. It is no longer that big a player in the solar industry, after getting rid of its asset ownership business, its North American operations and management business and its unit involved in executing power plants.
This means First Solar is a more specialized business, which could lead to more efficiency and better margins long-term, but it doesn't have the immediate growth opportunities some of its competitors have.
It's already showing worrying signs of weakening profitability. First Solar is expected to report year-end 2020 profit of $3.62 a share, according to FactSet data, but profit for year-end 2021 is estimated to be only $3.44.
It's this expected drop in earnings which prompted influential investment bank Goldman Sachs (NYSE:GS) to downgrade its stance of First Solar stock to 'sell' from 'buy' earlier this week.
The bank sees First Solar's gross margins and earnings per share peaking by the middle of 2021, with EPS declining at a 17% compounded annual growth rate through 2022.
Over the same time period, First Solar's peers will benefit from earnings growing by 20%-30%, the bank added.
This negative view is despite the benign regulatory environment. However, time pressure could see the incoming Biden administration choose to focus on other more pressing priorities.
Even with the victories in both Georgia Senate seats, the incoming administration will still need to seek out Republican moderates to pass swift legislation, meaning some of their more ambitious proposals could yet be diluted.
"We suspect Joe Biden will initially seek to push ahead with infrastructure plans, which are more likely to get cross party support," said ING analyst James Knightley, in a research note, earlier this week. "However, his $2trn green energy plan to decarbonize U.S. electricity production by 2035, is going to get more pushback from Republicans."
The stock is already trading at over 50 times trailing 12-month earnings according to Investing.com data. That's expensive enough. If, as Goldman says, earnings are going to fall from here, that's not going to make it look any cheaper.
Leave a comment