A 40% run in less than a month's worth of trading is enough to make any investor sit up and take notice. All the more so when it comes from a stock that's put down a rough year and is coming out of oversold levels. That's the reality for investors of San Francisco bank Wells Fargo (NYSE:WFC), whose stock has just had its best month of the year and looks on track to finish out 2020 on a strong note.
It will be a marked difference from how they started the year, still trading at 2014 levels before taking a wicked dip into March and April. They've acquired an unenviable reputation for being among the weaker of the big banks and in recent years have been marred by scandal, so understandably their shares are unattractive. But that's not to say there isn't scope for opportunity for any investor willing to hold their nose and jump in on a stock with impressive momentum.
Shares had been caught in a downtrend all through summer and fall since slamming lower in March, and only hit their low of the year at the end of October. But since then, they've moved steadily off the lows and have, technically speaking, broken the downtrend's grip. If they can keep this momentum through the next few weeks, there's a good chance they'll soon be retesting the previous post-COVID high of $33, which is where they topped out in April and June.
Two Big Drivers
Those in the bull camp have two main sources of optimism to draw from. Firstly, there's the catch-up rally potential. Compared to its peers, Wells Fargo has been the laggard of the group this year and it seems Wall Street is starting to think the spread has become a bit stretched. Since the start of April, Bank of America (NYSE:BAC), Citigroup (NYSE:C), and JPMorgan (NYSE:JPM) have all managed to tack about 40% onto their share prices. In contrast, shares of their distant cousin in San Francisco are barely positive, and that's only because of the recent rally. They were down a full 20% since April only four weeks ago.
The second reason for the bulls to be excited is the accelerating timeline we're seeing for a return to normal economic conditions. This is mostly due to the recent news from the likes of Moderna (NASDAQ:MRNA) who have announced a COVID vaccine that is 94% effective. With the prospect of the pandemic soon beating a permanent retreat, the near term future-facing banks like Wells Fargo brightens considerably.
Their shares had suffered big time due to surprisingly large provisioning for prospective credit losses, as reported in their earnings reports over the summer and fall. Assuming the vaccine becomes widely available by early 2020 there's good reason to believe that the drivers which caused the economic hardship, which in turn fuelled the bank's damaging credit losses, will cease to be.
As this latter point edges towards becoming reality, the former point becomes all the more pertinent as value investors get onboard the catch-up play. Wells Fargo has been a tough stock to hold for the long term, and there are plenty of better banks to look at if that's what you're going for. However, history also shows that their shares are also very capable of staging triple digit percentage rallies if the conditions are right. As we head into the last month of 2020, this is the best they've been looking all year.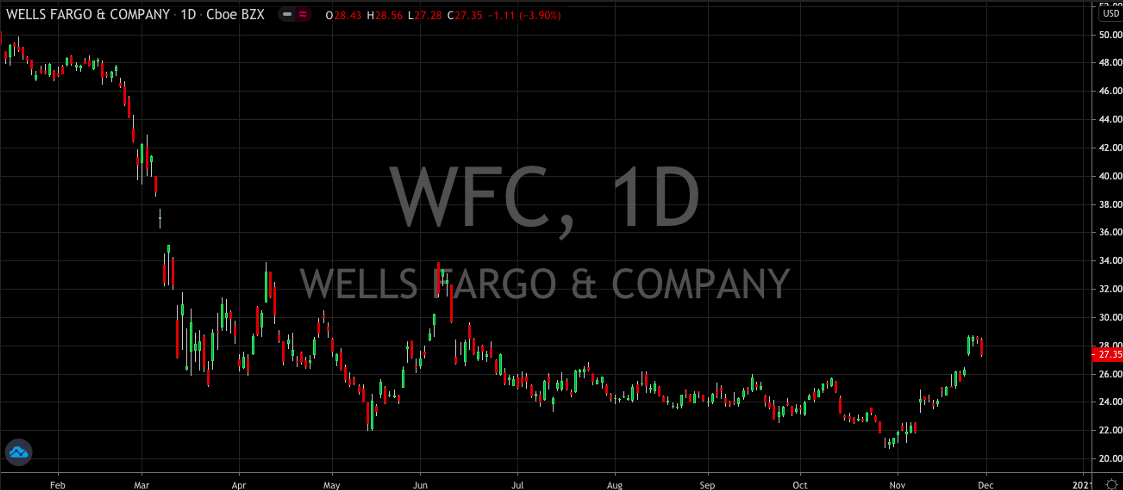 Wells Fargo Daily Chart
Leave a comment