Reports Q4 2021 results on Thursday, Feb. 18, before the open
Revenue expectation: $147.98 billion
EPS expectation: $1.51
Even after producing powerful earnings results during the pandemic, it seems investors want something more astonishing from Walmart (NYSE:WMT) these days. Its stock appears to have has lost its appeal over the past three months.
Shares of the world's largest brick-and-mortar retailer are down more than 3% during the past quarter, at the same time the S&P 500 has surged 10%. The stock closed Tuesday at $145.67, up about 1%. They've gained 23% during the past year.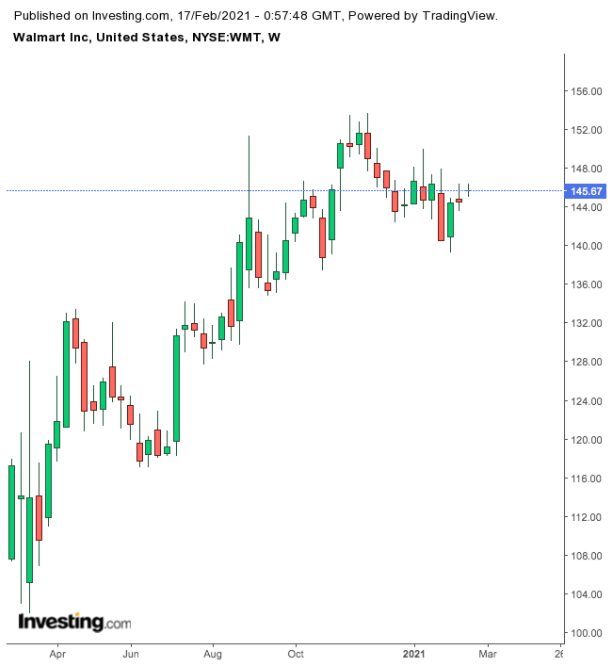 Walmart Weekly Chart.
Fundamentally, it's still a great time for the Bentonville, Arkansas-based company, which sells almost everything that millions of stuck-at-home consumers need to run their daily lives during the COVID-19 pandemic. The big-box retailer has consistently shown through its earnings reports that it hasn't fallen behind in winning customers who have stimulus dollars to spend.
Comparable U.S. sales at stores or digital channels operating for at least 12 months rose 6.4% in the quarter that ended in late October. It was the third consecutive quarter of strong growth. E-commerce sales in the U.S. jumped 79% and accounted for much of the previous quarter's gains.
But beneath these impressive numbers there are signs that the pantry-stocking boom during the pandemic might have already peaked. Growth in comparable sales in Q3, for example, was slower than the previous two quarters, while the shopper traffic in the U.S. dropped 14.2%, suggesting people are making fewer trips to Walmart stores.
A Long-Term Bet
Has that normalization of buying patterns continued? Walmart's fiscal 2021 fourth-quarter earnings tomorrow will tell. If the pandemic is a leading indicator, then there is a good chance that we could see another strong showing in both online and foot traffic for the period when virus infections spiked and many states went into lockdown.
That said, Walmart's isn't a stock one should own just because it's a winner during the pandemic. The company has shown again and again that it's on the right track to counter online retailers, like Amazon (NASDAQ:AMZN), by successfully executing its e-commerce strategy. That, coupled with its massive brick-and-mortar presence, offers a great long-term value to investors looking to include a solid defensive stock in their portfolios.
In addition to that, Walmart is also trying to diversify its business. It's in the middle of ramping up its digital media unit, recently renamed Walmart Connect. It will target ads on e-commerce platforms like Walmart.com and the Walmart app at shoppers purchasing in real time.
Walmart will also allow brands to advertise on almost 170,000 digital screens at self-check-out kiosks and on TV walls in more than 4,500 stores. Last fiscal year, Walmart's digital advertising operations nearly doubled in revenue and signed up more than twice the number of advertisers from a year earlier, according to the company.
Bottom Line
After a strong rally during the past year, Walmart shares are taking a breather and may look expensive to some investors. That concern, in our view, ignores the fact that this isn't the same company it was five years ago.
With its e-commerce momentum and strong core brick-and-mortar operations, we believe WMT is a long-term bet to earn both capital appreciation and steadily growing dividends, which currently yield 1.50%.
Leave a comment