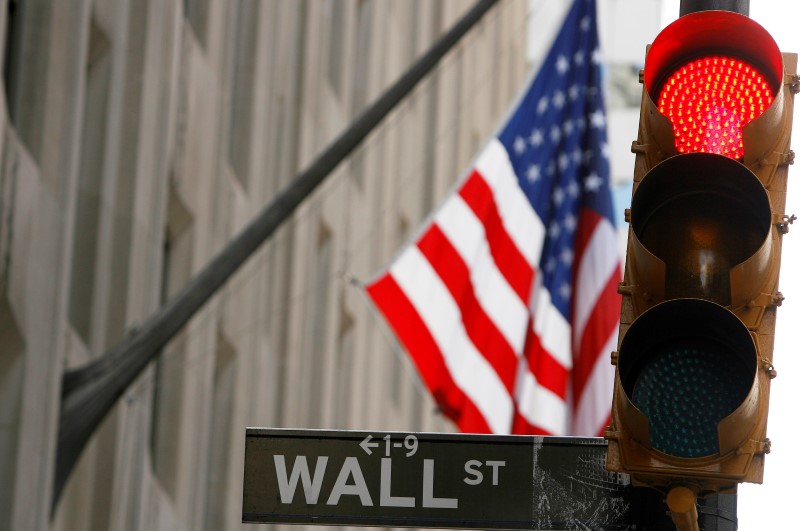 © Reuters.
By Geoffrey Smith
Investing.com — U.S. stock markets opened weakly on Thursday after a sharp rise in initial jobless claims spooked investors who have become more used to a positive narrative about vaccine development and distribution, overlooking the short-term impacts of the pandemic on the economy.
By 9:40 AM ET (1440 GMT), the Dow Jones Industrial Average was down 57 points, or 0.2%, at 30,011 points. The S&P 500 and the Nasdaq Composite were both down 0.3%.
The Labor Department said earlier that the number of initial jobless claims spiked to 853,000 last week, the highest in nearly three months, a fresh sign of the slowdown hitting the economy as more and more restrictions are placed on business and social life to stop runaway numbers of coronavirus cases. The U.S. notched 3,000 deaths in a single day from Covid-19 for the first time on Wednesday.
The rise in claims is an uncomfortable reminder of Congress's failure to agree a stimulus package to support the economy, despite clear signs for over a month that the pandemic has been gaining in strength, forcing fresh public health measures that inevitably weigh on the economy.
All eyes were focused on the two stocks that have enjoyed blowout IPOs this week. Doordash (NYSE:DASH) stock fell as much as 7.6% at the opening but recovered later to be only 6.4% down, which still leaves it up 80% from its IPO price after a spectacular debut on Wednesday.
AirBnB stock is due to start trading, having been priced late Wednesday at $68 a share, valuing the rental startup at $47 billion. Some attributed the weakness of the rest of the Nasdaq on Wednesday to investors having to free up space for the two stocks in their portfolios for the two newbies.
Elsewhere, Facebook (NASDAQ:FB) stock continued to struggle, the social media giant losing another 0.7% after the announcement of the latest Department of Justice lawsuit against it alleging a years-long abuse of its market power. Alphabet (NASDAQ:GOOGL), whose Google search business is also increasingly attracting the attention of antitrust regulators, fell 1.3%.
Advanced Micro Devices (NASDAQ:AMD) stock rose 1.2% after its new graphics card received a hot response from gaming enthusiasts on Wednesday, selling out within a day.
There was little reaction from news further afield that the European Central Bank had increased the size of its key bond-buying program to stop the pandemic causing a double-dip recession in the euro zone. The ECB will buy up to 500 billion euros ($600 billion) more in bonds, also extending the timeline for purchases by nine months, keeping the program alive through March 2022.
Leave a comment