The UK's leading share index, the FTSE 100, has had a strong start to December, following solid gains in November.
Gains in the FTSE mirror the recent strength shown by US indices as well as many world markets. The positive vaccine news from companies like Pfizer (NYSE:PFE), BioNTech SE (NASDAQ:BNTX) and Moderna (NASDAQ:MRNA) have brought early holiday cheer to many portfolios.
On Dec. 2, the UK became the first nation to approve the "Pfizer/BioNTech vaccine for COVID-19." Market participants are hopeful that life may go back to pre-coronavirus days, especially without further lockdowns.
However, it is too soon to say that the UK economy is out of the woods. The Office for National Statistics has officially declared the UK economy in recession. As a result, many investors are still nervous about the UK markets' prospects in the coming quarters.
When uncertainty about the market looms, many investors worldwide look to add utility stocks, which are known as defensive plays. Their stable cash flows usually help them pay juicy dividends, too. In the US, the widely-followed Dow Jones Utility Average is down 1.2% year-to-date (YTD).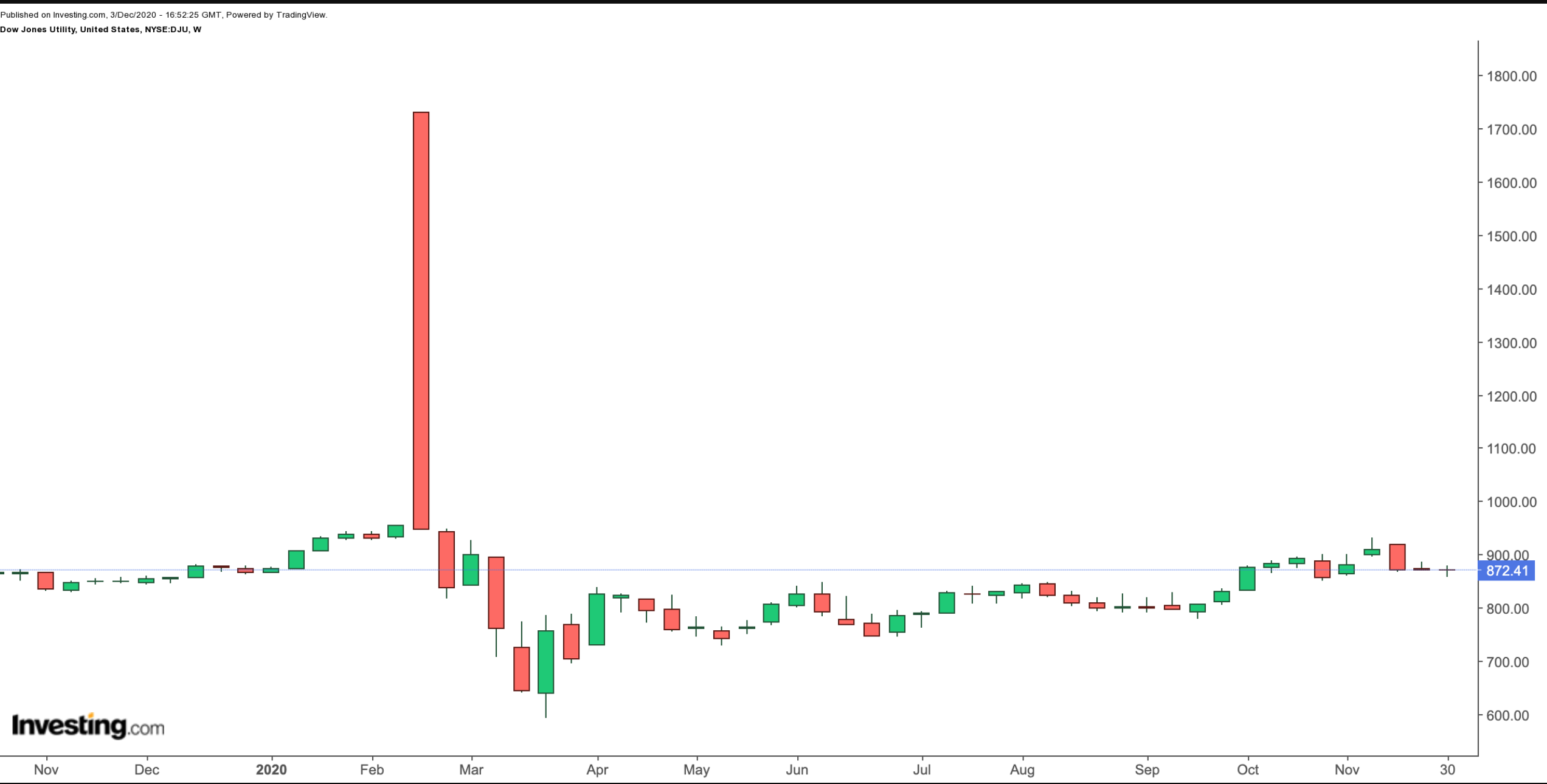 Dow Jones Utility Average Chart.
Today, we will discuss a FTSE 100 member utility stock, namely, Pennon Group (LON:PNN) (OTC:PEGRY), which provides water and waste management services.
The Exeter-based business may also pique the interest of passive-income seekers. Its current dividend yield is about 3.8%.
Pennon Group's Earnings Were Mixed
In late November, the group released half-year trading results. Revenue came in at £319.7 million (or US$431.2 million), a decline of 1.9% year-on-year (YoY). However, the group saw a 14.5% decline in underlying pre-tax profits YoY. Adjusted earnings per share (EPS) also dropped by 10.9%.
CEO Susan Davy, who was pleased with the results in the days of COVID-19, said:
"The completion of the Viridor sale in July this year has seen significant shareholder value realized, allowing us to refocus our business on excellence in the water and wastewater sector.

"Environmental considerations continue to be at the heart of our decision-making, and we are focused on delivering on our commitments."
Since the start of the year, the shares are down about 5.9%. On Dec. 3, PNN closed at 995p. ($27.0 for US-based shares).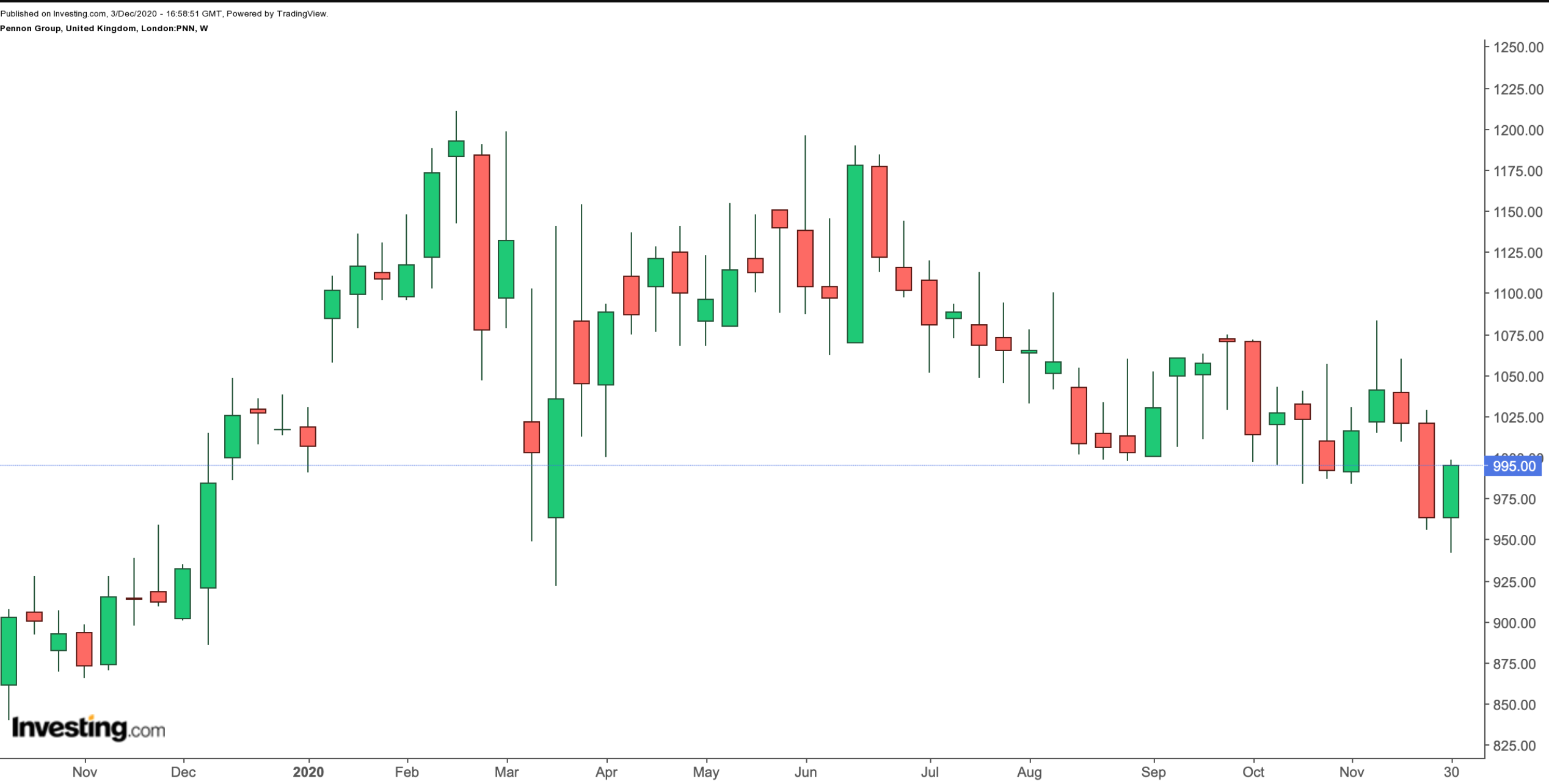 Pennon Group 1-Year Chart.
Current forward P/E and P/B ratios stand at 16.92 and 1.4, respectively. We believe the shares could be volatile in the final days of the year as the UK and the European Union work to agree on a mutually-acceptable trade deal.
However, long-term investors may consider buying the dips. In addition to capital growth, they could likely see a rising income from Pennon Group, as it will possibly increase payouts over time.
The Bottom Line
In addition to Pennon Group, there are other utilities listed in the UK. They include:
National Grid (LON:NG) (NYSE:NGG) – YTD down 9.5% (discussed here)
Severn Trent (LON:SVT) (OTC:STRNY) – YTD down 6.1%
SSE (LON:SSE) (OTC:SSEZY) – YTD down 4.8% (discussed here)
United Utilities (LON:UU) (OTC:UUGRY) – YTD down 1.4%
As the metrics show, the returns have not been positive so far in 2020. However, many UK-based investors typically hold utilities for relatively high dividends. For UK-based investors who want to focus on domestic shares, we believe that buying utilities could be a viable strategy in the coming quarters, too.
Those investors who are not ready to commit capital into a single stock like Pennon Group, but would rather invest in a basket of utilities may also consider researching an exchange-traded fund (ETF) like the Utilities Select Sector SPDR® Fund (NYSE:XLU).
The fund, which started trading in 1998, gives access to a range of utility firms and energy traders. Since the start of 2020, the ETF is down close to 2% and the current price supports a dividend yield of 3.9%.
Top names in the fund include NextEra Energy (NYSE:NEE), Duke Energy (NYSE:DUK), Dominion Energy (NYSE:D), American Electric Power Company (NASDAQ:AEP) and Southern Company (NYSE:SO).
For those who would like to diversify their portfolios to include stocks with stable passive income, utility shares like Pennon group or an ETF could be appropriate.
Leave a comment