With 2020 coming to a (merciful) close, it's a good time to take a moment to cast an eye over our dividend portfolios.
One thing to pay particular attention to: the amount of cash you're holding. Because if you're like many investors I've talked to recently, you're holding too much of it—and that can cause a steady wealth drain that bleeds away thousands in returns every year!
Taking Money Off the Table—at Exactly the Wrong Time
Of course, having a healthy cash cushion is always a good thing. The trouble for most folks, though, is that they've been growing the amount of cash they have outside the market just as stocks have taken off. According to investment juggernaut Vanguard's new "How America Invests 2020" study, 21% of US household income is now sitting in cash, up dramatically from 15% five years ago:
More Cash, More Missed Gains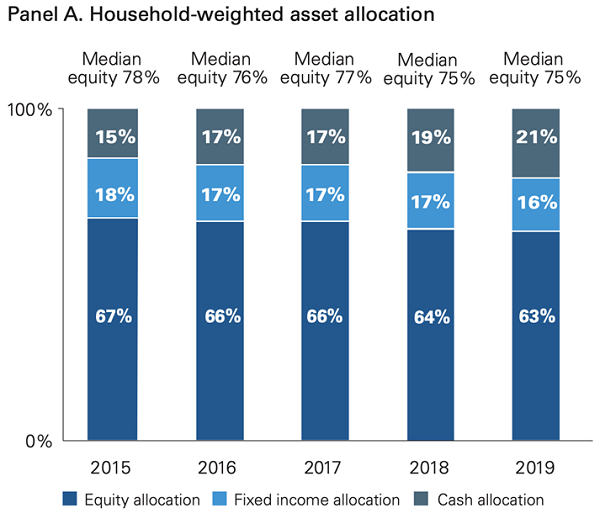 Vanguard Allocation Chart
Worse, the average investor left even more money on the table by going aggressively into cash in 2018 and 2019, just when a pivot to stocks would have been even more profitable, with 12.5% annualized returns. Look at those two years on the right-hand side of the table above.
Sideline Sitters Miss Big Gains (and Dividends)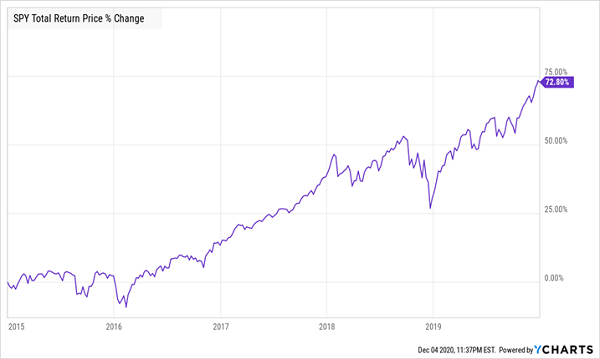 SPY-Total Returns
In all, if you'd held $100K in cash these past five years, you missed out on a $72,800 gain. In fact, due to inflation, you would have gone backwards and would be sitting on significantly less than $100K in purchasing power today.
The bottom line? Keep a reasonable cash reserve—but always make sure the bulk of your portfolio is in investments that send dividends your way and set you up for gains, as well.
CEFs, Not ETFs, Are Your Best Play for 2021 (and Beyond)
We have every reason to believe that keeping a big cash holding—or adding to it—will continue the pattern of lost gains and dividends we saw in Vanguard's study, especially because, as I wrote last week, rising corporate earnings in 2021, along with the distribution of vaccines, should give stocks a nice tailwind next year.
As members of my CEF Insider service know, our best option for buying stocks is through closed-end funds (CEFs). Not only do CEFs regularly outperform their benchmarks, they also pay high dividends: the typical CEF yields 7% as I write this, and several pay a lot more.
The key to their outperformance is another factor that often gets ignored as investors rush to low-fee ETFs (including the ones Vanguard manages): active management.
Consider the ETF just about everyone knows about: the SPDR S&P 500 ETF (SPY). It's a simple, low-fee way to hold all the stocks in the S&P 500 because its algorithm is set up to simply track the index. So you can take solace in the fact that you'll never underperform. The tradeoff? You'll never outperform, either!
In addition, because of SPY's mandate to track the index, it's forced to hold some real duds just because they happen to be S&P 500 constituents, like energy giant Exxon Mobil (NYSE:XOM), which was in the index until earlier this year. XOM dragged down the S&P 500 a lot in recent years.
Index Funds Include Horror Shows Like This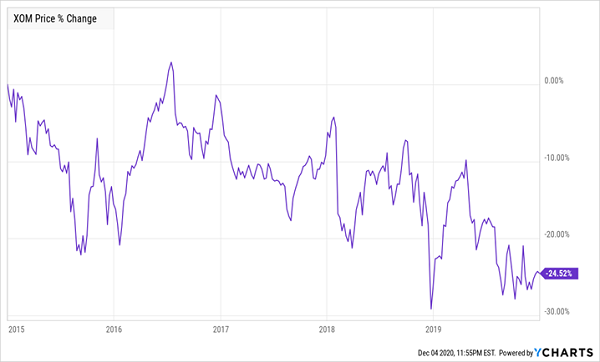 XOM-Price Chart
The counterargument typically is that no one can predict a trend like this, but that's not really true. I first wrote about the dangers of investing in energy stocks like XOM in December 2015, and I was not the only one to do so.
In fact, funds like the BlackRock (NYSE:BLK) Science and Technology Trust (BST) did a great job of avoiding duds like this, returning shareholders far superior returns over that five-year period:
Crushing the Index By Avoiding the Duds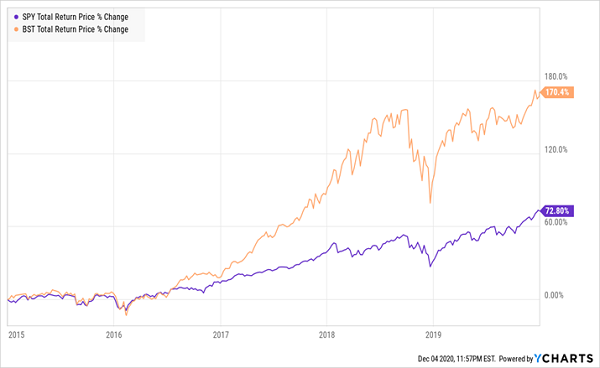 SPY-BST Total Returns
(Members of my CEF Insider service will remember BST: we sold it in the June 2020 issue and took a nice 27% profit in just 10 months.)
BST is just one of many such funds that's beaten the index while also paying much higher yields than your average stock. Its 4.5% payout is far more than SPY's 1.5%, but it's still pretty low compared to the 7% average yields many of BST's peers offer.
5 "Better Than Cash" CEFs Paying 8% Dividends (With 20%+ Upside in 2021)
I don't know why you'd sit in cash—and watch inflation eat away at your buying power—when there are plenty of CEFs out there throwing off steady 8%+ dividends.
In fact, my latest research has uncovered a startling fact about just how safe CEFs can be. Get this: of the 326 CEFs that are a decade old (or older), only 16 have lost money in the last 10 years.
That's a 95% win rate!
There's more: of the 16 CEFs that did lose money, all but 5 were in the energy sector. Dump those 11 laggards and these CEFs' win rate jumps to an incredible 98.4%!
I think you'll agree that this is a pretty impressive safety record, and it makes a powerful argument that a portfolio of well-chosen CEFs is a much better option for your money than leaving it sitting in your bank account!
That brings me to the 5 CEFs I'm pounding the table on today.
Between them, these 5 income powerhouses are throwing off an 8% average dividend, and that's just the average! The highest payer among these 5 boasts a massive 9.8% payout.
So in other words, every year, almost 10% of your original investment in this fund comes straight back to you in cash! If that's not the definition of safety, I don't know what is.
Disclosure: Brett Owens and Michael Foster are contrarian income investors who look for undervalued stocks/funds across the U.S. markets. Click here to learn how to profit from their strategies in the latest report, "7 Great Dividend Growth Stocks for a Secure Retirement."
Leave a comment