In the initial months of the COVID-19 pandemic, most investors avoided travel shares, especially airlines. Yet, as investor sentiment began improving, so did the share prices of these businesses.
For instance, year-to-date (YTD), the Dow Jones Travel & Tourism and the Dow Jones Airlines indices are up more than 17% and 36%, respectively. Since the start of the year, shares of American Airlines (NASDAQ:AAL), Delta Air Lines (NYSE:DAL) and United Airlines (NASDAQ:UAL) have returned more than 61%, 25% and 44%, respectively.
On the other side of the Atlantic, airlines have also been among the most traded shares on the FTSE 100 and FTSE 250 indices. Today, we take a closer look at FTSE 250 member Wizz Air Holdings (LON:WIZZ) (OTC:WZZZY). In the past 12 months, WIZZ stock is up 141% and YTD returns are about 16%. On Mar. 18, the shares closed at 5,100p ($16.75 for U.S.-based stock).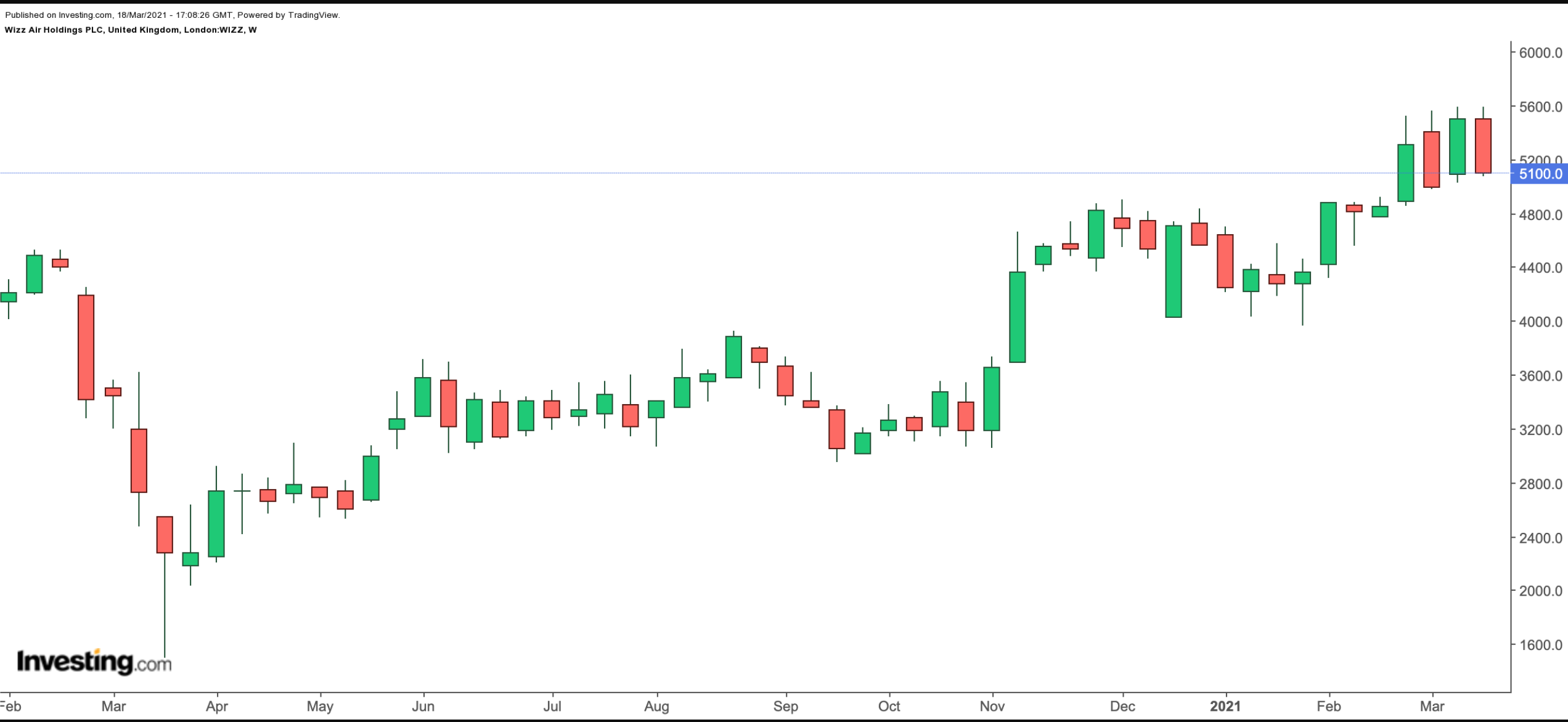 Wizz Air Holdings Weekly Chart.
A Budget Airline Serving Niche Markets
Hungary-based Wizz Air started operations in 2003 as a low-cost airline. Since then, it has concentrated on the relatively under-served central and eastern European markets.
Wizz Air flies to numerous cities in Europe, as well as some points in North Africa and the Middle East. Since the first flight in 2004, the airline has flown more than 200 million passengers across 44 countries.
Its low-cost no-frills system is built around direct booking through the website or app and paying for the extras as might be needed.
Management strives to develop a sustainable travel company that looks for ways to decrease its environmental footprint. This green element appeals to investors, who pay attention to "Environmental, Social and Corporate Governance" (ESG) factors.
When we compare the annual results for 2020 and 2019, we see Wizz Air increased profits from £123 million (or $171.3 million) to £281 million (or $391.3 million). The company's annual report for 2021, which covers operations up to March 2021 will be released in the coming weeks. Understandably, the results from 2020 to 2021 will not be strong as it racks up significant losses for the fiscal year.
Bottom Line
Over the past several months, airline stocks have found a receptive audience, as evidenced by the increase in their share prices. "Got vaccinated will travel" is likely to become the buzz words in the coming months, with travel companies likely to see robust pent-up demand once travel restrictions are lifted in many parts of the globe.
Yet, markets are forward-looking. Therefore, we would not be buying Wizz Air or other airline shares at these current levels. For WIZZ stock, a decline toward 4,750p or even below would improve the margin of safety for buy-and-hold investors. Its forward P/E, P/S and P/B ratios of 217.39, 4.87 and 5.36, respectively, point to a frothy valuation level. Recently, the shares have been downgraded to "Hold" by HSBC (NYSE:HSBC), with a price target of 4,400p.
But, once we go past the pandemic volatility, we are bullish on the company's long-term prospects. With a market capitalization of £4.4 billion (or $6.1 billion), Wizz Air can still grow considerably. Once the pandemic is behind us, the company could be a takeover candidate, a potential development that would create significant shareholder value. Therefore, declines of around 5%-7% would mean opportunity to buy into the shares of this budget airline that has carved itself a niche market in Europe.
On a final note, investors who are interested in WIZZ stock but do not want to commit capital to a single company could consider buying an exchange-traded fund (ETF) that holds the shares. Examples include:
Schwab International Small-Cap Equity ETF™ (NYSE:SCHC): up 7.7% YTD;
SPDR Portfolio Europe (NYSE:SPEU): up 5.1% YTD;
U.S. Global Jets ETF (NYSE:JETS): up 28.4% YTD.
Leave a comment