The UK's main equity index, the FTSE 100, gets a review and a reshuffle every quarter. In December 2020, Pershing Square Holdings (LON:PSHP) (OTC:PSHZF), a hedge fund run by U.S.-based activist investor Bill Ackman, made its way onto the index.
Over the past year, PSHP stock returned about 73%. On Feb. 4, the shares closed at 2,485p.($33.90 for the U.S.-based stock).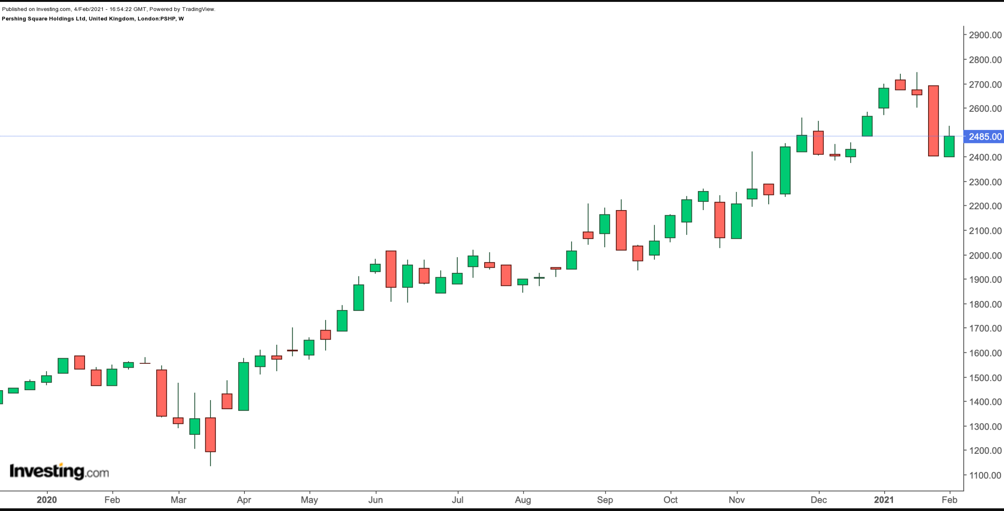 Pershing Square Weekly Chart.
The promotion of PSH started a heated debate in London's financial circles. The FTSE 100 is mostly regarded as a barometer for the health of corporate Britain. Yet, Ackman's Guernsey-registered investment trust that tracks the Pershing Square Capital Management hedge fund has little to do with developments in the UK economy.
Today, we discuss whether PSH stock deserves to be on your radar in 2021.
Bill Ackman Is An Activist Investor
According to its website:
"Pershing Square Capital Management, L.P. ("PSCM") is an investment advisor registered with the U.S. Securities and Exchange Commission and based in New York. PSCM was formed in 2003 under the laws of the State of Delaware in the United States."
Bill Ackman's primary investment vehicle is structured as a closed-ended fund, meaning it issues a fixed number of shares openly on the market. It became public in October 2014.
In a recent interview, Ackman, who regards Warren Buffett as his unofficial mentor, said:
"We own 10 companies, so think of this as an investment holding company where we have 10 companies and we are a meaningful and influential investor in each of them, by virtue of being typically one of the largest shareholders, often with representation on the board of directors."
He explains why the fund is based in Europe:
"The benefit here is we can operate like an investment holding company without having to pay entity level taxation. So if this entity were in the U.S., we'd have to pay 35%—or now 21% corporate tax—and here we can operate much more efficiently."
Ackman is quite regularly in the news, often referred to as an "activist investor." He has said that his most successful investments have usually been contrarian or even controversial and that his first rule of activist investing is to "make a bold call that nobody believes in."
Many analysts agree Ackman's good insight into the financial world led his firm to do well during the market downturn in 2020. In the early days of the pandemic, Ackman hedged Pershing Square's portfolio, insuring the fund against a market decline that cost the firm $27 million. This trade ultimately paid off, generating $2.7 billion in a matter of weeks.
His successful bet can be seen in the price action of PSHP stock in March 2020. On Mar. 23, 2020, the shares closed at 1172.0p. Yet, three days later, on Mar. 26, they were at 1,488p, up nearly 27%.
Pershing Square Holdings continued to do well during 2020. Two of the best performers within the holdings have been Starbucks (NASDAQ:SBUX) and Chipotle Mexican Grill (NYSE:CMG).
PSH, for the most part, isn't involved in overly complicated investments or derivative products. It invests in household names that it believes offer good potential returns. This is highlighted by the portfolio composition.
More than 90% of the companies are large-cap companies. The rest are mid-caps. Large-cap companies generally experience less volatility due to their strong fundamentals and historical strength. They tend to fare better if the market turns down, as they can weather changes with less harm.
PSH has no short positions, which have been a recent topic of conversation in the context of GameStop (NYSE:GME) as well as several other names that have been in the news lately.
Bottom Line
We believe Pershing Square Holdings will continue to attract investors thanks to its track record. It does not offer a dividend, but a strong market could lead to continued growth throughout 2021. We'd consider buying the dips in price.
On a final note, Ackman is currently also getting increased attention with his blank-cheque company Pershing Square Tontine Holdings (NYSE:PSTH). This special purpose acquisition company (SPAC) has been riding on the positive wave of SPACs, which we covered in recent days. Since its initial public offering (IPO) in early September, PSTH stock is up more than 30%.
However, PSTH has not yet announced a partner for a potential reverse-merger. The rumour mill has been pointing to either the crypto-wallet Coinbase or the payments processing platform Stripe. The coming weeks could get exciting and volatile for investors in PSTH stock.
Leave a comment