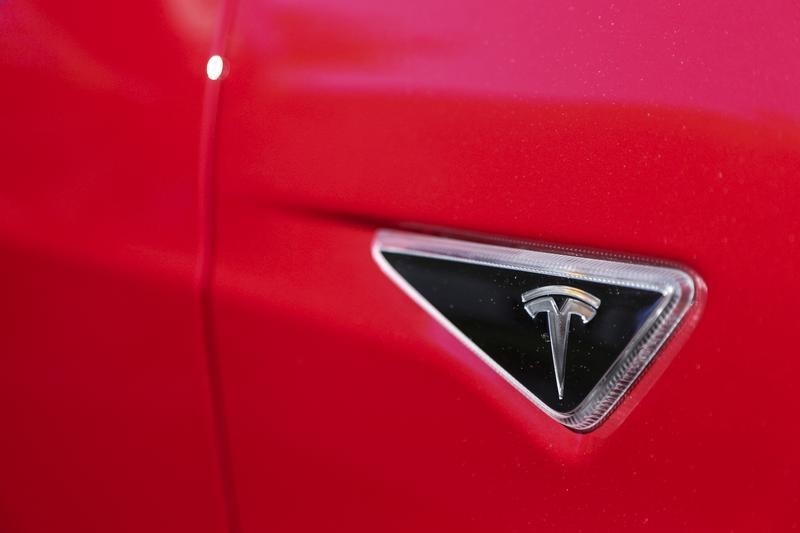 © Reuters.
By Christiana Sciaudone
Investing.com — Tesla (NASDAQ:TSLA) has surpassed Berkshire Hathaway (NYSE:BRKa) in market cap and now ranks behind just the behemoths of tech like Apple (NASDAQ:AAPL), Microsoft (NASDAQ:MSFT), Amazon (NASDAQ:AMZN), Alphabet (NASDAQ:GOOGL) and Facebook (NASDAQ:FB).
The stock is up more than 600% year-to-date and the market cap stands at about $564 billion. All of that excitement has made founder Elon Musk the second-richest person in the world, according to Bloomberg.
The electric vehicle maker is up 3% on Friday ahead of joining the S&P 500 on Tuesday.
Reuters reported earlier this week that traders bought and sold an average of nearly $26 billion of Tesla shares per session over the five days ending on Tuesday, accounting for almost 8% of all stock traded on U.S. exchanges, according to Refinitiv data. That is more than the combined value of trades in Amazon and Apple over the same period.
Yesterday, Reuters said Tesla plans to start making electric vehicle chargers in China next year as part of its mission to increase sales there.
Tesla plans to invest 42 million yuan ($6.4 million) in a new factory near its car plant in Shanghai, according to a document submitted to the Shanghai authorities and seen by Reuters. The factory will have capacity to make 10,000 chargers a year. China offers hefty subsidies for electric vehicles. The company sold over 13,000 vehicles in China last month.
Leave a comment