The E-mini gapped up to a new all-time high on the daily and weekly charts yesterday, but then sold off. It closed the gaps and was a bear day. Bears want an E-mini mid-February reversal. Although it closed near the low, the 3-week bull channel has been tight. This is therefore a relatively weak sell setup.
It is important to note that we are in the middle of February. February is a big bull bar on the monthly chart, but it might not look that way when the month closes. Traders watch for reversals in the 2nd half of all bars, on all time frames. Most bull bars do not close on their highs. Therefore, the odds favor at least a small pullback by the end of the month.
The E-mini is extremely overbought, and at the top of bull channels on the daily and weekly charts. This increases the chance of a 10% correction starting soon.
However, until there are consecutive big bear bodies on the daily chart, traders will continue to buy every brief selloff. But if today is a 2nd consecutive bear day, and if it closes near its low and has a big bear body, there would then be consecutive strong bear days. That would be the 1st time since the 10% corrections in September and October, and it would increase the chance that another 10% correction is beginning.
Is that likely? As I keep saying, until there are consecutive strong bear days, traders will buy every reversal down, and bet against consecutive big bear bars forming. That means it is more likely that today will not be a big bear day closing near its low, even though a correction will probably begin soon. But if it is, the probability shifts in favor of the bears for a few weeks.
Overnight E-mini Globex trading
The E-mini is down 7 points on the Globex chart. Today will therefore probably open near yesterday's low. If today gaps down, the gap will probably be small. Small gaps typically close in the 1st hour.
If today trades below yesterday's low, it will trigger a sell signal on the daily chart. On the 60-minute Globex chart (not shown), there is a clear triangle at 3,900. That is a strong magnet because it is a good candidate for a Final Bull Flag on that chart. The E-mini should get there today.
Because the daily chart is so overbought, a big bear trend day can come at any time. Strong bear trends constantly form bull trend reversal bars. Most fail and become bear flags. If today forms a Small Pullback Bear Trend, it is better to focus on selling, despite the likely repeated reversal attempts.
Can today be a bull trend day? The 3-week rally has been strong, and the 4,000 Big Round Number is a magnet above. A big bull trend day can come at any time.
Yesterday's setups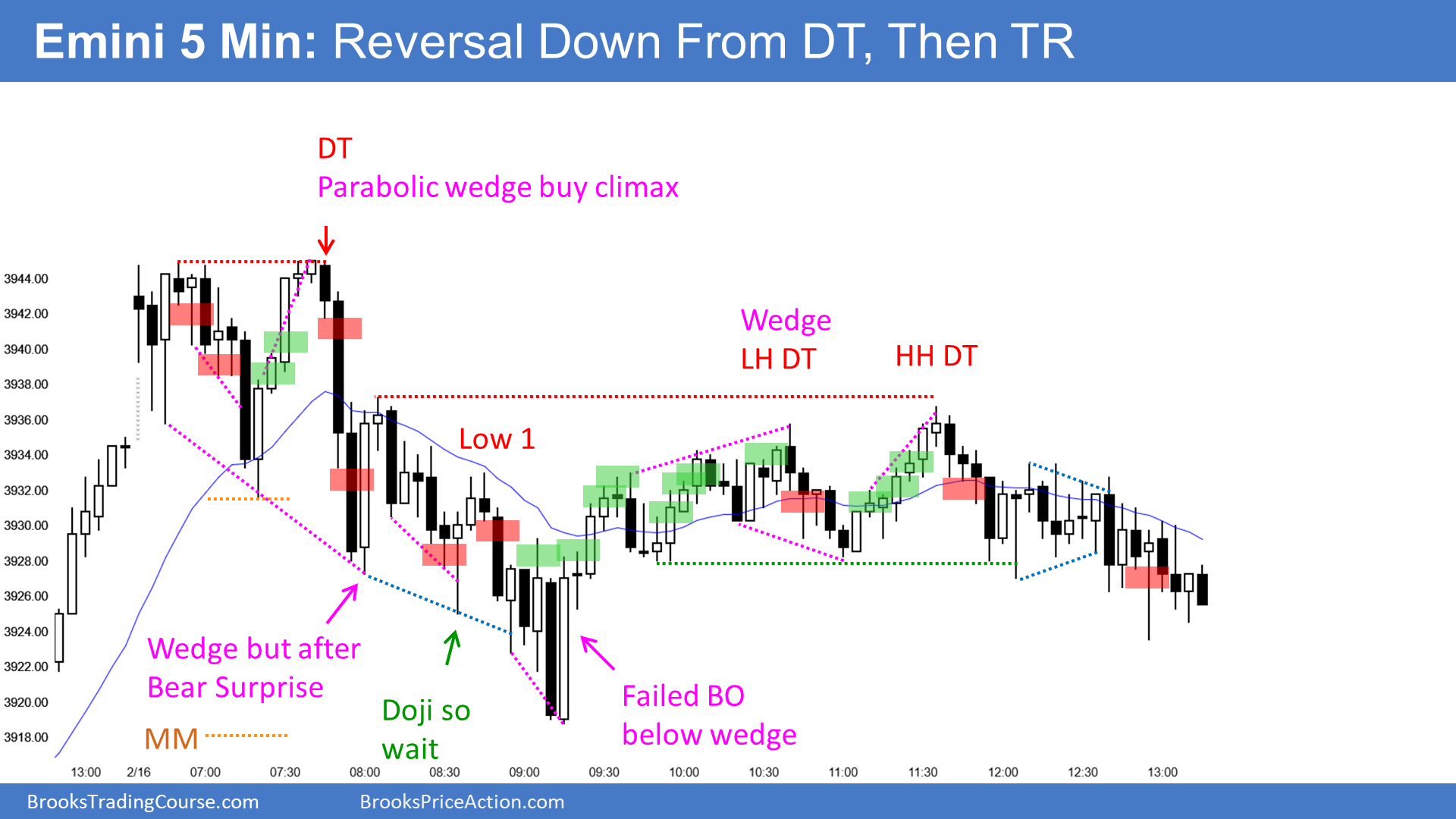 E-mini 5 Min
Here are several reasonable stop entry setups from yesterday. I show each buy entry with a green rectangle and each sell entry with a red rectangle. Buyers of both the Brooks Trading Course and Encyclopedia of Chart Patterns have access to a much more detailed explanation of the swing trades for each day (see Online Course/BTC Daily Setups).
My goal with these charts is to present an Always In perspective. If a trader was trying to be Always In or nearly Always In a position all day, and he was not currently in the market, these entries would be logical times for him to enter.
If the risk is too big for your account, you should wait for trades with less risk or trade an alternative market like the Micro E-mini.
Leave a comment