There have been several big events in the past month or so including the US presidential election and all the coronavirus vaccine trial data. The US elections saw Joseph Biden as president-elect and coronavirus vaccine trial data increased the market cap of Pfizer (NYSE:PFE) and Moderna (NASDAQ:MRNA) substantially. Both companies are applying for emergency use of their COVID-19 vaccine, and the odds are stacked in their favour. These events have helped the S&P 500 index to post stellar gains, and the good thing is that there is more to come.
S&P 500 Posts Best Monthly Performance Since April
The S&P 500, which is considered as a wider representation of the US stock market, has put in a stellar performance during November. The index is set to record more than 10% gains this month which is the best monthly performance since April this year. Similarly, the Dow Jones Industrial Average might well post its best monthly performance since April this year as well.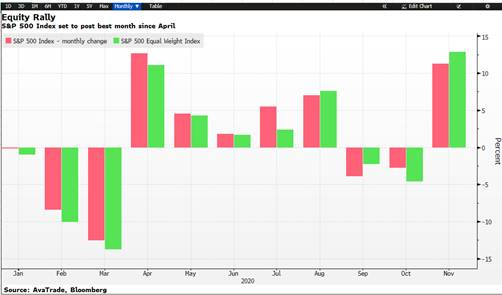 S&P 500 Rally
Why the Stock Market Could Rise More
Moderna and Pfizer have produced COVID-19 vaccine data, which has more than 94% efficacy rate meaning the chances of success are much higher to avoid coronavirus if one has a shot of the vaccine. As mentioned earlier, both pharmaceutical companies are going to apply for FDA approval of emergency use of coronavirus vaccine. Once approved, not only are these two stocks going to pop but the ripple effect of this may be felt in cyclical sectors and value play stocks. Airlines and other tourism stocks sit on top of this ladder as coronavirus has paralyzed the airline industry. With vaccine now an option, travelers will feel a lot more comfortable to fly and we should see a massive rebound in the tourism industry in the coming quarter.
Of course, the airline sector is not the only sector as we are very much likely to see decent moves in energy, financial, healthcare, industrial and consumer discretionary sectors. These sectors have logged decent gains during this month. It was the energy sector which has outperformed all the other sectors mentioned above. The chart below shows the percentage of gains for the S&P 500 index.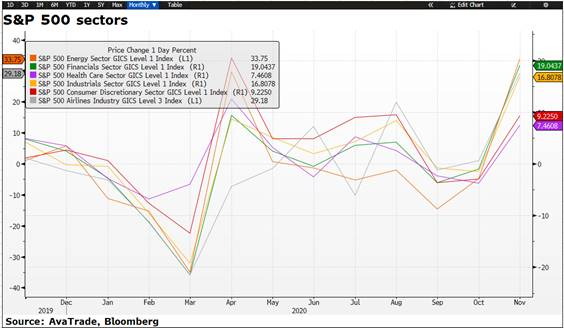 S&P 500 Sectors
Is December Good Month For S&P 500 and Dow Jones?
Historically speaking, December is the month when we usually get a Santa Rally meaning stocks tend to rise in December. This year, we a possibility of having tailwind from Santa Rally but also coronavirus vaccine. Looking at the data, since 2016, we only had one December in 2018 when posted negative returns. Last year, the S&P 500 rallied 2.86%. The numbers are very similar for the Dow as well, the Dow Jones posted gains 3 times out of 4 since 2016. Last year, the Dow Jones rallied 1.74%.
Leave a comment