The S&P 500 gave back all of Monday's gains and then a couple of extra points to finish lower by 75 bps. Meanwhile, the Invesco QQQ Trust (NASDAQ:Qs) only managed to decline around 45 bps; it still has some further to fall before filling the gap from Monday; maybe that will happen today. There is a huge gap still at $301 waiting to be filled from Mar. 8.
NASDAQ
The pattern on the hourly chart in the Qs and the NASDAQ 100 futures showed a bearish double top on the Intraday. Now it doesn't tell us where the market is going longer-term, but it would seem to suggest that the next move is lower, likely stopping at $301, as mentioned above.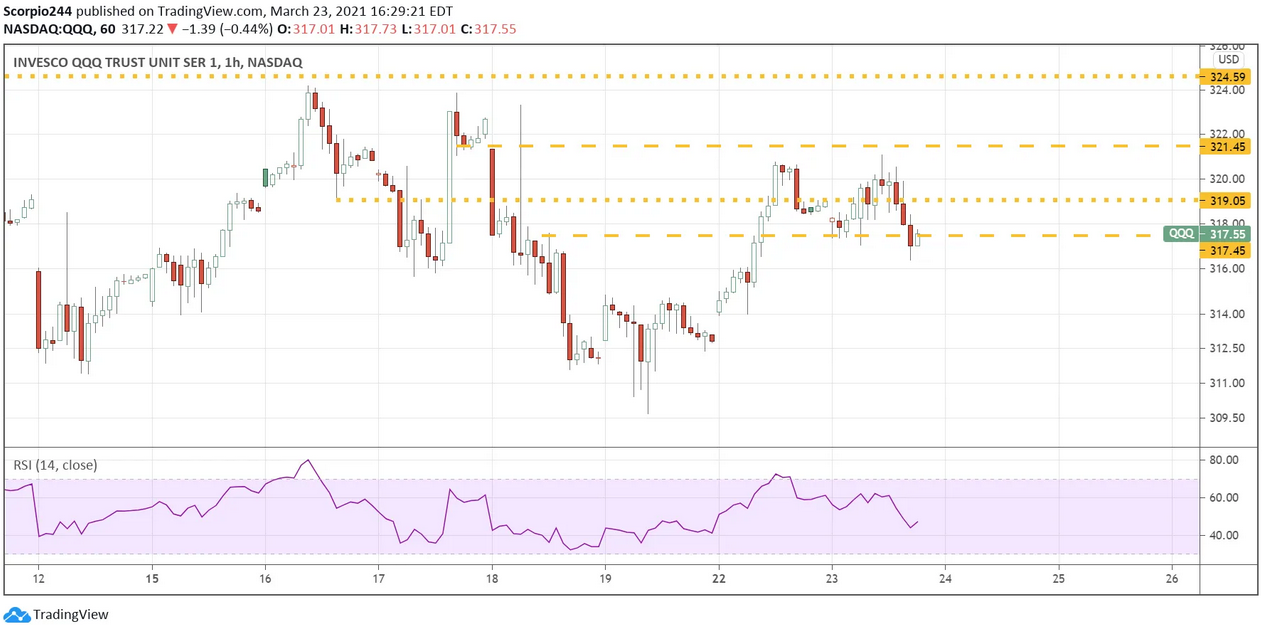 QQQ 1-Hr Chart
S&P 500
For the first time in a long time, we had the RSI and the advance/decline line trending lower simultaneously in the S&P 500.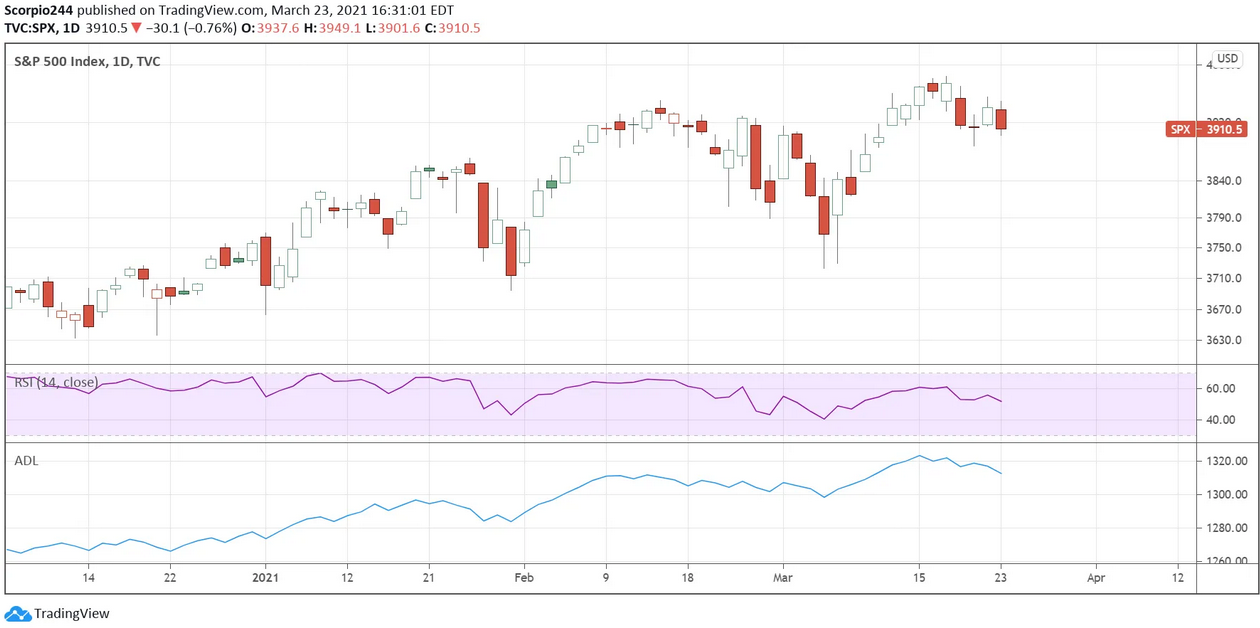 S&P 500 Daily Chart
3,900 on the S&P 500 held yesterday, but once it breaks, based on the movement in the RSI and the advance/decline suggest, the next level to look for is at 3,835. That is a huge support level because it marks a gap fill and the March 2020 uptrend.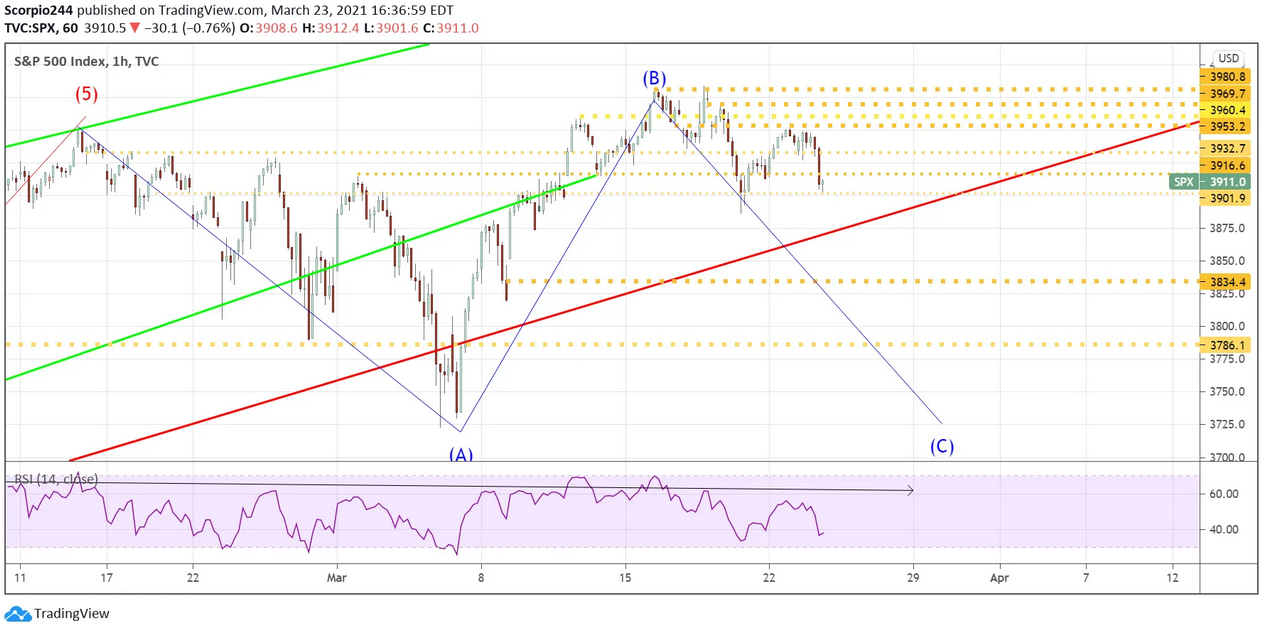 SPX Hourly Chart
Copper
Tuesday, the reflation/risk-on trade was crushed with oil, copper, the Russell, and biotech hit very hard. From the looks of it, the sell-off is likely just starting, at least based on copper prices.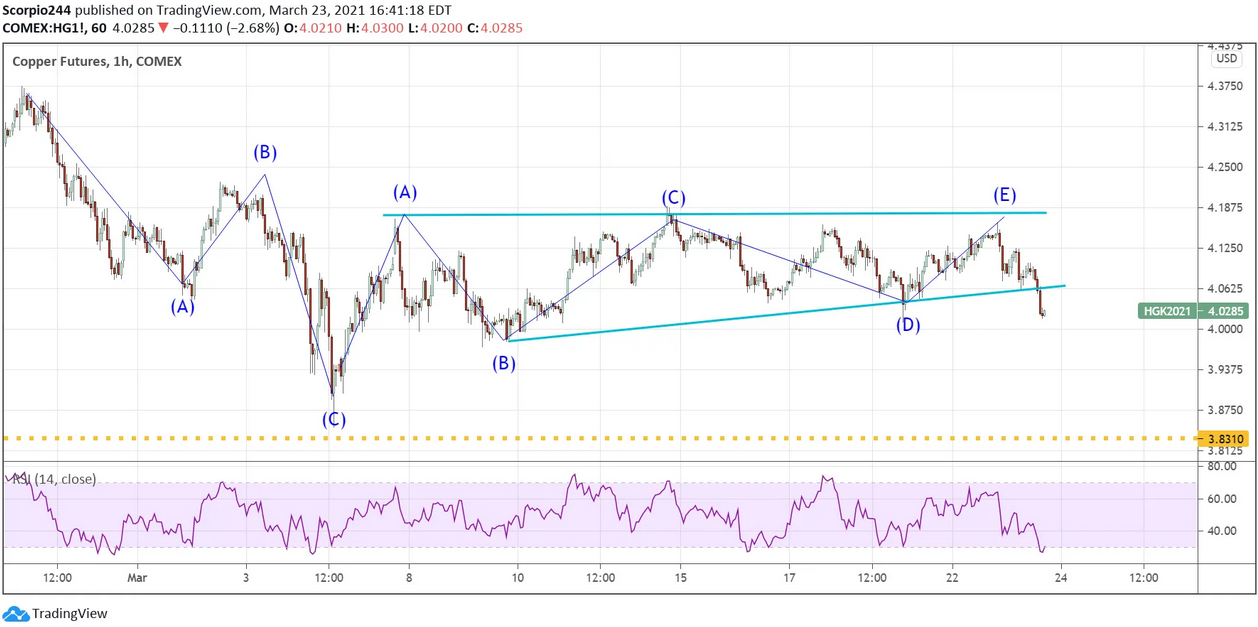 Copper Futures 1-Hr Chart
At of this thanks to the dollar, which was very close to its 2021 highs, and has likely much higher to go. The index is likely moving back to around 94.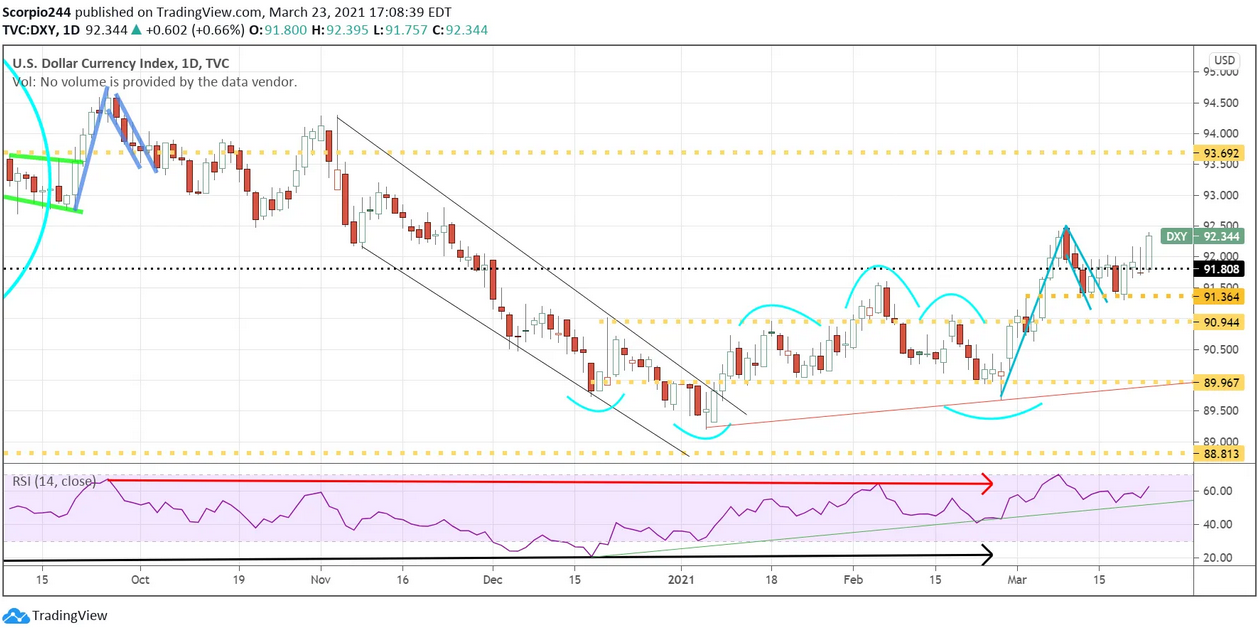 DXY Daily Chart
Caterpillar
Caterpillar (NYSE:CAT) was crushed on Tuesday, dropping 3.5%, and more importantly, the uptrend is busted, with $201 acting as the next level of support.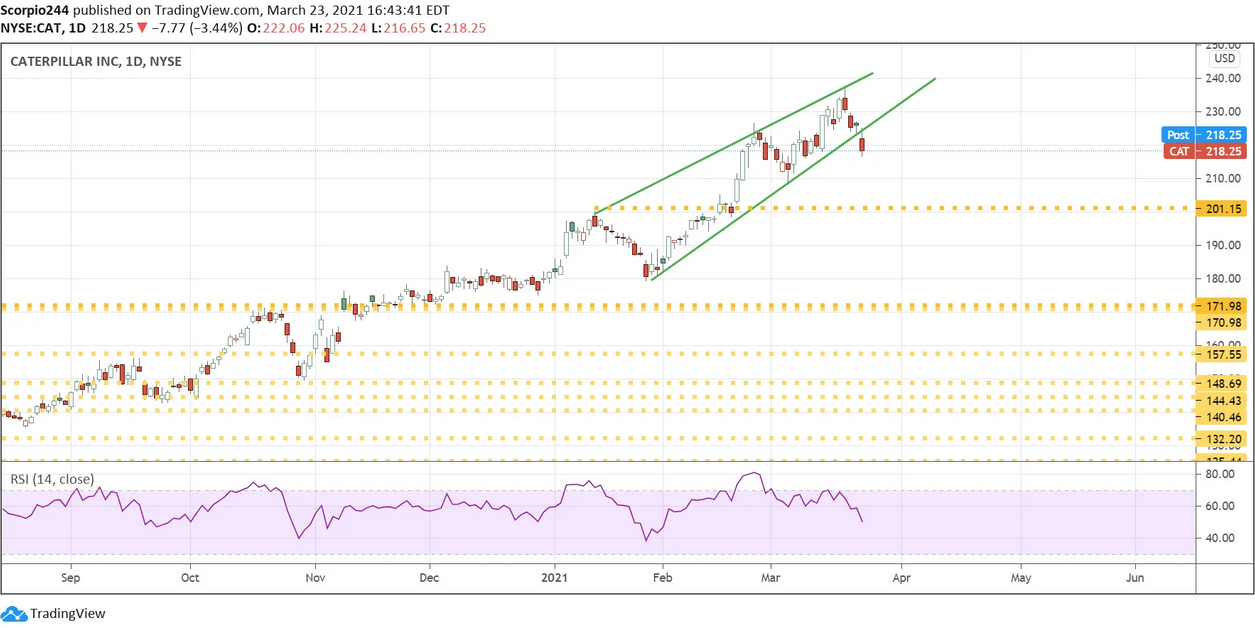 Caterpillar Inc Daily Chart
Disney
It looked like Walt Disney Company (NYSE:DIS) was ready to roll over, too, as it fell out of its rising wedge pattern.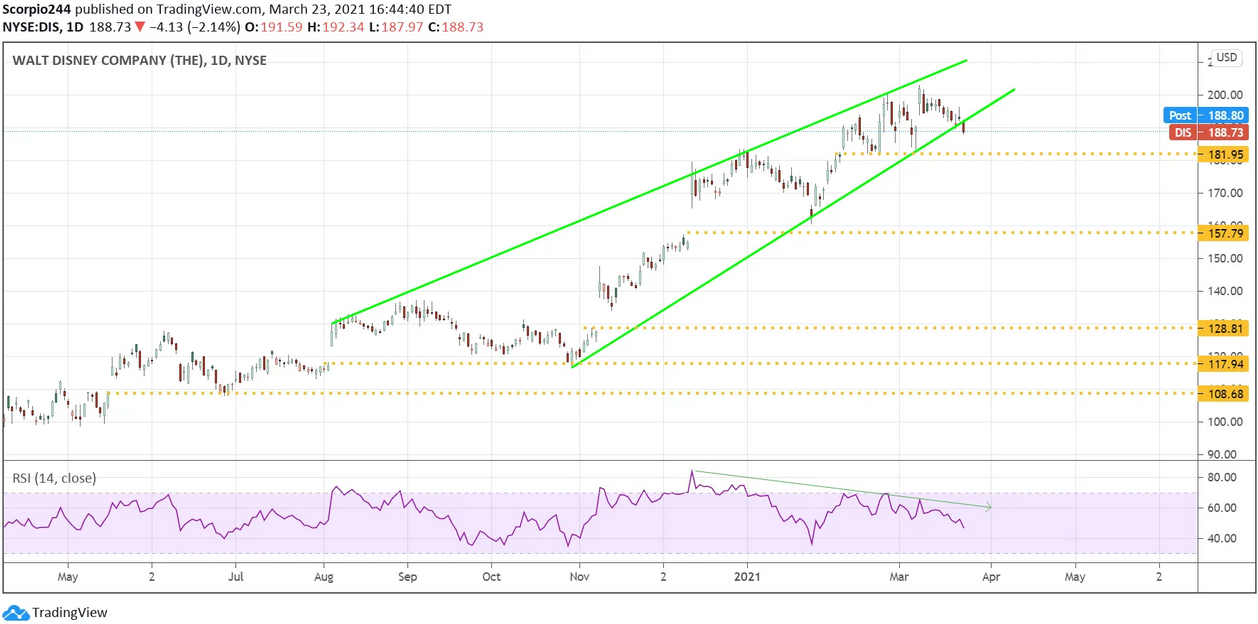 Disney Daily Chart
Freeport
Freeport-McMoran Copper & Gold (NYSE:FCX) is about to make a big drop if it falls below support at $32. Tons of volume traded yesterday, and the RSI was trending lower. The next stop for Freeport is likely $25.50.

Freeport Inc Daily Chart
Micron
The sellers were out in force yesterday on Micron Technology Inc (NASDAQ:MU), with the stock falling by 6.5%. Volume levels were very high, suggesting plenty of new sellers in the name. Meanwhile, the RSI was dropping and pointing to even lower prices. The chart would suggest that a break of support at $85 sends the stock to $74. It could be worse because if $74 were to break, the losses could mount up dramatically all the way back to that break-away gap at $58; ouch that would suck!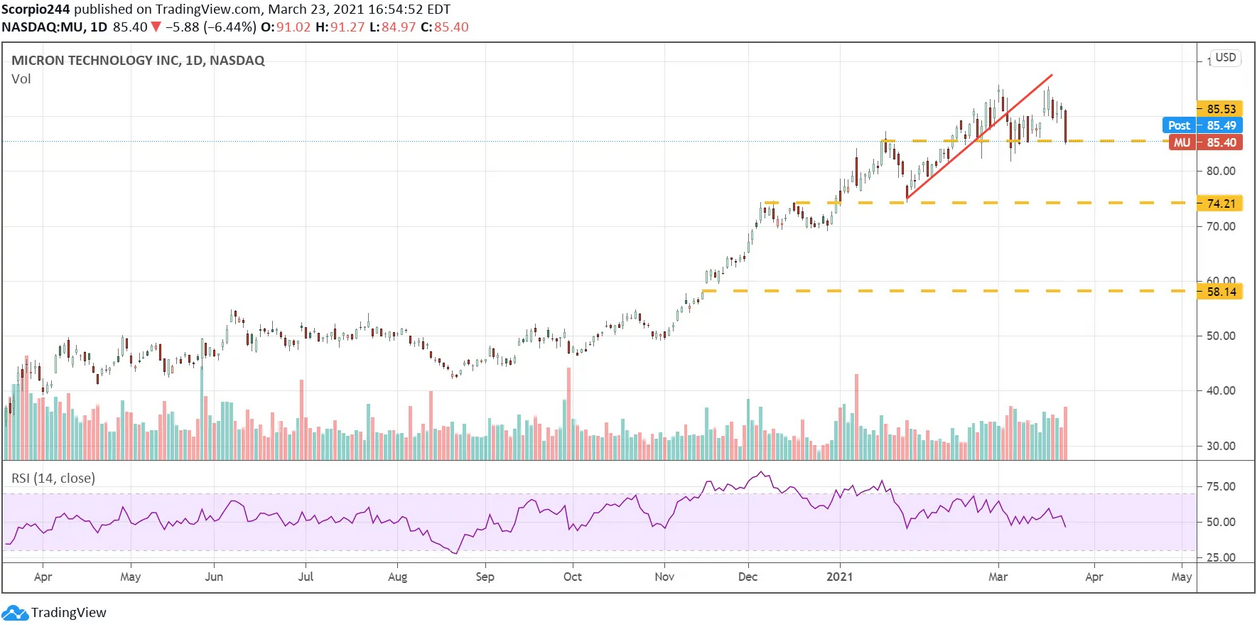 Micron Technology Inc Daily Chart
Leave a comment