Editor's Note: All information provided in this post is correct as of close of markets on Dec. 24, 2020.
The coronavirus pandemic notwithstanding, we think it's safe to say that from a stock market perspective, it's been Tesla's (NASDAQ:TSLA) year.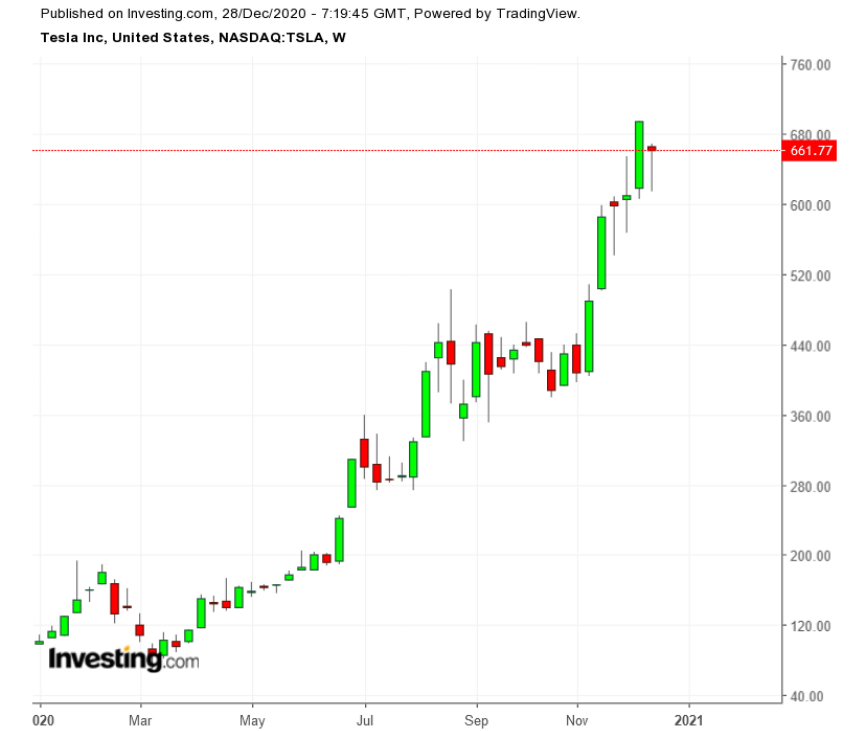 TSLA Weekly TTM
Going into the final week of 2020, shares of the Palo Alto, California-based manufacturer of battery-powered cars were up 691%, handily beating the other stocks listed on the S&P 500 and NASDAQ 100 indices.
Tesla's cachet is and has been its quest to transform automotive transportation by replacing gasoline and diesel with power from batteries. After years of missing targets and production deadlines, its profitability now appears to be stable.
Now, as in its earlier years, investors are buying Tesla CEO Elon Musk's ambition along with his vision. They believe in his growth story. And they are paying more than 170 times projected 12-month earnings for the shares.
The company's valuation of $627.3 billion is now bigger than the combined market caps of Fiat Chrysler (NYSE:FCAU), Ford Motor (NYSE:F), General Motors (NYSE:GM), Honda (NYSE:HMC), Hyundai (OTC:HYMLY), Nissan (OTC:NSANY), Peugeot (OTC:PUGOY), Toyota (NYSE:TM) and Volkswagen (OTC:VWAGY).
Never mind that Tesla's trailing 12-month revenue was $28.2 billion, compared with $115.8 billion for General Motors alone.
One can argue Tesla is an outlier, irresistible to investors big and small who see it as the transformative stock of the decade. Just as Apple (NASDAQ:AAPL) was when the iPhone took off in the first decade of this century.
Tesla only joined the S&P 500 on Dec. 21, sparking billions of dollars of stock trades for investors to rebalance their portfolios. But Tesla's big gains also reflect some common themes around the winners and losers in a market that crashed earlier this year but is trading at near-record levels.
NASDAQ 100 Stocks Lead The Gainers
For the winners, it is huge amounts of growth in a limited number of sectors, especially technology and biotechnology. The NASDAQ 100 Index, which focuses on those stocks, and is up 45.5%, with about 84% of shares in the index showing gains. That compares with roughly 56% of the stocks in the S&P 500 or the Dow Jones Industrial Average.
Moderna, (NASDAQ:MRNA), the Massachusetts biotech that has developed a coronavirus vaccine which is now being deployed worldwide, has seen its shares jump 530% to $123.39, the second-best performer among NASDAQ 100 stocks.
Shares of Zoom Video Communications (NASDAQ:ZM) are up 451%, the fourth-best among NASDAQ 100 equities as the software developed for commercial users became indispensable to families and friends, as well as myriad work-from-home employees under lockdown conditions because of pandemic health fears.
Aspiration and the capacity to shop from home during lockdown also worked for some companies. The second-best S&P 500 performer during 2020 has been Etsy (NASDAQ:ETSY), whose online marketplace lets people make, sell, buy, and collect unique items.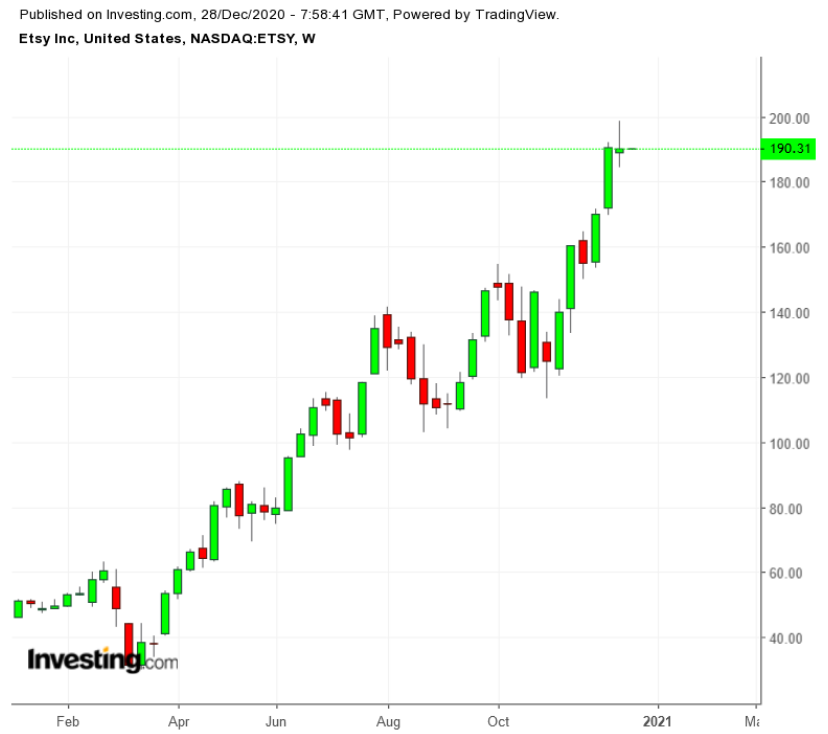 ETSY Weekly TTM
Shares are up nearly 330%.
Peloton (NASDAQ:PTON), whose exercise equipment is popular among those hoping to work off tension and weight gained during the pandemic, is the third-best NASDAQ 00 performer, up 473%.
Stocks that make it possible for consumers or companies to do business safely have soared. Witness Okta (NASDAQ:OKTA) and PayPal Holdings (NASDAQ:PYPL), up 139% and 120.6%, respectively.
Okta, the eighth-best NASDAQ 100 performer, develops identity and access management to make networks more secure. PayPal, number 10 in the NASDAQ 100 and fourth in the S&P 500, facilitates online sales.
Big Tech Dominates Dow Winners; Energy, Travel Shares 2020 Losers
Among stocks in the Dow Jones Industrial Average, this year the top two stocks are both big tech—Apple (AAPL) and Microsoft (NASDAQ:MSFT)—followed by the athletic-equipment-and-apparel giant Nike (NYSE:NKE). The trio are up 79.9%, 41.3% and 39.8%, respectively.
The stock market's 2020 losers overall appear to be concentrated in energy and related fields and travel and leisure, sectors that were unable to take advantage of the massive interest-rate cuts from the Federal Reserve.
The price of West Texas Intermediate, the benchmark US crude, went negative for the first time ever for one panicky day in April. With Thursday's $48.23-a-barrel close, WTI was still down 21% for the year.
Six of the 10 biggest S&P 500 decliners are energy companies, including Occidental Petroleum (NYSE:OXY) and Marathon Oil (NYSE:MRO), down 57.1% and 51.2%, respectively.
The price pressure hurt even the biggest oil stocks. Chevron (NYSE:CVX) is the third-worst Dow performer, down 29.4%. Exxon Mobil (NYSE:XOM) is off 40% and was removed from the Dow altogether earlier this year, after 92 years on the 30-component index.
The pandemic was also crippling for airlines, hotels, restaurants, movie theaters and live theater and entertainment venues.
Cruise-ship operators Carnival Corporation (NYSE:CCL) and Norwegian Cruise Line Holdings (NYSE:NCLH) are the two worst-performing S&P 500 stocks this year, down 59% and 58%, respectively. Royal Caribbean (NYSE:RCL) is the 10th worst, down 47.1% even with a 9.2% gain in the fourth quarter on hopes that vaccines against the COVID-19 virus will soon be available worldwide.
Aviation giant Boeing (NYSE:BA) has been the weakest of the 30 Dow stocks, off 33.4% for the year because of its struggles to get its 737 MAX back into the air which also helped fuel a collapse in new airliner orders. The fourth quarter is telling a different story. The plane has been recertified; there's hope vaccines will lead to more travel. Boeing shares are now up 33%.
In theory, the stocks that have seen huge gains this year, like Tesla and Moderna, could come down or soften in 2021, if only because their gains are so large and happened so quickly. And money can and will move rapidly. More importantly, if the COVID-19 vaccines work and economies see real revival, demand for Peloton equipment or Zoom subscriptions may fade.
You can see some of stocks that jumped too far too fast already coming back to earth. Shares of Apple, Amazon.com (NASDAQ:AMZN) and Microsoft peaked on Sept. 2. Facebook (NASDAQ:FB) and Netflix (NASDAQ:NFLX) peaked in July and August. None have come close to hitting new highs since then.
Still, they'll finish the year with gains of around 30% or much more—nothing to be sneezed at, for sure but nowhere near where the biggest gainers will end up.
Here's the full roster of top 10 winners and losers for each index: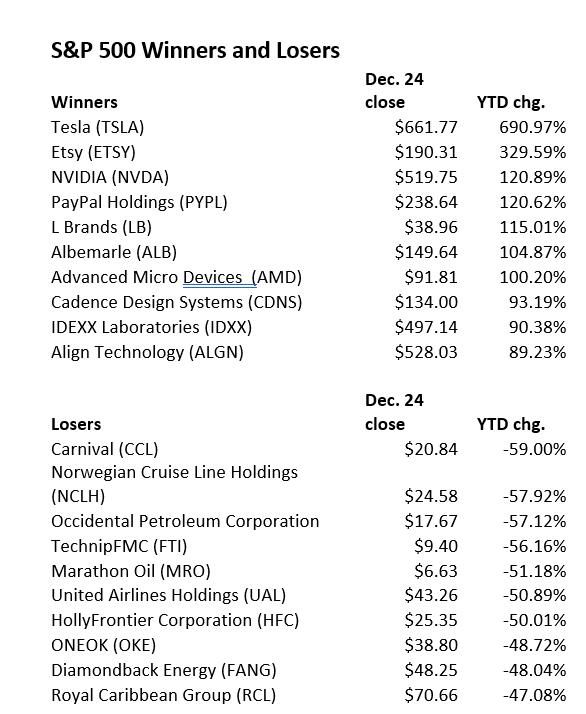 S&P 500 2020 Winners and Losers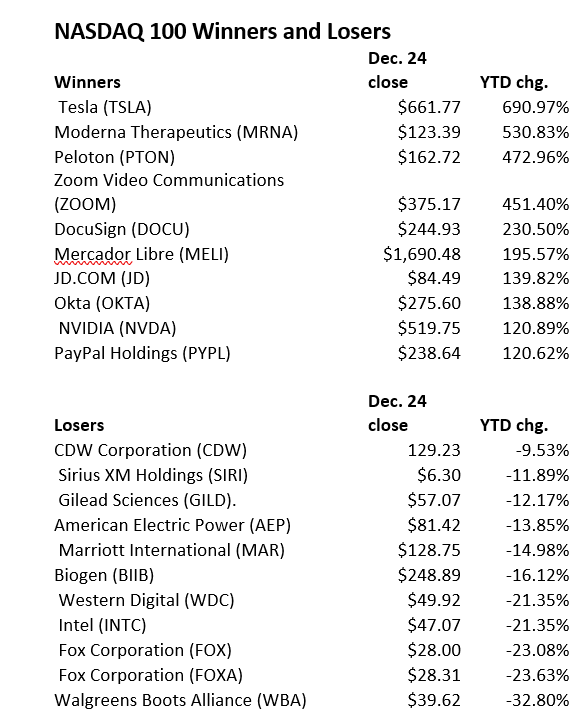 NASDAQ 100 2020 Winners and Losers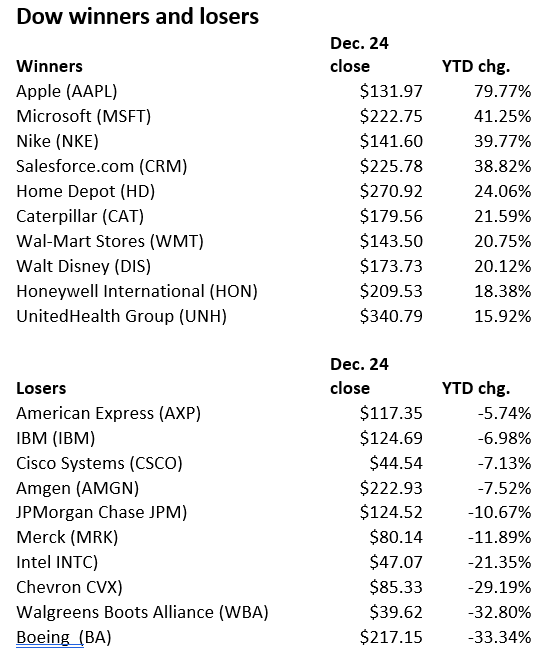 Dow 2020 Winners and LosersOriginal Article
Leave a comment