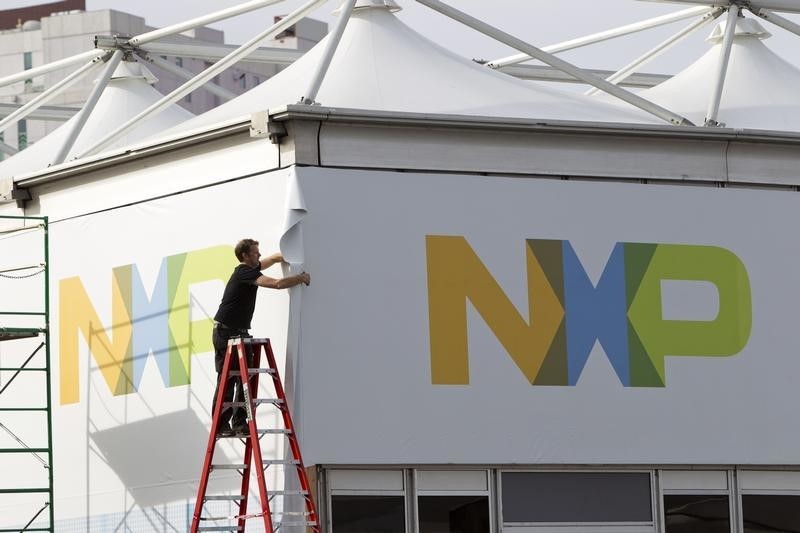 © Reuters.
By Geoffrey Smith
Investing.com — Europe ended last year with a heated dispute about fish. Could the first hot story of 2021 be about chips?
Shares in Germany's Infineon (DE:IFXGn) and Dutch-based NXP Semiconductors (NASDAQ:NXPI) have soared to record highs this week, distinguishing themselves even in the middle of an indiscriminate "everything rally" predicated on the expectation of more fiscal spending by an unconstrained Democratic Party administration in the U.S. (Those hopes are being further buttressed by confidence that central banks will continue to keep government and corporate borrowing costs at or close to record low levels).
By mid-morning in Europe on Friday, NXP's Frankfurt-listed stock was up 13% for the week, while Infineon (OTC:IFNNY)'s was up 7.3%. Shares in French-based STMicroelectronics (PA:STM) were likewise up over 10% after adding another 3.1% on the last day of a frenzied opening week to the year.
That enthusiasm has also bubbled through to Dutch-based ASML (AS:ASML), the world's biggest maker of high end machines for making silicon chips. ASML stock was up another 3.1% at a fresh record high.
There's nothing exclusively European about this, naturally. Chipmakers in the U.S. and Asia have been flagging a cyclical upturn for some months, and the sector is in any case in the middle of a huge secular boom driven by the increased digitization of everything from shopping to driving and recreation. Industry giant Samsung Electronics (OTC:SSNLF) stock has risen 50% in the last three months alone, albeit helped by factors that are more company-specific.
The performance appears to be driven at least in part by rotation out of overheating U.S. names into companies with less stretched valuations. Nvidia (NASDAQ:NVDA) and Qualcomm (NASDAQ:QCOM) stock, for example, have essentially flatlined since the start of winter, amid the first hints of disappointment in third-quarter earnings reports.
But the valuations attached to the European chipmakers are now also looking increasingly hard to justify. Infineon trades at over 82 times trailing earnings, STMicro over 60 times and ASML over 55 times.
How confident can investors be that earnings will catch up? A report in the Financial Times on Friday, detailing a severe shortage of chips for the automotive industry that is a major customer for all of the big three, certainly suggests that margins will be a lot fatter this year. And the quickening pace of adoption of electric vehicles, which require much more in the way of semiconductors, will help further. Battery electric vehicle sales in Germany, Europe's largest market, tripled in 2020 and, together with hybrids, accounted for over 20% of all new registrations in the fourth quarter, according to figures from Germany's Federal Vehicles Office (KBA) this week.
The FT cited complaints from Europe's three biggest components suppliers – Bosch, Continental (DE:) and Valeo (PA:VLOF) – that they had all had trouble sourcing chips for components in recent months. More than one of the companies expects such bottlenecks to last well into 2021.
That's not to say that this week's momentum can be sustained forever, or even for long, but it is at least a solid fundamental story to underpin prices when the froth finally comes off the broader market.
Leave a comment