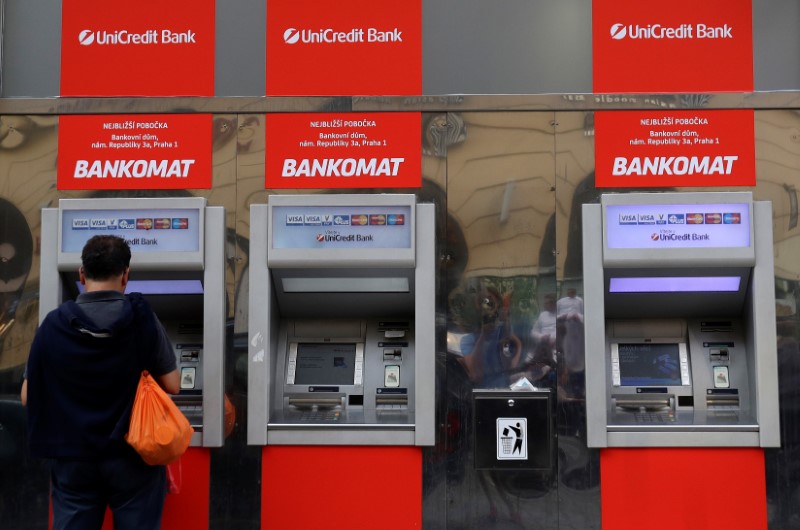 © Reuters.
By Geoffrey Smith
Investing.com — Europe's banks are using this earnings season as another illustration of why you can probably find better places to invest your money.
The long-hoped for bounce-back looks like it is going to have to wait a few more months, as a slow vaccination process delays the re-opening of the Eurozone economy and, consequently, the all-clear from fearful regulators on paying money out to shareholders.
Even in those cases where the banks are in a position to make such payouts, they still seem capable of finding ways to disappoint. Unicredit (MI:CRDI) CEO Jean Pierre Mustier bowed out on a low note after stuffing an 878 million euro ($1.06 billion) goodwill impairment into its fourth-quarter accounts late on Wednesday, ensuring that the bank's net loss for the quarter – at 1.18 billion euros – was almost doubled the market forecast.
Unicredit stock fell 2.5% by late morning in Milan, although they are still up over 11% so far this year thanks to the broader rally in Italian stocks due to the nomination of former European Central Bank President Mario Draghi as Prime Minister. Draghi has made solid progress in convincing most of Italy's big parties to back him.
The impairment rather overshadowed achievements that the market had already taken for granted, with underlying net profit coming in at 1.3 billion for the year, a modest but still positive result.
For 2021, Unicredit expects underlying profit to more than double to 3 billion euros, while return on tangible equity should improve even faster from last year's 2.5%, helped by 800 million in stock buybacks. European regulators are likely to purse their lips and frown, but if a bank with a common equity tier 1 ratio of over 15% can't make distributions, it's hard to see why any private investor would want to get involved.
Even Unicredit, well-capitalized and more profitable than many Eurozone banks, faces some key risks. If the biggest of them revolves around Italy's economy emerging from the pandemic, then the next biggest is surely the fate of perennial basket case Banca Monte dei Paschi di Siena SpA (MI:BMPS), which the previous government wanted Unicredit to absorb.
Mustier stepped down ostensibly in protest at such pressure, and the task of negotiating terms will now fall to UBS veteran Andrea Orcel, who will join the bank in April. Orcel will doubtless appreciate the irony of having to negotiate any deal with Draghi, who as governor of the Bank of Italy in 2007 approved BMPS's ruinous takeover of Banca Antonveneta, an event largely responsible for today's mess.
But if things look uninspiring in Italy, they look downright dismal in Germany, where the agonizing death of Commerzbank (DE:CBKG) drags on. Commerzbank stock fell another 6.5% after the bank confirmed a loss of 2.7 billion euros due to its third major restructuring in five years.
The latest plan foresees the cutting of 10,000 jobs and the closure of nearly half its branches in Germany. But the country's strict labor laws mean the process will drag on to 2023, a timeline that left the market, yet again, deflated.
Leave a comment