The COVID-19 pandemic has delivered a severe blow to global restaurant chains. These companies suffered massive losses this year as customers stayed indoors and the pandemic forced closures of their operations.
But as investors pin their hopes on vaccine success and the economic reopening next year, restaurant operators are being closely watched as a barometer of consumers' willingness to resume their normal lives and reopen their wallets.
Today, we've shortlisted Starbucks (NASDAQ:SBUX) and McDonald's (NYSE:MCD) to see which stock offers a better value.
1. Starbucks
The popular coffee-shop chain has faced strong headwinds since the outbreak of coronavirus as Americans changed the way they purchase coffee and experience restaurants.
Last month, the giant reported global same-store sales fell 9% during the company's fiscal fourth quarter, marking the third straight quarter of overall declines. That dismal sales performance, however, is showing some signs of turning around in recent weeks.
For example, the drop in sales has shrunk since the spring, when much of the world was in lockdown. In the U.S., comparable sales fell 9%, beating expectations. Management, which resisted providing guidance for a couple of quarters, is now confident that the worst is over.
The chain forecasts global comparable sales will expand between 18% and 23% during the first quarter and 2021, with expected growth as high as 32% in China. The recovery at home will be a little slower, with comparable sales in the Americas rising between 17% and 22% in the first quarter and through next year.
Starbucks CEO Kevin Johnson said the following in an email:
"Our strategies are working and I am optimistic that we will emerge from the COVID-19 pandemic as a stronger and more resilient company."
But some analysts fear that it may take a longer time for food chains to fully recover in the post-pandemic world, where some consumers are likely to alter their behavior permanently and avoid visiting restaurants. So this is not the right time to bet on the coffee-chain shares.
Starbucks shares, after plunging 36% in March, have fully recovered their losses since then. They closed Tuesday at $98.82, up more than 12% during the past month.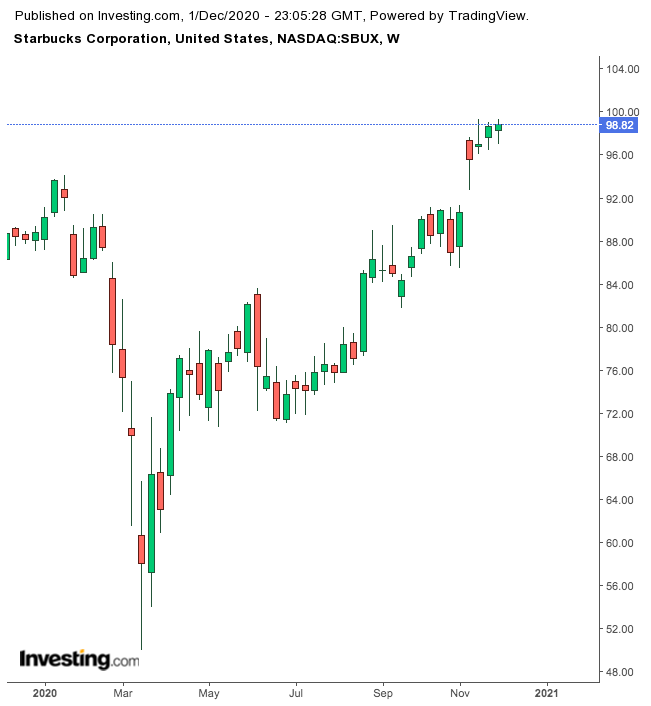 Starbucks 1-Year Chart.
Despite these uncertainties, Seattle-based Starbucks is working on a turnaround plan to emerge stronger after this global health crisis. The pandemic has forced Starbucks to rethink its central concept as a "third place" away from work and home where customers can relax.
It now plans to accelerate the rollout of its "pickup" store concept, with smaller-format locations that don't have customer seating. To make room for the new stores, which will be in cities like New York, Boston and Chicago, Starbucks has said it will be closing about 400 of its traditional cafés in urban areas.
2. McDonald's
One of the world's largest fast-food chains, McDonald's is another restaurant stock that's recovering its lost ground quickly after the pandemic. Shares are up 75% since March 18, outperforming the Dow Jones Restaurants & Bars Index.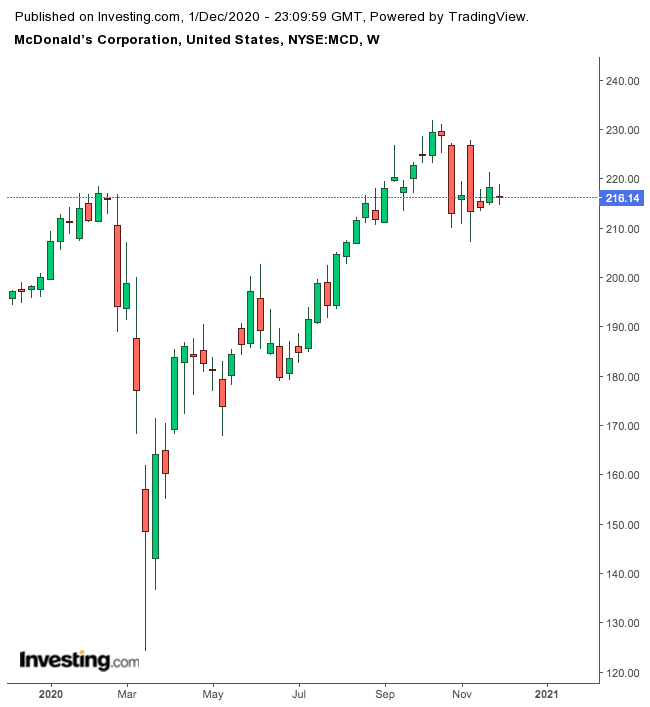 McDonald's 1-Year Chart.
One reason for this strength is that MCD performed much better than most restaurants during the pandemic, helped by its massive network of drive-thru locations. The company's comparable sales were positive throughout the third-quarter that ended on Sept. 30, benefiting from robust average check growth from larger group orders as well as strong performance at dinnertime.
Operational changes and new marketing in recent months have helped the chain regain some momentum. The company's collaboration with rapper and record producer Travis Scottand a reduction in average wait times at drive-throughs, a simpler menu, the closure of most dining rooms to increase labor efficiency were some of the factors that helped improve sales.
With this operational strength, another important factor to look at when picking a restaurant stock is the company's stability when it comes to paying dividends. McDonald's has raised its payout each and every year since 1976, when it first started paying dividends.
With a current dividend yield of 2.31%, MCD stock now pays $1.29 a share quarterly after a 3% hike in October.
Bottom Line
We like both Starbucks and McDonald's for value investors. Each has great assets and brands that should endure during the current downturn and once the pandemic is contained. At the same time, it's obvious that their earnings won't return to normal until there's a global cure available for the coronavirus.
For long-term investors with a five-year-plus horizon, both Starbucks and McDonald's shares remain good bets.
Leave a comment