Special purpose acquisition company (SPAC) Star Peak Energy Transition Corp (NYSE:STPK_u) will reverse merge with Stem. Inc., an AI-driven smart energy storage optimization platform, in Q1 2021. The stock has some powerful themes embedded into the narrative including SPAC, artificial intelligence (AI), clean/smart energy storage, ESG, and indirectly related to electric vehicles (EVs) and battery optimization technology, and rare materials. These are all keywords and themes that make up the current momentum driven money flow further accelerated by the favorable clean energy policies of President Joe Biden's administration. High risk-tolerant investors seeking speculative exposure in Star Peak at opportunistic pullback levels.
Stem, Inc.
The underlying company to reverse merge into STPK is Stem, Inc. Stem developed the AI-powered Athena platform that performs automated energy system operations that incorporate real-time critical decision making and optimization like accurately forecasting energy demands onsite and on the grid to deliver the industry's most accurate predictions. Using the predictive analysis, Athena performs real-time optimization across multiple applications including demand charge management, energy arbitrage, wholesale market participation and backup power. The site states, "Athena constantly makes economic tradeoffs when determining how much energy to deploy or store up for later." Athena has over 20 patents operating a network of over 900 sites running more than 16 million hours. The Company claims to have the "Work's Largest Energy Storage Network" with over 600+ MWh enrolled in the STEM network and over 900 sites in operation or contracted. The Company has many well-known enterprises utilizing their clean energy storage systems including Adobe (NASDAQ:ADBE) in various California locations, Bed Bath & Beyond Inc (NASDAQ:BBBY) Dignity Health Sports Park and Whole Foods Market (NASDAQ: AMZN) locations throughout California and Hawaii. The Company generated $17.28 million in GAAP revenues and (-$65.24) million in net losses for 2019.
New Revenue Streams
Athena automatically manages and optimizes client energy supply chains most notably clean energy to generate new revenue streams for companies like storing excess renewable energy (IE: solar) to participate in energy markets. It can perform energy arbitrage as well as swap out to clean stored energy when electricity prices off the grid are too high. Athena also can manage compliance with constantly changing energy policies and regulations. Athena clients average 10% to 30% monthly electric bill reductions and 35% of corporations are committed to carbon reductions.
First Mover Advantage
In the investor presentation, Stem claims to be the "First pure play smart energy storage company to go public in the U.S." with a $1.2 trillion addressable market by 2050. The Company is the first mover AI platform operating with over 40 utilities, five grid operators with over 16MM runtime hours. Stem has a 75% market share in California BTM storage market, making it the largest network in the U.S. Revenues are projected to grow at a 51% CAGR from 2021 to 2025. The Company is ready to deploy $525 million proceeds to fund targeted high growth markets. Under the ESG theme, Stem is committed to global decommitment to decarbonization capturing this globally popular tailwind. Prudent investors looking to get exposure into a first mover smart energy management play can watch shares of STPK for opportunistic pullbacks or wait for the reverse merger to complete in Q1 2021.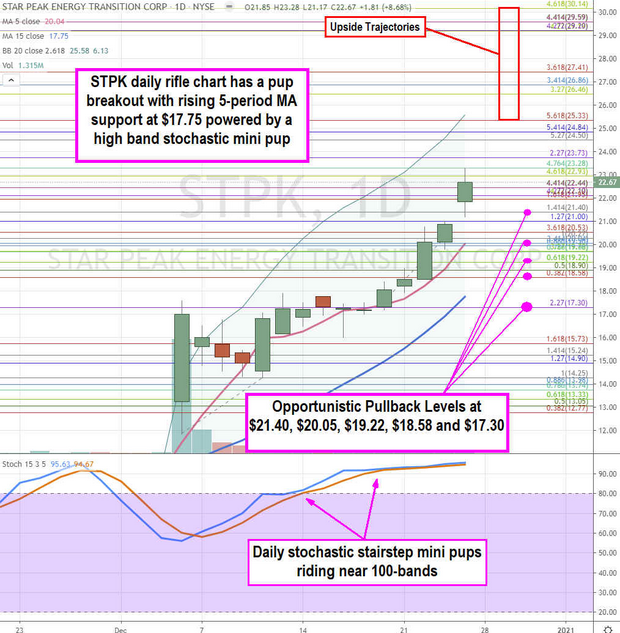 StarPeak Energy Stock Chart
STPK Opportunistic Pullback Levels
We use the rifle charts on the daily time frames to provide a short-term perspective for nimble trades and only the highest-risk tolerant investors to consider trading STPK shares. The daily rifle chart has been in an uptrend powered by the pup breakout and stochastic stair step mini pups driving the stochastic towards the 100-band overbought levels. Shares made an initial peak off the $23.28 Fibonacci (fib) level. The daily upper Bollinger Bands (BBs) are near the $25.33 fib. Traders should be careful chasing this one and be leery of potential daily market structure high (MSH) triggers which are the low of the lower higher candle. Prudent risk-tolerant investors and nimble traders can watch for opportunistic pullback levels at the $21.40 fib, $20.05 fib, $19.22 fib, $18.56 fib and the $17.30 fib. Potential upside trajectories range from the $25.33 daily upper BBs/fib and the $30.14 fib. Be aware this stock is pure speculation and only high risk-tolerant investors should even consider exposure. Keep in mind the stock symbol will also change once the reverse merger is completed in 2021. Less aggressive investors may want to wait for the merger to complete before taking exposure.
Leave a comment