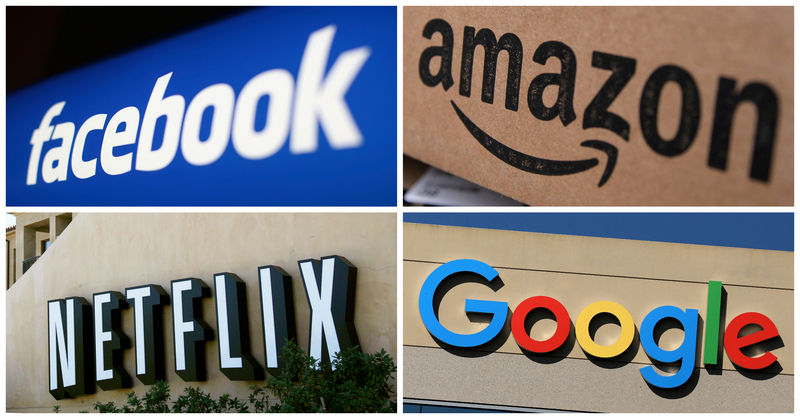 © Reuters.
By Yasin Ebrahim
Investing.com – The S&P 500 closed at record highs Friday, as tech continued to rack up gains to offset losses in value stocks on fears of further Covid-19 restrictions ahead as Americans travel over the holidays.
The Dow Jones Industrial Average rose 0.13%, or 38 points. The S&P 500 was up 0.28%, while the Nasdaq Composite added 0.92%.
Tech was among the biggest gainers of the day, led by the Fab 5 stocks as investor appetite for growth stocks remained intact.
Apple (NASDAQ:AAPL), Amazon.com (NASDAQ:AMZN), Facebook (NASDAQ:FB), Alphabet (NASDAQ:GOOGL) and Microsoft (NASDAQ:MSFT) were higher.
The uptick in tech stocks helped the broader market fend off a weakness in value stocks at a time when some are concerned the uptick in Covid-19 infections is likely to lead to further restrictions in the U.S.
"The number of cases was rising sharply before last week but holiday travel and socialising could see an acceleration that necessitates aggressive action to prevent healthcare systems buckling under the pressure of hospitalisations," ING said in a note.
A fall in industrials and energy led the move in lower in value stocks – those linked to the performance of the economy.
Energy fell nearly 1% as investors appeared to take profits, but remains on track for a third-week of gains following strong early-week gains amid rising oil prices ahead of a key OPEC meeting next week.
"Despite some signs of daylight between producers over deviating from the tapering timeline, we believe that OPEC+ will opt for a short extension of the current 7.7 mb/d cut when they meet next week," RBC said in a note.
Online retailer platform were also in focus on Friday, with Shopify (NYSE:SHOP) and Etsy (NASDAQ:ETSY) up sharply, as online sales racked up gains. Online sales rose to a rose 22% to a record $5.1 billion on Thanksgiving Day, according to Adobe (NASDAQ:ADBE) Analytics.
Looking to the week ahead, market sentiment in the week ahead will be driven by developments on Covid-19 vaccines, further restrictions to curb the flow of the virus and any progress on US fiscal stimulus, ING said in a note.
Leave a comment