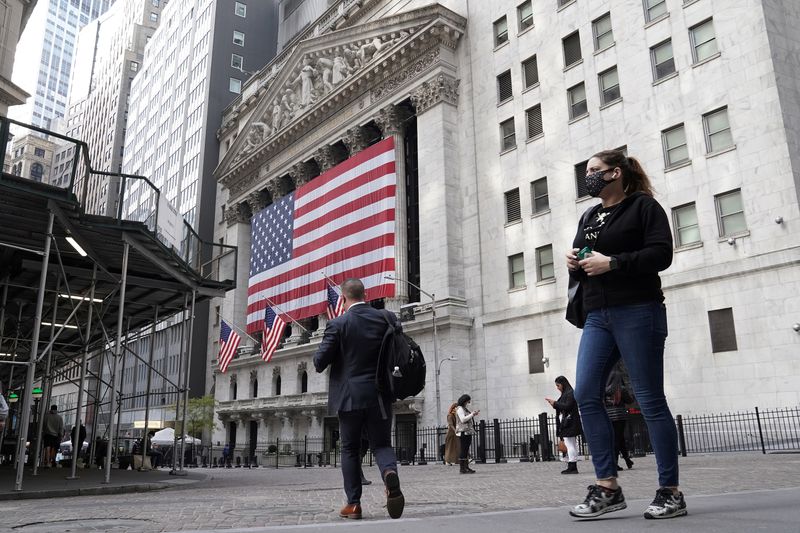 © Reuters
By Yasin Ebrahim
Investing.com – The S&P 500 and Nasdaq notched a second straight day of all-time highs Friday as President Joe Biden signaled that he was prepared to pass the stimulus bill without Republican support, stoking investor optimism that in the absence of compromises needed to win over GOP support the final package could be closer to $1.9 trillion.
The S&P 500 closed up 0.39% and the Nasdaq Composite was up 0.57%. The Dow Jones Industrial Average rose 0.30%, or 92 points,
"Going forward, this minimal improvement in January hiring underscores concerns that the labor market recovery may take some time, potentially remaining well below full employment for years, and also provides additional ammunition for those in Washington focused on a further increase in government spending to help supplement growth," Stifel said in a note.
Biden on Friday said he would move forward with his $1.9 trillion stimulus relief package even if it means passing it without the 10 Republican votes needed in the Senate. The president also stressed that he would not trim the size of the proposed $1,400 direct payments to Americans.
"The biggest risk is not going too big [on the size of the stimulus package] but too small," Biden said during televised remarks on Friday. He added: "It's very clear our economy is still in trouble,"
The Senate approved a budget bill early Friday, paving the way for passage of Biden's "American Rescue Plan."
The urgency on further stimulus comes as the economy produced fewer jobs than expected last month.
The U.S. created more 49,000 jobs in January, from a downwardly revised 227,000 decline in jobs seen in December, and lower than economists' estimates for a 50,000 gain. The unemployment rate fell to 6.3% from 6.7%, but the better-than-expected decline was due to "people leaving the labor force as employment rose 201,000 and unemployment fell 606,000," Jefferies (NYSE:JEF) said.
Mostly bullish quarterly earnings, meanwhile, continued to surprise to the upside, further boosting investor sentiment.
Ford (NYSE:F) reported better-than-expected fourth-quarter earnings, but revenue missed expectations. Its stock still climbed 1% as the company upped its spending plans on electrical vehicles to $29 billion, underscoring its intention to make a big splash in the EV market.
Activision Blizzard (NASDAQ:ATVI) surged nearly 10% after projecting strong 2021 forecast and delivering a fourth-quarter beat on the both the top and bottom lines, led by strong performance from its "Call of Duty" franchise.
Snap (NYSE:SNAP) was up 9%, shrugging off a softer-than-expected first-quarter guidance as earnings topped analysts' estimates.
Peloton Interactive Inc (NASDAQ:PTON) fell 6%, however, after flagging supply chain issues as the cycling company struggled to keep up with demand. The company's fourth-quarter earnings and revenue topped Wall Street forecasts.
Leave a comment