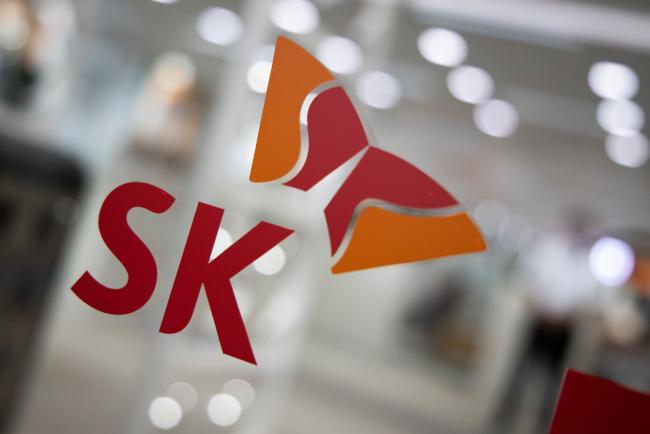 © Bloomberg. Signage for SK Group is displayed at the entrance to the company's office in Seongnam, South Korea, on Monday, July 22, 2019. SK Hynix is scheduled to release earnings figures on July 25. Photographer: SeongJoon Cho/Bloomberg
(Bloomberg) — South Korean conglomerate SK Group is investing $1.5 billion in U.S. fuel-cell maker Plug Power (NASDAQ:PLUG) Inc. to boost the use of hydrogen as an alternative energy source in Asia.
The companies are forming a joint venture to provide hydrogen fuel-cell systems, fueling stations and electrolyzers in South Korea and elsewhere, SK and Plug said in a statement Wednesday.
The move comes as companies and governments around the globe push to use hydrogen in power plants, vehicles and elsewhere in place of fossil fuels. While most hydrogen is produced from natural gas, it can be generated from water through electrolysis powered by renewable energy. When burned, it produces no greenhouse gases.
South Korea has aggressively pursued fuel cells and hydrogen, making it a prime focus for U.S. fuel cell companies. Bloom Energy (NYSE:) Corp. recently signed a deal with SK Engineering & Construction to deploy 28 megawatts of fuel cells in the country.
Plug Power, based in Latham, New York, has spent more than 20 years losing money as it pushes to find profitable applications for hydrogen fuel cells. It's best known for offering fuel cells that run forklifts and other freight-handling gear. But it's also expanded into stationary fuel cells to run data centers and mobile ones for delivery vans.
The company's stock has soared in recent months as investors sought ways to bet on the emergence of a hydrogen economy. Although it had been making fuel cells for more than a decade, last year it expanded into hydrogen production and distribution through a pair of acquisitions.
SK Group is acquiring about 51.4 million shares of Plug for $29.29 apiece. The shares closed Wednesday at $35.
SK Innovation, the energy and chemicals unit of SK Group, is currently building two electric car vehicle battery plants in Georgia, with initial operations at the first facility scheduled to begin this year.
(Adds details on Bloom Energy in fourth paragraph, adds stock details in sixth and SK plants in the last.)
©2021 Bloomberg L.P.
Leave a comment