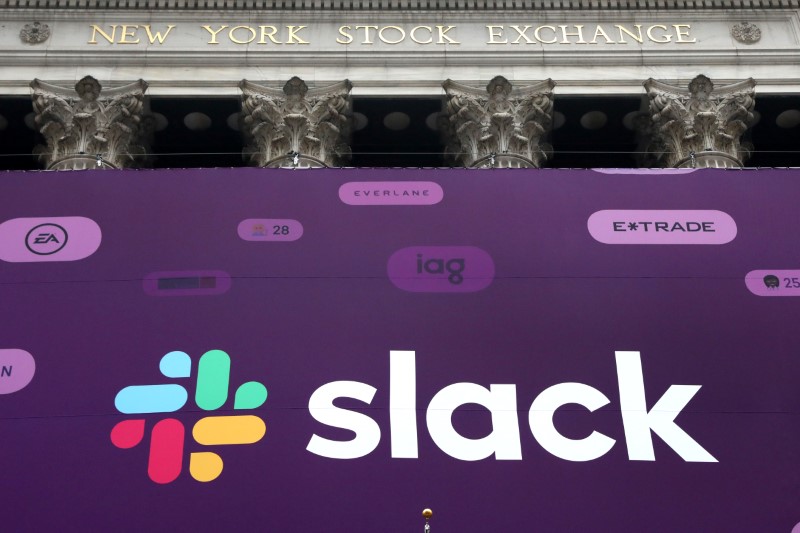 © Reuters
By Christiana Sciaudone
Investing.com — Salesforce (NYSE:CRM) is down 7% on expectations it will add office messaging app Slack to its arsenal.
The deal is set to be announced after the market close on Tuesday, according to CNBC, which cited sources. It should be half cash and half stock, and price Slack at a premium.
Slack Technologies Inc (NYSE:WORK) is up 5% on Monday, and Salesforce is scheduled to report quarterly earnings after the close on Tuesday.
The Wall Street Journal had first reported the talks last week, driving Slack up almost 40%. The news comes as tech companies tap the work from home trend driven by Covid-19, and try to outdo each other.
Revenue at Slack rose almost 50% in the most recent quarter from a year earlier as the messaging company broke even for the first time.
Last year, Salesforce paid $15.3 billion for data visualization company Tableau and $6.5 billion for MuleSoft in 2018, according to The Street.
Wedbush said Salesforce would be making an "aggressive move" to expand the "cloud enterprise product offering focused on further penetrating its golden installed base with what would be its biggest acquisition ($20 billion+) ever if Slack ultimately gets acquired tomorrow," The Street reported.
Slack shares are up 92% since the start of the year, while Salesforce has rallied about 47%.
Leave a comment