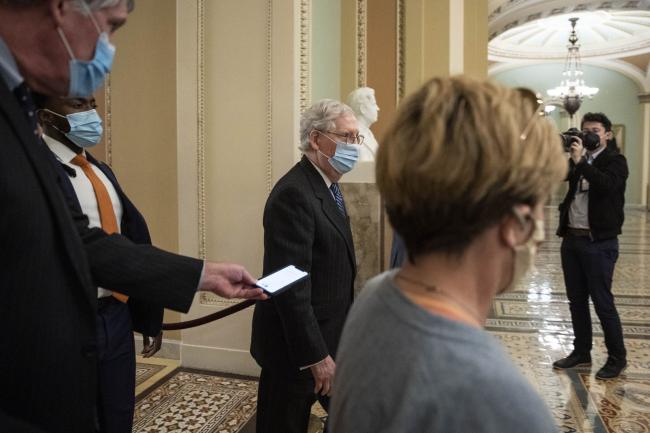 © Bloomberg. Senate Majority Leader Mitch McConnell, a Republican from Kentucky, walks to the Senate floor at the U.S. Capitol in Washington, D.C., U.S., on Tuesday, Dec. 15, 2020. Democratic leaders Pelosi and Schumer face pressure to allow a vote on a Covid-19 assistance plan without the aid for states they've said is vital, after a bipartisan group split that and liability protections from other relief spending.
(Bloomberg) — Senate Republicans on Tuesday blocked an attempt by Democrats to increase direct stimulus payments in the newly enacted Covid-19 relief bill from $600 to $2,000, bucking President Donald Trump who demanded the change.
A motion by Senate Minority Leader Chuck Schumer to approve a stimulus checks bill that passed the House on Monday was blocked by Majority Leader Mitch McConnell. The bill cleared the House on a 275 to 134 vote Monday.
Just before Schumer made his motion, McConnell said the Senate will address three of Trump's complaints: the amount of the stimulus payments, as well as unrelated concerns about election fraud and a law that shields technology companies from liability for user content.
"This week the Senate will begin a process to bring these three priorities into focus," McConnell said, without explaining when or if a vote will happen.
Trump on Tuesday, in a series of tweets, again demanded that the stimulus payments should be scaled up by the Senate.
"$2000 for our great people, not $600! They have suffered enough from the China Virus!!!" he said.
Despite the push by Trump, spending $464 billion on higher stimulus checks is not popular among Republicans who are increasingly focused on the burgeoning national debt. Only 44 Republicans joined 231 Democrats on Monday to pass a bill increasing the payments to $2,000. In the Senate just a handful of Republicans are now publicly on board, including Florida's Marco Rubio and Missouri's Josh Hawley.
The GOP tension comes at a crucial time for Republicans who are fighting to maintain control of the Senate in a pair of Georgia runoff elections on Jan. 5. On Tuesday, both GOP incumbents in the races, David Perdue and Kelly Loeffler also came out in favor of the $2,000 checks.
©2020 Bloomberg L.P.
Leave a comment