SBA Communications (NASDAQ:SBAC) is a real estate investment trust, providing wireless communications infrastructure to companies like Verizon and AT&T. SBAC went public in mid-1999, only to participate in the final months of the dot-com bubble before it all came crashing down.
The stock exceeded $57 a share in the summer of 2000. By late-2002, it could be bought for less than a dollar. Fortunately, the company survived. What followed was one of the best growth stories investors could possibly imagine. Nearly two decades later now, SBAC is hovering around $274 after reaching $328 in September, 2020.
Is this 16% pullback a buying opportunity and what is left of SBA's uptrend? Let's see if applying the Elliott Wave principle to the chart below can help us answer these questions.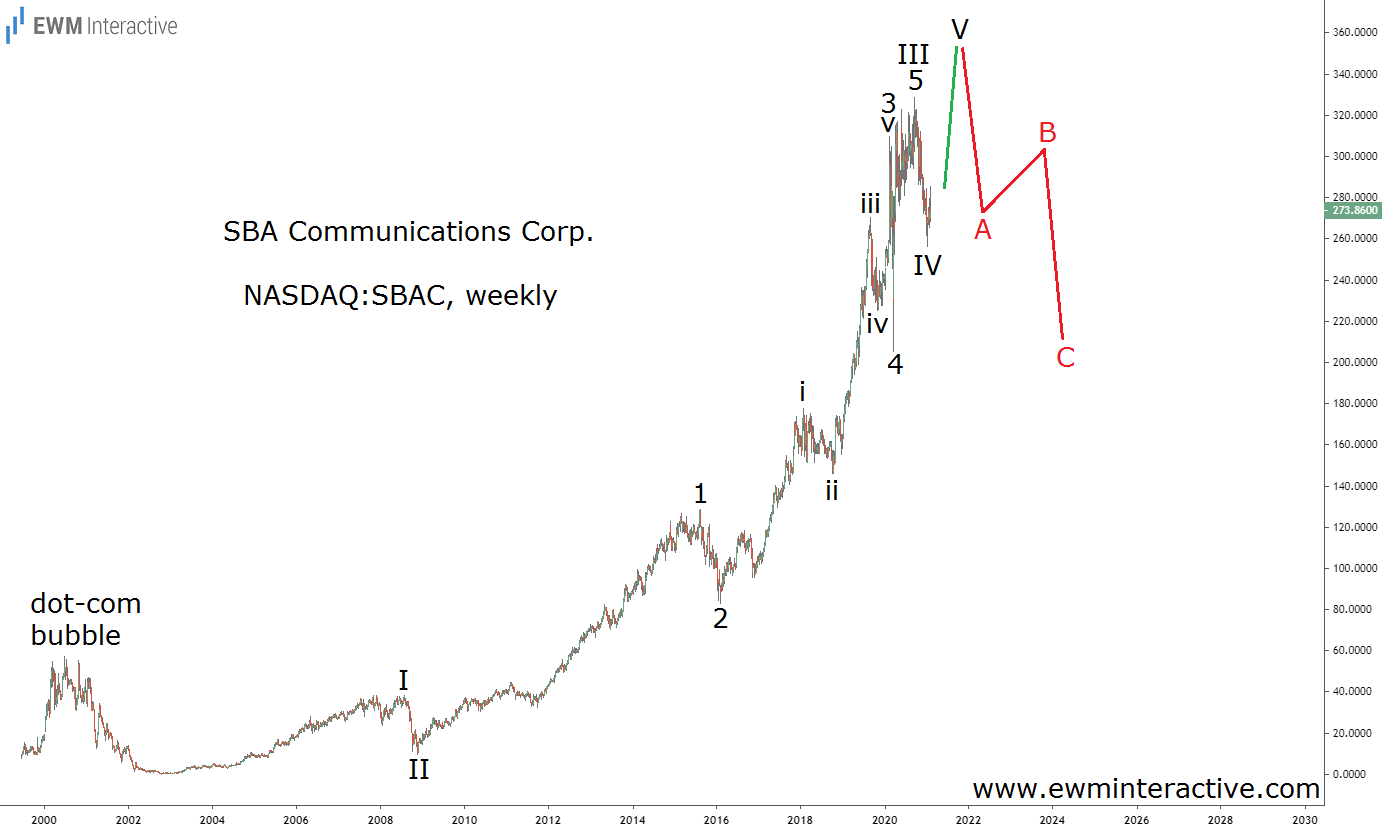 SBAC-Weekly Stock Chart
The wave count starts from the dot-com bust lows in 2002. The surge investors have been enjoying over the past 19 years can be seen as a five-wave impulse with a missing fifth wave. The pattern is labeled I-II-III-IV-V, where wave III, as it usually happens, is much longer than wave I.
Approaching $400, SBAC Stock Bulls Face Major Elliott Wave Resistance
The five sub-waves of waves III and 3 of III are also visible and marked 1-2-3-4-5 and i-ii-iii-iv-v, respectively. According to this count, last year's coronavirus selloff fits into the position of wave 4 of III. The following all-time high marks the end of wave 5 of III, which means the current dip must be wave IV.
If the analysis so far is correct, the bulls are about to make one last push to a new record in wave V. Unfortunately for them, the theory states that a three-wave correction follows every impulse. A bearish reversal between $350 and $400 followed by a decline to the 2020 lows near $200 would make sense.
From a purely valuation standpoint, SBAC's 2021 P/FFO of 30 makes both $400 and $200 plausible targets. Investors should simply not get too carried away when the first one is reached. The drop to the second one would be unnecessarily painful.
Leave a comment