Salesforce (NYSE:CRM) is slated to report earnings today after the bell, and if history is any guide, you want to get in ahead of the release.
The last time Salesforce reported earnings was Aug. 25 after the bell. Investors cheered the results and shares quickly went up 13% after hours, before closing up more than 26% the next day.
And last quarter was no anomaly in terms of beating expectations; Salesforce had previously done so over at least the last 10 consecutive quarters. Now, I'm not saying that a beat always leads to a rally. It doesn't because of something called the whisper numbers.
But it's a good starting point for a potential investment.
Expectations Seem Way Too Low
So, the question with Salesforce becomes: By how much should we expect them to beat?
Revenue that beats by $10 million won't be enough to move the needle. Heck, it might even result in a small sell-off.
Salesforce, however, appears well-positioned for a big beat. Consensus estimates call for $5.25 billion in revenue, up 16.3% yoy. That would equate to a substantial deceleration from last quarter when revenue grew 29% yoy.
Earnings are expected to be 74 cents per share, up just 1.3% yoy. I wouldn't be too concerned about earnings though, as investors shrugged off subpar earnings guidance last quarter. For Salesforce, revenue is currently much more important than earnings—and that should remain the case for at least a couple of years.
Salesforce Won Before the Pandemic, It's Winning During the Pandemic, and It Will Win Post-Pandemic
With Salesforce, you don't have to watch the news every day and adjust your opinion on its viability based on the case numbers or status of the vaccine. Of course, there's nothing inherently wrong with investments that require that, and fortunes have been made by considering the impact of the pandemic on companies. But it's nice for part of your portfolio to be more immune —pun intended—to the daily news cycle.
Salesforce's reaction to the vaccine news on Nov. 9 was telling; shares closed down around one-third of one percent.
The fact of the matter is that Salesforce's tools will continue to be adopted whether people work-at-home or return to the office en masse.
The pandemic did, however, give us some valuable information about Salesforce: The company continued to show that it can adapt on the fly. Salesforce helped customers address new needs such as curbside pickup and contact tracing.
I'm confident that whatever 2021 throws our way, Salesforce will be able to help businesses deal with it. If companies struggle to handle pent-up demand, for example, you can bet that Salesforce will leverage its existing capabilities and build new ones to help them handle it.
What About a Potential Slack Deal?
Investors received quite a surprise the day before Thanksgiving, as reports revealed that Salesforce is in talks to buy Slack (NYSE:WORK).
Slack shares surged more than 37%, but Salesforce shares dropped 5.4%.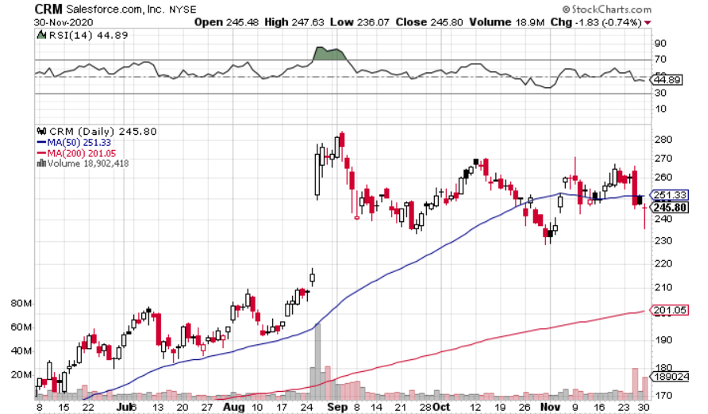 CRM Daily Chart
I can see why the market is apprehensive about this deal from Salesforce's standpoint. Slack doesn't fit neatly into Salesforce's core competencies. This isn't a Schwab (NYSE:SCHW) and TD Ameritrade (NASDAQ:AMTD) situation, where the potential for synergies is clear.
But Slack is an excellent platform with a lot of growth in its future. And it's not that far outside of Salesforce's core competencies.
Bottom line: I think this acquisition has a good chance of panning out if it comes to fruition. The latest is that the deal will be announced after the bell today. It will be interesting to see how Salesforce addresses the deal on its earnings call.
The Final Word
Salesforce is positioned very well in both the short and long-terms, and based on its history, now is as good a time as any to get in.
Yes, shares aren't cheap—65.3x forward earnings and 10.7x forward sales—but Salesforce can more than grow into its valuation.
Change is the only certainty in our world, and Salesforce has a great chance at capitalizing on whatever comes our way.
Leave a comment