November has been a good month for many oil companies. Buoyed by vaccine optimism, most have seen their share prices increase significantly. Three vaccines have yielded highly encouraging results in the final phases of trials.
Meanwhile, the price of Brent crude, the international benchmark, has also been firm during the month. It is currently just shy of $48. Since the end of October, the Dow Jones Oil & Gas Index has gone up by about 34%, too. However, the index is still down more than 32% year-to-date (YTD).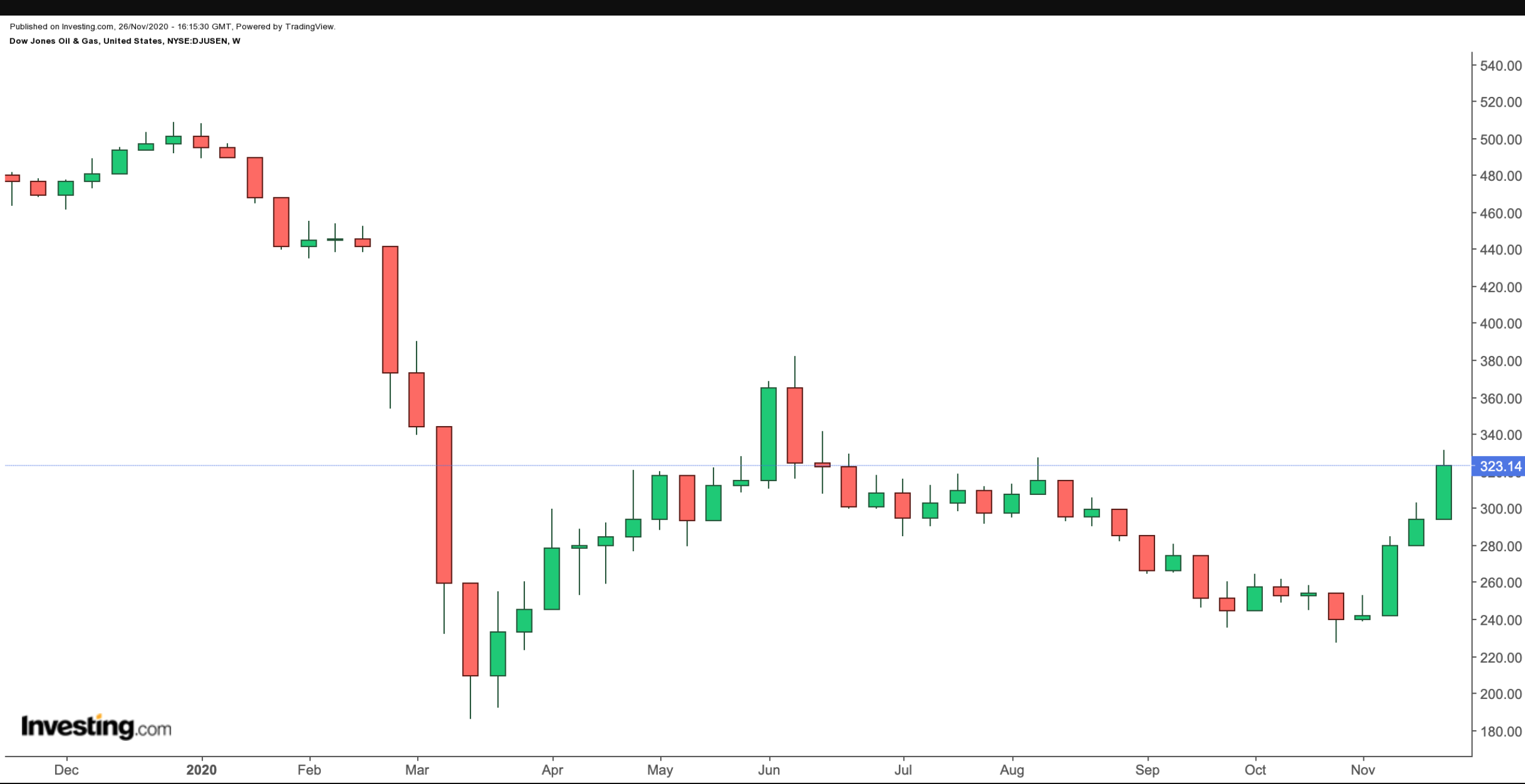 Dow Jones U.S. Oil & Gas Index Chart.
So, as we get ready to wrap up the penultimate month of the year, we will discuss Royal Dutch Shell (LON:RDSa) (NYSE:RDSa) to see if the oil major should find a place in long-term portfolios.
Interlinked Fortunes
Shell is one of the largest global oil and gas companies in both revenue and market capitalization. Other large players include UK-based oil major BP (LON:BP) (NYSE:BP), San Ramon, California-headquartered Chevron (NYSE:CVX), Irving, Texas-based Exxon Mobil (NYSE:XOM), Russia-headquartered Gazprom (OTC:OGZRY), Saudi Arabia-based Saudi Aramco (SE:2222), China-headquartered Sinopec Shanghai Petrochemical (NYSE:SHI) and France-based Total (NYSE:TOT) .
Fortunes of these businesses are significantly tied to the price of oil. For instance, so far in November, RDSa stock is up about 50%. In addition, it is up about 70% since the 52-week lows seen in mid-March. Nonetheless, YTD, the shares are down about 40%. On Nov. 25, the stock closed at 1,339.5p (the current price is $34.89 for US-based shares).
Royal Dutch Shell Chart.
The US Energy Information Administration (EIA) released its most recent Oil Market Report in November. It is not expecting either prices or oil production to recover significantly in the coming weeks. EIA said:
"It is far too early to know how and when vaccines will allow normal life to resume. For now, our forecasts do not anticipate a significant impact in the first half of 2021."
In fact, "on an annual average basis, EIA expects US crude oil production to fall from 12.2 million b/d in 2019 to 11.4 million b/d in 2020 and 11.1 million b/d in 2021."
Similarly on Nov. 11, the Organization of the Petroleum Exporting Countries (OPEC) also cut its forecasts for 2020 and 2021 global oil, citing rising pandemic cases worldwide and also government lockdowns. However, risk appetite in the commodity market has been on the rise.
How Quarterly Results Came
Shell released earnings in late October. Revenue came in at $44.7 billion, a year-on-year 50% decrease from $89.5 billion. Despite the decline from last year, the numbers were better than expected.
Shareholders were pleased that the board increased the dividend to "16.65 US cents for the third quarter."
CEO Ben van Beurden stated:
"Our sector-leading cash flows will enable us to grow our businesses of the future while increasing shareholder distributions, making us a compelling investment case."
Forward P/E and P/S ratios for Shell are 15.58 and 0.62, respectively. These numbers add to the positive shareholder sentiment that the shares offer value, even after the impressive increase in price since early spring.
Finally, potential investors may be interested to know that the group is reviewing its assets and operations to become "a net-zero emissions energy business by 2050 or sooner." Management will also put an emphasis on commercializing hydrogen and biofuels.
Bottom Line
In the medium- to long-run prices in the global oil market are mainly a result of the available supply capacity and demand requirements. However, short-term prices tend to be volatile for several reasons, including the tug of war between short-term traders and long-term investors.
We'd encourage our readers to do proper due diligence on potential oil companies for their long-term portfolios. We believe Royal Dutch Shell, whose history goes back to 1907, is likely to emerge from the current pandemic-related crisis as a robust company, creating further value for shareholders. The fossil fuel giant may yet emerge as an alternative energy player in the years to come.
Investors who are not ready to commit capital into a single oil or energy stock could also consider buying exchange-traded funds (ETFs). Several examples would include:
Energy Select Sector SPDR® Fund (NYSE:XLE),
iShares Global Energy ETF (NYSE:IXC),
iShares MSCI Global Energy Producers ETF (NYSE:FILL),
SPDR® S&P Oil & Gas Exploration & Production ETF (NYSE:XOP)
or Vanguard Energy Index Fund ETF Shares (NYSE:VDE).
Leave a comment