Pandemic-triggered market volatility and global economic contraction—such as what we've seen this year—could possibly be characterized by insurers as tail risk or "black-swan" events.
Financial services and insurance giant Allianz (DE:ALVG) (OTC:ALIZY) highlights:
"In the financial services industry, a black swan describes a very unlikely and severe event capable of sending shock waves through financial markets as a whole or specific asset classes. Due to its nature, such an event cannot be predicted."
In 2020, operations of a wide range of firms, including those in financial services and especially insurance, have been disrupted. As a result, their earnings, and in most cases their share prices, have also suffered. British multinational life insurance and pensions firm Prudential PLC (LON:PRU), (NYSE:PUK) provides a perfect example of how events this year have pressured the sector.
Year-to-date, PRU shares are down around 14%. On Dec. 7, it closed at 1,258.74p ($33.71 for US-based shares).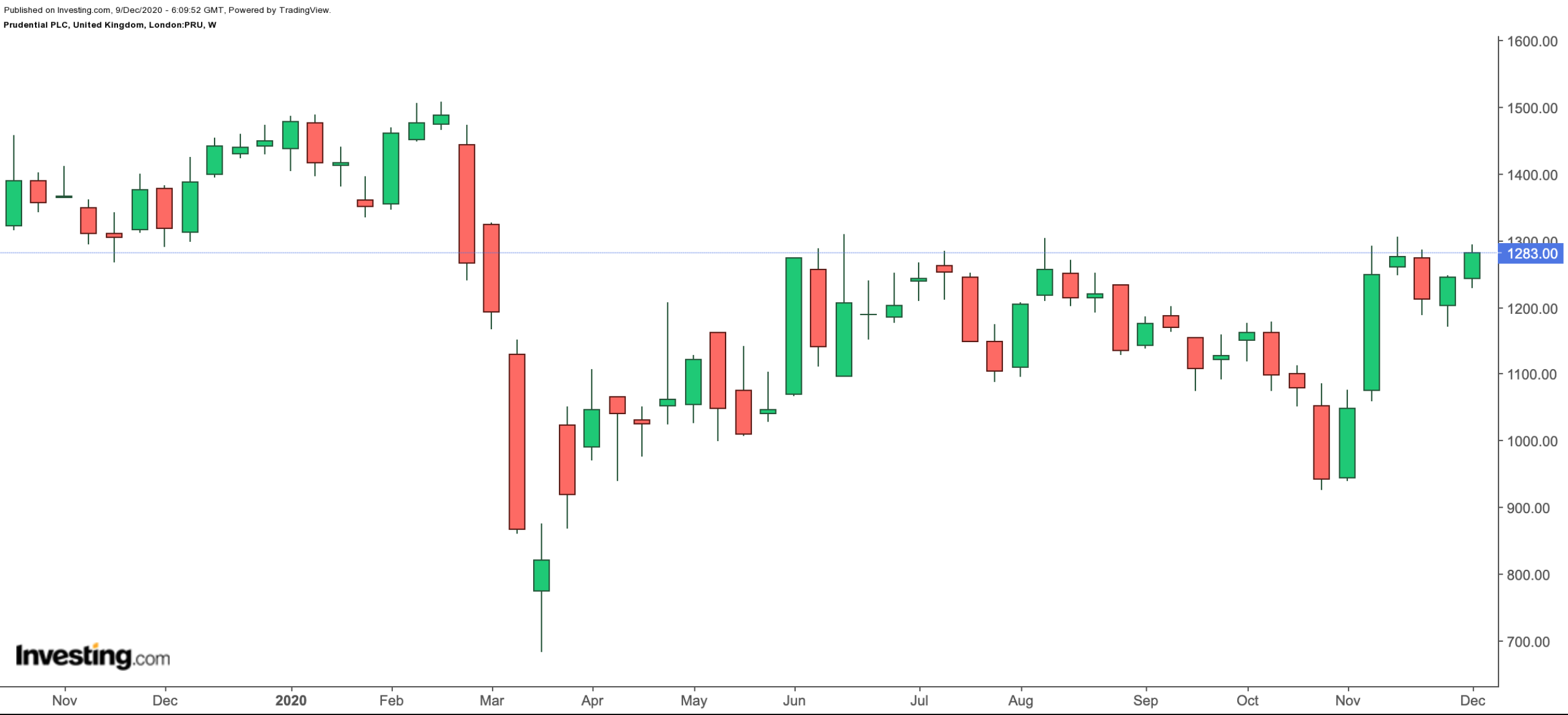 PRU Daily
Although PRU stock has recovered plenty of ground since the lows hit earlier in the year, it is still at multi-year lows. By comparison, the Dow Jones US Insurance Index is down 2.5% YTD.
Transforming The Business
FTSE 100 member Prudential has been reorganizing its operation over the past several quarters. In October 2019, it completed the demerger of investment manager M&G (LON:MNG), (OTC:MGPUF). The two are now separately listed companies.
Now Prudential is ready to channel its resources mostly to Asia, especially China, but also to Africa. The group is already a well-known life insurance provider in Asia.
CEO Mike Wells recently commented:
"The Asian insurance market is not only growing, it's close to an inflection point of even faster growth… When income per capita reaches around $10,000 per capita, this is when insurance penetration takes off… Prudential seeks to focus in particular on those markets in Asia where we see the largest growth opportunities."
In August, the group announced half-year 2020 results. Management emphasized that following the M&G divestment in the UK, next in line is the spin-off of Jackson National, its US business.
An initial public offering (IPO) is in the cards in 2021. According to the Secure Retirement Institute (SRI), "Jackson was the top seller of total annuities in 2019."
During the first-half of the year, Prudential's operating profits were $2.5 billion (or £1.87 billion), down from $2.81 billion (or £2.1billion). Meanwhile pre-tax profits fell 54% to $534 million (or £340 million).
Wells was pleased with the metrics:
"We have delivered a resilient performance in the first half, despite a challenging new business sales environment, which is likely to persist for the rest of the year, and further falls in interest rates. Our diverse, high-quality platform in Asia and our focus on writing profitable value-adding business led to a 14 per cent increase in Asia adjusted operating profit."
Forward P/E and P/S ratios stand at 9.89 and 1.24, respectively. Its current dividend yield is over 2%. We believe PUK shares offer value at current levels. Further research would show that it is one of the top-quality insurance stocks that continues to trade cheaply.
Bottom Line

Despite current uncertainties, the insurance sector, especially in Asia and frontier markets like Africa, will continue to grow. In 2019, "average insurance penetration worldwide was around 7.2 percent." Put another way, there is plenty of room for growth for Prudential as well as for its peers.
Investors who are ready to look beyond short-term economic or industry-related news and want to capture a part of the growth in Asia could put Prudential on their radar.
Those investors who do not want to commit full capital into Prudential yet could also consider investing in an exchange-traded fund that holds shares in the business.
Funds that deserve further due diligence include the Invesco International Dividend Achievers ETF (NASDAQ:PID) and the Pacer Trendpilot International ETF (NYSE:PTIN).
Finally, those investors who would like to concentrate on insurers may want to research the Invesco KBW Property & Casualty Insurance ETF (NASDAQ:KBWP), the iShares US Insurance ETF (NYSE:IAK), SPDR S&P Insurance ETF (NYSE:KIE).
Several companies currently held in these funds are Allstate (NYSE:ALL), American International Group (NYSE:AIG), Chubb (NYSE:CB), Lincoln National (NYSE:LNC), MetLife (NYSE:MET), Progressive (NYSE:PGR), Travelers (NYSE:TRV) and Unum Group (NYSE:UNM). Despite the recent increases in share prices, mainly due to COVID-19 vaccine optimism, the sector still offers market participants value stocks with respectable dividends for passive-income seekers.
Leave a comment