There is no dearth of technology stocks which immensely benefited during the coronavirus pandemic as the use of online channels to buy, entertain and communicate exploded. As the advanced economies get ready to reopen after a tumultuous year, the big challenge for growth investors is to find stocks that could continue to thrive in the post-pandemic world.
In this context, the San Francisco-based Pinterest (NYSE:PINS) is offering an attractive buying opportunity after its recent weakness.
The shares of the digital scrapbooking and search company were trading about 20% lower on Wednesday from their February record high. This sluggish phase comes as investors shun high-growth stocks on concerns that their values have become too expensive and their growth will slow after the economic reopening. Pinterest stock more than tripled in 2020.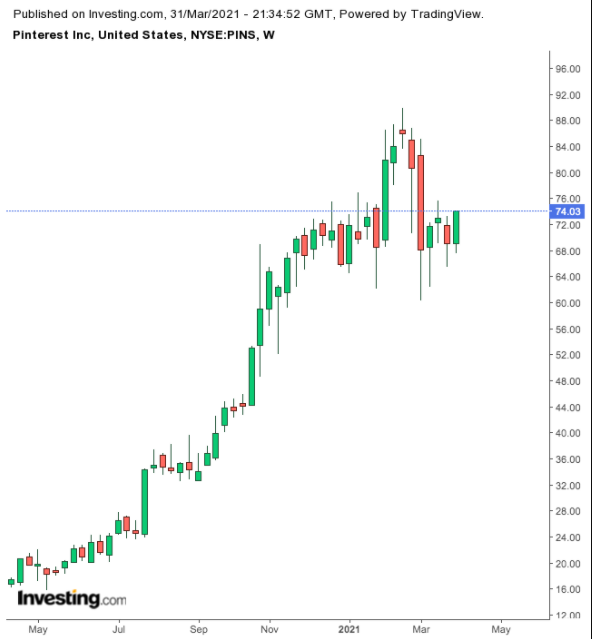 Pinterest Weekly Chart.
Despite this uncertain environment for growth stocks, there are some solid reasons that make Pinterest a unique player in the social media domain. Its platform serves as a digital bulletin board for pictures and ideas for segments like fashion, weddings, recipes and more, allowing users to scroll through a feed of "pins" that contain images or videos.
Users can then save the pins to customizable boards to curate ideas for anything from vacation plans to dinner recipes or holiday shopping lists. This structure makes Pinterest very different from that of other social media companies as users come to the site with an intent to make a purchase.
Expanding User Base
In recent years, Pinterest has invested in making its platform more e-commerce friendly. Its pins are now "shoppable," meaning users can click on an item—or a similar recommendation—and purchase it through a brand's website.
Last May, Pinterest and Shopify (NYSE:SHOP) launched a new channel that allows merchants to turn their store products into "Product Pins," as part of the company's push to monetize its large user base of small- and medium-size businesses.
Due to these initiatives, Pinterest has seen user traffic and engagement grow to record highs during the pandemic. Global monthly active users jumped to 459 million by the end of fourth-quarter, up 37% from a year earlier. That surge in traffic was responsible for a 76% increase in Q4 sales to $706 million. The company estimated revenue will increase in the "low 70% range" in the period ending in March.
Going forward, advertisers could see durable value in Pinterest due to its very different user base. Women, for example, make up more than 60% of its platform globally, making it quite attractive for digital advertisers who are targeting female audiences. The number of Pinners under age 25 grew twice as fast as Pinners 25 and over. This segment is using Pinterest to search fashion inspiration, home decor ideas and study tips.
PINS' improving financial and user metrics have no doubt played a big role in the stock's powerful rally during the pandemic, but the regulatory threat that the big social media companies are facing is another big positive for small players like Pinterest.
An app with a clear and defined audience with little room for misuse is in a much better shape to withstand potential regulatory changes globally than the behemoth like Facebook (NASDAQ:FB) and Google (NASDAQ:GOOGL), the social media companies that some politicians want to break up.
The majority of 31 Wall Street analysts are optimistic about the company's growth potential, with 21 recommending to buy PINS. The average analyst price target of $90.02 implies that PINS has around 22% upside potential over the next 12 months
Bottom Line
Pinterest is in its early stage of growth with a lot of room to expand its average revenue per user (ARPU), helped by its unique appeal and its attractive demographics. This combination makes its stock a good long-term buy for investors seeking to benefit from its current weakness.
Leave a comment