Pfizer (NYSE:PFE) traded in a consolidative manner the last couple of weeks, staying near the 34.60 barrier, marked as a support by the low of Oct. 29. Overall, the stock remains below the prior upside support line drawn from the low of Mar. 23, and thus, we would consider the near-term outlook to be negative for now.
If eventually we see the price clearing the 34.60 hurdle, it could then travel towards the low of July 9, at 33.10. That zone may provide an initial support, but if there is still no sufficient buying interest, its break may carry more bearish implications, perhaps paving the way towards the low of June 26, at 31.60.
Shifting attention to our daily oscillators, we see that the RSI ticked up after it hit support at its 30 line, while the MACD, although below both its zero and trigger lines, shows signs of bottoming as well. Both indicators detect slowing downside speed and suggest that a small bounce may be in the works before the next leg south, perhaps for the rate to test the 36.10 territory as a resistance this time.
That said, in order to start examining the positive case again, we would like to see a strong rebound back above 37.80. Such a move would also take the stock price back above the upside line taken from the low of Mar. 23, and may encourage advances towards the 39.55 level, marked by the inside swing low of Dec. 3.
Another break, above 39.55, may see scope for extensions towards the 41.40 barrier, marked by the highs of Nov. 9 and Dec. 2, the break of which could open the path towards the peak of Dec. 9, at 43.05.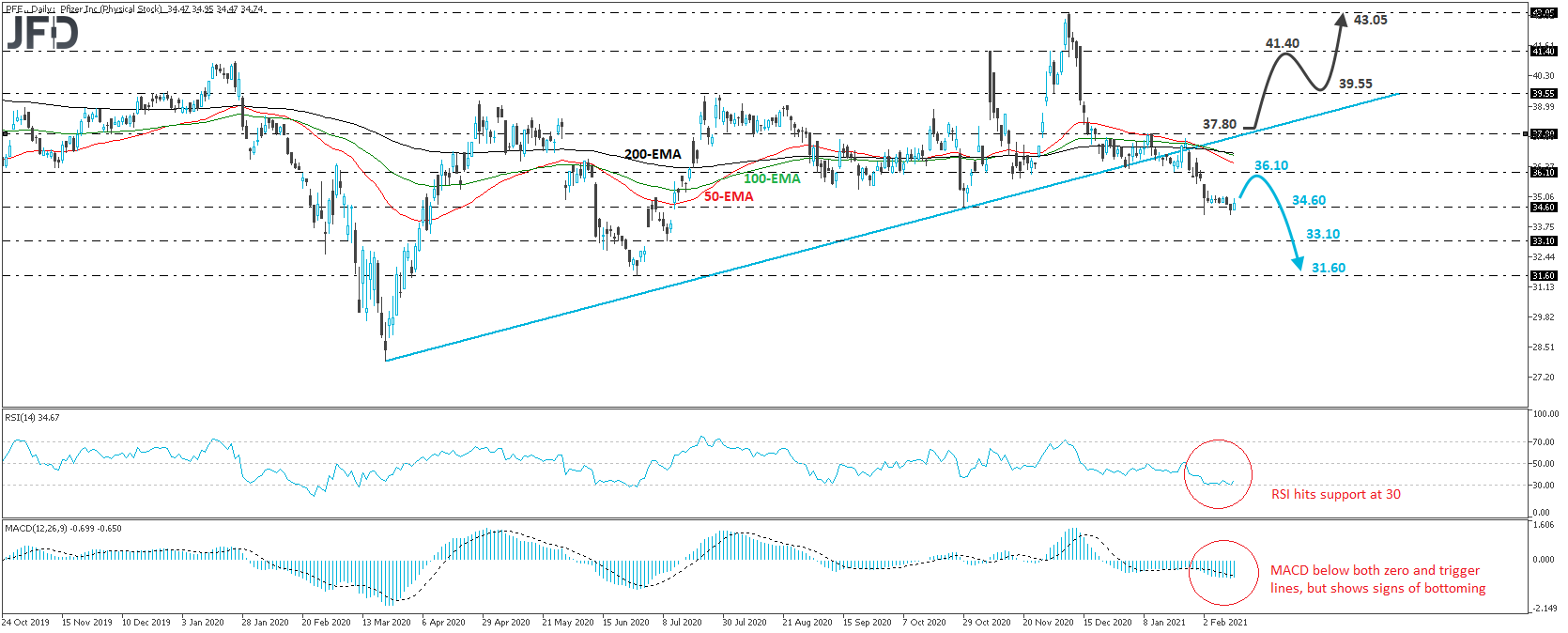 Pfizer Inc stock Daily chart technical analysisOriginal Article
Leave a comment