Reports Q4 2020 results on Wednesday, Feb. 3, after the close
Revenue expectation: $6.08 billion
EPS expectation: $0.995
These days, investors have a lot of reasons to be excited by the payment processing giant PayPal Holdings (NASDAQ:PYPL). Its stock has had a great run since the pandemic breakout in March as millions of stuck-at-home customers relied on the company's technology to fulfill online orders.
PayPal told investors in November that its full-year revenue could jump by 22%, excluding the impact of currency swings, as active accounts swelled to more than 70 million in fiscal 2020. According to Chief Executive Officer Dan Schulman, PayPal continues to benefit from shoppers being stuck at home as a result of lockdown orders, noting that consumers over the age of 50 are signing up for PayPal faster than any other demographic.
Said Schulman:
"Clearly as people spend more time at home as the virus increases, that will lead to more online shopping."
The rally in PayPal stock clearly reflects that growth momentum. Shares, during the past 12 months, have gained 112%, closing Tuesday at $249.10.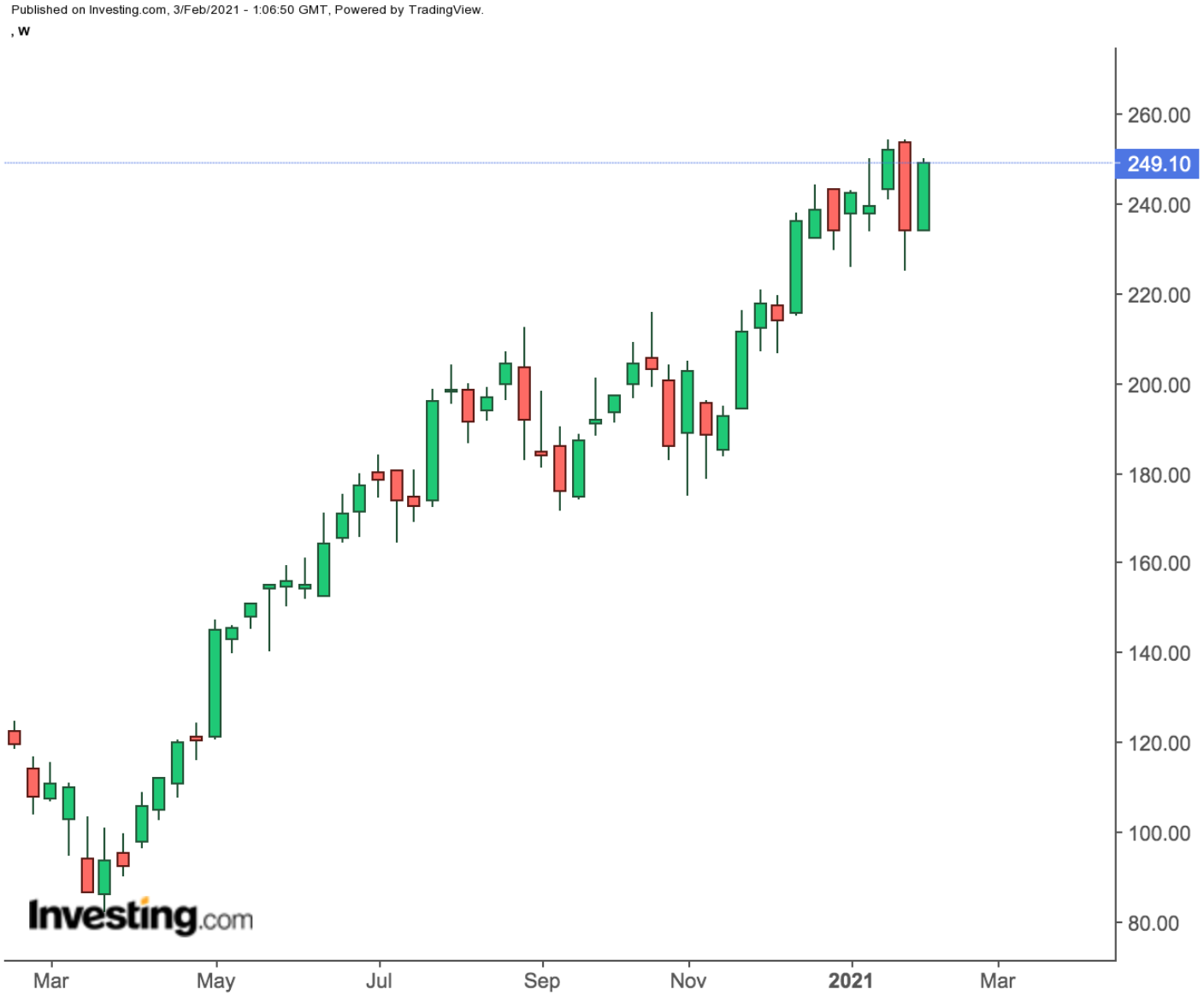 PayPal Weekly Chart.
Strategic Moves
The pandemic-induced surge is no doubt the main contributor to PayPal's strong performance, but it would be unfair to not give the San Jose, California-based company's management credit for positioning the PYPL to benefit from this opportunity.
PayPal has pursued a smart growth strategy, combined with some valuable acquisitions and strategic moves over the past five years. To counter the growing competition in the very crowded digital payments space—where disruptors are attacking from all fronts—PayPal decided to initiate and cement valuable alliances with the largest credit-card issuers, Visa (NYSE:V) and Mastercard (NYSE:MA).
This strategic move in 2016 allowed consumers to seamlessly link their PayPal accounts to their credit and debit cards, while giving the credit card issuers access to contactless payment technology.
During this period, PayPal also acquired a variety of companies that allowed it to keep pace with the rapidly-changing financial technology.
After its highly successful 2014 acquisition of Venmo, which has become popular with tech-savvy young consumers, PayPal bought Swedish small-business platform iZettle in 2018 as part of its push to expand globally and increase its presence in brick-and-mortar stores. Hyperwallet, which helps companies send payments almost anywhere in the world, was another important acquisition during the same year.
Perhaps the biggest success though, which unlocked future growth for PayPal, came from its online checkout button that appears on vendor websites. For buyers, it's a great convenience, eliminating the hassle of punching in card details and other payment information for every transaction.
The result of all these initiatives: spending on the company's platform surged 36% to $247 billion in Q3. That includes $44 billion in payments made on PayPal's person-to-person platform Venmo, which posted its best quarter ever in the three months that ended Sept. 30.
What's Ahead for PayPal Stock?
Going forward, the main question that comes to mind is: Will PayPal continue to produce the kind of growth in 2021 that propelled its stock to an all-time, closing high of $252 just a few weeks ago?
After more than doubling in 12 months, while gaining more than 500%over the past five years, PayPal shares are trading very close to analysts' 12-month consensus price target of $256.07.
Headwinds some analysts point to include weakness in the company's travel and events vertical, a slowdown in credit that could persist through the year, and former corporate cousin eBay's (NASDAQ:EBAY) move away from PayPal to its own managed payments platform.
That doesn't mean, however, that this stock can't offer further value to long-term investors. The online payment industry has a strong upside at a time when e-commerce is gaining traction and market share like never before.
In a recent note, MoffettNathanson analyst Lisa Ellis wrote:
"PayPal is rapidly rolling out major new wallet functionality: instalment lending, crypto investing and bill payment, to name a few. And, there are plenty of reasons to believe the pandemic-triggered acceleration of e-commerce will persist."
Bottom Line
PayPal, even after a massive jump in sales last year, is still very much in a growth phase. Today's earnings report is likely to reaffirm its growth potential in 2021, making the stock a good buy-and-hold bet for long-term investors.
Leave a comment