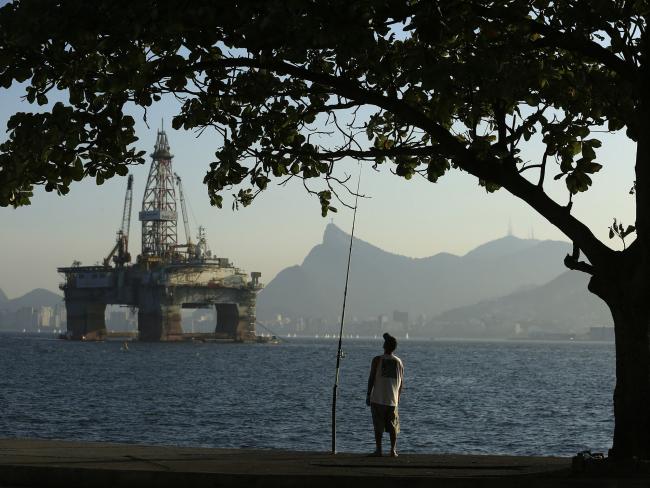 © Bloomberg. A man fishes in Guanabara Bay while an oil drilling platform floats in the background near Niteroi, Brazil. Photographer: Dado Galdieri/Bloomberg
(Bloomberg) — Trafigura Group Ltd. denied bribery allegations leveled by Brazilian prosecutors in a civil lawsuit claiming the commodities trader and its staff participated in a kickback scheme to win business with state oil producer Petroleo Brasileiro SA.
The Brazilian legal claim names Trafigura's head of oil trading Jose Larocca and Chief Operating Officer Mike Wainwright as defendants.
"The Brazilian authorities' allegations against the company and any suggestion that Trafigura's current management authorized or had knowledge of improper payments to employees of Petrobras are not supported by evidence," a Trafigura spokesperson said in an emailed statement.
The suit marks the most serious legal action yet against an international commodity trading house in Brazil's long-running 'Lava Jato' or Carwash corruption probe. The claim seeks fines and penalties against Trafigura as the company itself cannot be criminally charged in Brazil.
Federal prosecutors allege the trading house and staff paid 6.9 million reais ($1.3 million) in bribes to Petrobras employees to win fuel oil contracts in 2012 and 2013. Trafigura earned ill-gotten profits of $37.3 million from the deals to the detriment of the state-controlled company, the prosecutors say in the civil lawsuit. They are seeking to freeze as much as 1 billion reais in assets from Trafigura and some staff.
Trafigura "strongly denies these allegations," the spokesperson said.
Code Names
The legal escalation marks another setback for the commodities trading industry which has, for years, tried to shake off a reputation for furtive deal-making around the world.
Petrobras traders, using code names such as Phil Collins, Mr. M and Popeye, negotiated the payment of a bribe of 10 to 20 cents per barrel of fuel oil sold to Trafigura, according to emails and documents attached to the lawsuit. The documents were provided by former Petrobras traders and Mariano Marcondes Ferraz, a former Trafigura board member and senior executive, who was convicted and sentenced in 2018 as part of the Carwash probe.
Ferraz, according to a sworn affidavit, says Trafigura's late co-founder Claude Dauphin and Larocca, the current head of oil, had knowledge of the bribery payments, although they were not on the front line dealing with Petrobras.
In the aftermath of the Carwash corruption scandal, Petrobras put a stronger compliance and governance system in place, and is cooperating with authorities, Chief Executive Officer Roberto Castello Branco said in an interview.
"The positive side of this case is the company learned many lessons on how not to do things," Branco said. "It's like an MBA in corruption and mismanagement."
Laptop Seized
Ferraz said he spoke directly with chief operating officer Wainwright any time he needed more funds to make the bribery payments, the prosecutors allege in the suit. Ferraz's laptop, apprehended by the federal police, also had a draft of an email listing some of the illicit payments, according to the lawsuit.
Asked for comment from the individual executives named in the suit, Trafigura referred to the company statement.
One of the Petrobras traders involved in the alleged scheme, Rodrigo Berkowitz, has agreed to plead guilty to a felony in the U.S. and is cooperating with U.S authorities. The former Trafigura executive and board member, Ferraz, was convicted and sentenced to 10 years in prison on corruption charges in 2018. He resigned from the board in 2016 after being arrested.
Many of the biggest trading houses including Trafigura, Glencore (OTC:GLNCY) Plc and Gunvor Group have vowed to stop using intermediaries or agents in foreign countries in an effort to root out bribery and corruption. They've also agreed to disclose some payments made to governments for oil deals.
Rival international commodity traders Vitol Group and Glencore have also been targeted by investigators in Brazil as part of the Carwash probe. The U.S. Department of Justice and Federal Bureau of Investigation are also involved in the cases, Brazilian officials have said. In Switzerland, where many of the top traders have major operations, local police searched the Geneva offices of Trafigura and Vitol in 2019, as part of the probe.
Vitol, the world's biggest independent oil trader, has said it has a "zero tolerance" policy regarding bribery and corruption and is cooperating with Brazilian investigators. Chief Executive Russell Hardy has said he expects the Brazil investigation involving Vitol to be resolved this year.
(Updates with Petrobras CEO comment in 10th and 11th paragraphs.)
©2020 Bloomberg L.P.
Leave a comment