There's no doubt in my mind: five years from now we'll look back at this time and say it was a golden opportunity to buy dividend stocks.
Those who bought in will be sitting on big gains (and income streams!). Those who sat on their hands will kick themselves.
I don't want you to be in that latter group, which is why, in just a second, I'll point you to a 6.9%-paying fund that's perfectly positioned for serious gains in 2021 and beyond.
Dividends Back in Vogue
I know I don't have to tell you that the dividend landscape has been bleak since March, with plenty of "sacred cow" dividend payers, like Walt Disney Company (NYSE:DIS) and Ford (NYSE:F), dumping their payouts entirely. The misery carried on through the summer: as recently as September, Kohls Corp (NYSE:KSS)warned it would be suspending dividends because of continued uncertainty.
But then something strange happened: just two months later, Kohl's said it will start paying dividends again in the first half of 2021. Also, since that's the time we'll see vaccines disseminated, you can expect revenue and cash flow for Kohl's and similar companies to rise as more people leave the house and go shopping.
It isn't just Kohl's. Recent data shows that six of the 42 S&P 500 companies that suspended dividends have resumed paying, while many others have telegraphed they will be restarting dividends soon, Darden Restaurants (NYSE:DRI), Estee Lauder (NYSE:EL) and Weyerhaeuser (NYSE:WY) among them.
How to Buy In
You're not too late to get in, even if the improving payout picture is reflected in dividend stocks' prices. Note how the SPDR® Portfolio S&P 500 High Dividend ETF (NYSE:SPYD), which focuses on dividend-paying firms, has crushed the broader-market benchmark SPDR S&P 500 (NYSE:SPY).
"High-Dividend" ETF Outperforms in the Short Term …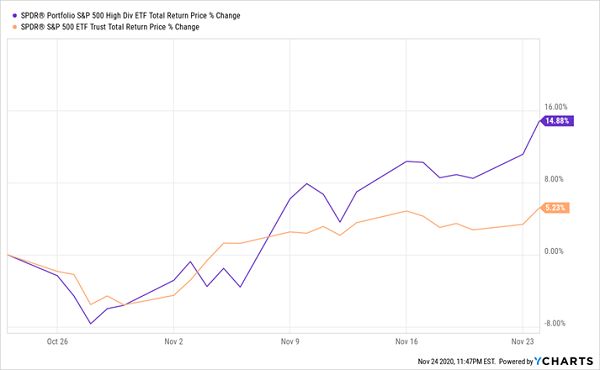 SPY-SPYD Total Returns
While this is great in the short term, it does show an overreaction to the good news for dividends. While SPYD has a somewhat better yield—3.6% to SPY's 1.5%—it also holds a lot of companies that aren't ideally positioned for 2020, or even the 21st century (one of its biggest holdings, International Paper Company (NYSE:IP)is, well, a paper company!). That's why SPYD has been a poor investment in the long term.
… But Is Still a Dud in the Long Run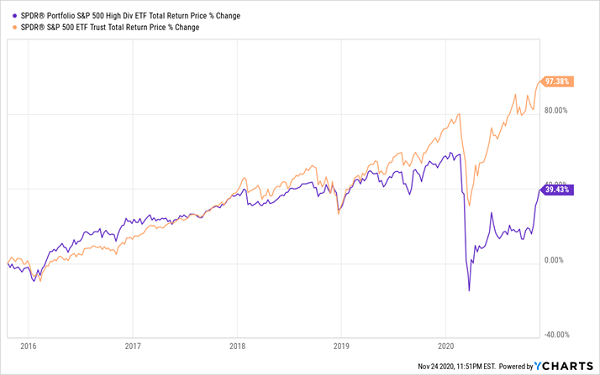 SPY-SPYD Total Returns Long Term
The bottom line here is that while we'll obviously benefit from owning dividend payers, we want to dodge dividend dinosaurs like International Paper—and that's tough to do with an algorithm-run ETF. But it's easy to do with an actively managed closed-end fund (CEF).
A 6.9%-Paying CEF Built for 2021
The CEF I want to show you today, the Nuveen S&P 500 Buy-Write Income Fund (NYSE:BXMX), with its huge 6.9% dividend, nicely demonstrates the advantages a CEF holds over a comparable ETF.
BXMX has a couple strengths that support its high payout: first, it holds S&P 500 firms like Microsoft (NASDAQ:MSFT), Visa (NYSE:V) and Coca-Cola (NYSE:KO)—so we start off by tapping into the general market strength you see in the chart above.
Second, BXMX "writes" call options. In other words, it sells the right for buyers to purchase stocks it owns at a fixed price and time in the future in exchange for a cash payment today. It then hands those payments, called premiums, to us as dividends, along with income from the stocks it holds.
Not only is BXMX a bigger yielder than SPYD, but it's delivered a bigger total return than the ETF has in the last five years. And it has one more upside "afterburner" to help drive it even further past the ETF in 2021 and beyond.
BXMX Outruns the "Dumb" ETF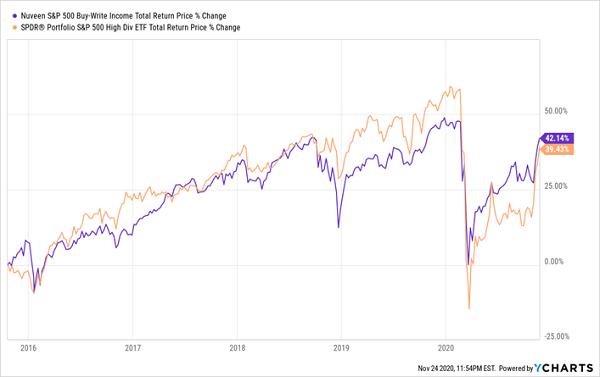 BXMX-SPYD Total Returns
That "afterburner" is the fund's 9.1% discount to net asset value (NAV). This is another way of saying that the CEF's market price is 9.1% lower than the value of its portfolio. This is a quirk that's unique to CEFs (ETFs like SPYD never trade at a discount), and it gives us another source of price upside as BXMX's discount disappears.
A 6.9% Dividend Is Just the Start
There's something else you should know about CEFs: these funds are some of the safest investments out there.
In fact, my latest research shows that of all CEFs that have been around for a decade or more, 95% of them made a profit in the last 10 years! And if you dump the (obvious) laggards in the energy sector, CEFs' "win rate" jumps to an amazing 98.4%!
With that in mind, I want to introduce you to 5 of my top CEF picks now. I call them "lifetime profit plays" because you can buy them today and tuck them away forever. The only thing you need to do is log into your trading account periodically (I'm talking once a month here) and transfer your dividend payouts to your bank account to use however you like.
Disclosure: Brett Owens and Michael Foster are contrarian income investors who look for undervalued stocks/funds across the U.S. markets. Click here to learn how to profit from their strategies in the latest report, "7 Great Dividend Growth Stocks for a Secure Retirement."
Leave a comment