Reports Q3 2021 results on Thursday, Mar. 18, after the close
Revenue expectation: $11.03 billion
EPS expectation: $0.76
When the world's largest sportswear company, Nike (NYSE:NKE), reports its latest earnings tomorrow, investors will be keen to know whether the rebound in sales that started in the past spring still has momentum.
The maker of Air Jordan and Air Force 1 sneakers benefited immensely from the customer shift to its e-commerce platform during the pandemic, which forced the global brand to close its stores. Digital sales have soared roughly 80% during the previous three quarters, providing a strong boost to sales and profit margins.
But the booming digital business via Nike's websites and mobile apps didn't happen just because more people started shopping online. Even before the pandemic, the company was investing heavily to expand its online presence in order to rely less on its brick-and-mortar operations.
In 2019, it pared back the number of wholesale stores that could sell its goods, and parted ways with Amazon.com (NASDAQ:AMZN). It also had been investing in apps for shopping, selling sneakers and guided workouts.
The success of this strategy helped restore investor confidence quickly during the pandemic, as its stock rebounded from the coronavirus-induced plunge. The Beaverton, Oregon-based company gained about 40% in 2020, outperforming the S&P 500, which rose 18% during the same period.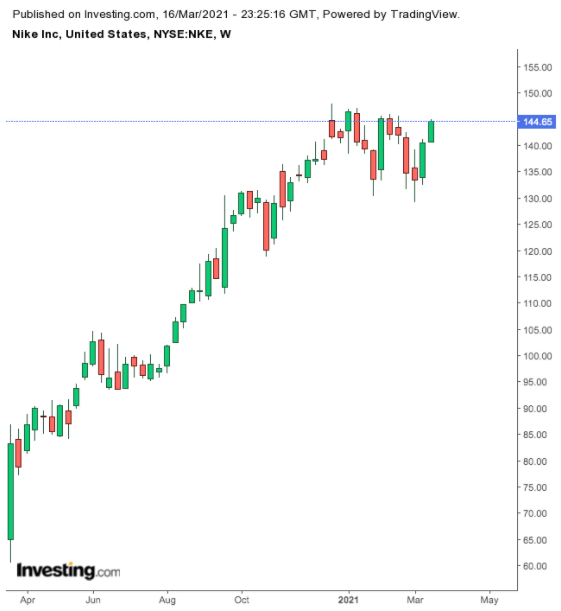 Nike Weekly Chart.
The pace of these gains, however, has slowed this year, indicating that investors are finding Nike shares a bit expensive after the past year's rally.
Expanding Market Share
Nike shares closed Tuesday at $144.65, leaving the stock with just a 2% rise year-to-date. The subdued reaction in 2021 could reflect Nike's forward price-to-earnings ratio of 37, compared to a five-year average of 29.37. Despite these concerns, we continue to believe Nike is in a great position to expand its market share as the retail upheaval caused by the pandemic begins to settle.
Many analysts continue to have an upbeat stance on Nike shares and see more gains in store. Kimberly Greenberger of Morgan Stanley, while raising her target to $165 from $152 in December, said that Nike is one of the key apparel and footwear companies whose business model, total addressable market and margin profile will look better positioned once the pandemic is over.
"While we expect ongoing, short-term COVID-19 headwinds in the remainder of NKE's fiscal 2021 (ending May 21) until a vaccine is widely available, we emphasize NKE's commitment to and initial execution of its Consumer Direct Acceleration strategy further solidifying our belief in its long-term revenue and margin expansion story."
Bottom Line
After last year's powerful rally, many investors took a pause, waiting on the sidelines to see how the current year plays out for the sportswear giant. We believe Nike will report another strong quarter and could raise its fiscal 2021 outlook, given the muscular economic rebound taking shape in both the U.S. and China.
These factors, in our view, make Nike an attractive stock to buy and hold in any long-term portfolio.
Leave a comment