Engineered heat transfer systems maker Modine (NYSE:MOD) stock has reverse a multi-year downtrend as shares try to surpass its February highs. While shares are still lagging the benchmark S&P 500 index as the Company is recovering from the pandemic inflicted damage. The maker of thermal cooling products for commercial trucks, buses, agricultural, construction and heavy machinery vehicles, and commercial HVAC systems is a direct benefactor in the economic recovery. The leverage ratios have returned to pre-COVID levels. As the CEO search winds down, shares are setting up for a turnaround narrative bolstered by a new high caliber CEO further accelerated by COVID-19 vaccine approvals literally around the corner. However, prudent investors should be careful not to chase and instead wait for these opportunistic pullbacks price levels.
Q2 FY 2021 Earnings Release
On Nov. 5, 2020, Modine Manufacturing reported its fiscal second-quarter 2021 results for the quarter ending September 2020. The Company reported an adjusted earnings-per-share (EPS) profit of $0.43 versus consensus analyst estimates for EPS profit of $0.04, a $0.39 beat. Revenues fell by (-7.8%) year-over-year (YOY) to $461.4 million versus analyst estimates of $401 million. Adjusted EBITDA was $55.4 million, up 40% YoY. Cash flow improved to pre-pandemic levels at $75 million and $69.5 million free cash flow. SG&A expenses dropped (-25%) YoY to $16.6 million stemming from lowered automotive separation and strategy costs. The quarter ended with $62.5 million in cash and cash equivalents and $253.9 million of total available liquidity with its revolver. The Company is seeing steady recovery in most of its end-markets and geographies. The Company announced a $50 million share repurchase program good for up to two-years.
Conference Call Takeaways
Interim President and CEO, Michael Lucareli, added some color to the numbers, "Better market conditions combined with significant cost control results in a 40% EBITDA increase… we generated $73 million of YTD free cash flow, bringing our leverage ratio to pre-pandemic levels." The Company is in the final stages of its CEO search. Lower sales to commercial HVAC, refrigeration and data center customers caused CIS segment sales to fall (-14%) YoY to $134.1 million. This was primarily due to a single customer's (its largest data center customer) reduction in construction which is expected to continue through Q4 but expected to recover afterwards. Building HVAC Systems sales rose 11% YoY to $161.9 million driven by higher U.K. sales to data centers and heating products in the U.S. The HDE segment fell (-12%) YoY primarily due to lower sales to commercial vehicle customers. The Automotive segment sales fell (-5%) to $109.9 million due to lower demand in Europe and the U.S., partially offset by stronger demand in Asia.
Modine Manufacturing expects sequential revenue improvement in the fiscal Q3 and Q4 offset partially by cost increases comprised of the rise in metal prices and employee compensation, reversing earlier pay cuts. The fiscal full-year 2021 outlook is for a (-7%) to (-12%) sales drop with adjusted EBITDA of $155 million to $165 million.
Divestiture of Liquid-Cooler Business
On Nov. 2, 2020, Modine Manufacturing announced a definitive agreement to sell its liquid-cooled portion of its automotive business. The deal is expected to close in 1H 2021 and comprises of seven manufacturing locations including Germany and Western Europe. It includes not only the assets but the liabilities with the business. This division accounts for 70% of the Company's automotive business revenues. This is a leverage-neutral transaction. The Company continues to pursue other alternatives to divest the rest of its automotive business. The divestiture of the Automotive segment frees up resources to reallocate capital to the higher-returning HVAC segment and eliminating significant liabilities. The Company is poised to recover with the economy with a soon-to-be announced CEO leading the helm, which will also be price catalyst. Prudent investors can look for opportunistic pullback entries without chasing.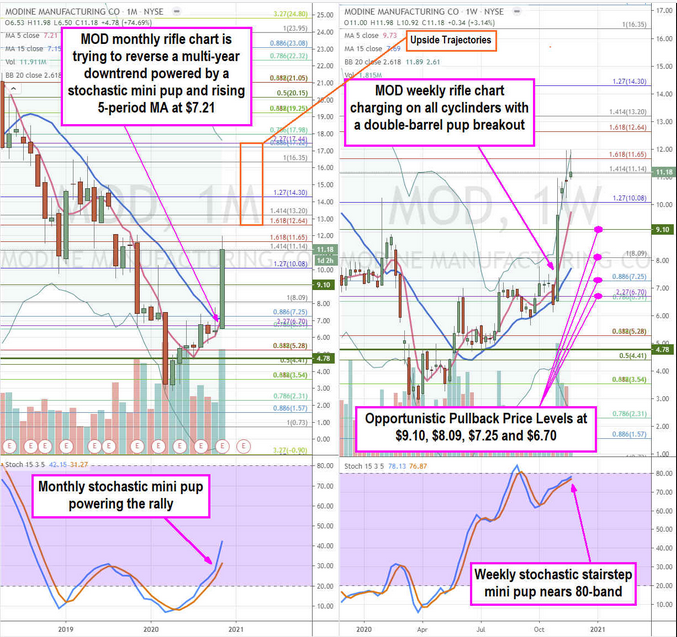 Modine Stock Price Chart
MOD Opportunistic Pullback Levels
Using the rifle charts on the monthly and weekly time frames provides a broader complete perspective of the landscape for MOD stock. The monthly rifle chart is trying to reverse a multi-year downtrend with a powerful stochastic mini pup. The monthly 5-period moving average (MA) needs to officially crossover the 15-period MA to confirm the breakout. Shares have definitely gotten ahead of itself as evidenced by the weekly rifle chart as shares overshoot the $11.65 Fibonacci (fib) level.
Shares have comes a long way since the weekly market structure low (MSL) buy triggered above $4,78. Prudent investors need to be patient and avoid chasing this one. Instead, watch for opportunistic pullback levels at the $9.10 fib, $8.09 fib, $7.25 fib and the $6.70 fib. More nimble traders can consider an early entry off the weekly 5-period MA at $9.73 to average in. The upside trajectories range from the $12.64 fib to the $17.44 monthly upper BBs.
Leave a comment