US real estate investment trusts (REITs) topped returns for the major asset classes in March, rising 4.4%. The gain follows a second-place rally in February for domestic property shares.
Overall, last month delivered mixed results for global markets. For example, US and foreign developed-market stocks posted solid gains, in contrast with a loss for shares in emerging markets.
Foreign investment-grade corporate bonds suffered the deepest slide in March. The FTSE Russell Non-$ Corporate Bond Index slumped 2.8%. The decline marks the third straight monthly loss for this slice of global fixed-income securities.
Rising interest rates are taking toll in nearly every bond market this year. A notable exception: US junk bonds. The iBoxx US Liquid High Yield Index edged higher again last month, posting its sixth consecutive monthly advance.
Otherwise, red ink continues to weigh on fixed income. The US investment-grade benchmark hasn't escaped the selling: the Bloomberg US Aggregate Bond Index slumped for a third month in March, shedding 1.3%.
Year to date also reflects mixed results, ranging from the near-9% rally so far in 2021 for US REITs to a 6.4% drop in foreign developed-market government bonds.
GMI Table
The broad trend, however, remains positive for global assets, based on the Global Market Index (GMI). This unmanaged benchmark (maintained by CapitalSpectator.com), which holds all the major asset classes (except cash) in market-value weights, rose 1.8% in March, building on a 1.6% gain in February. Year to date, GMI is up 2.7%.
Comparing GMI's performance over the past year relative to US stocks and bonds shows that equities remain the clear leader. The Russell 3000 US Stock Index is up nearly 63% vs. its year-ago level (including dividends). The unusually high one-year total return (for stocks and other markets) reflects the bounce from the coronavirus crash in March 2020. The favorable one-year comparison is also giving GMI an extraordinary (and temporary) boost into the performance stratosphere — nearly 39%. US investment-grade bonds, by contrast, are only fractionally higher over the past year, rising just 0.7% after factoring in distributions.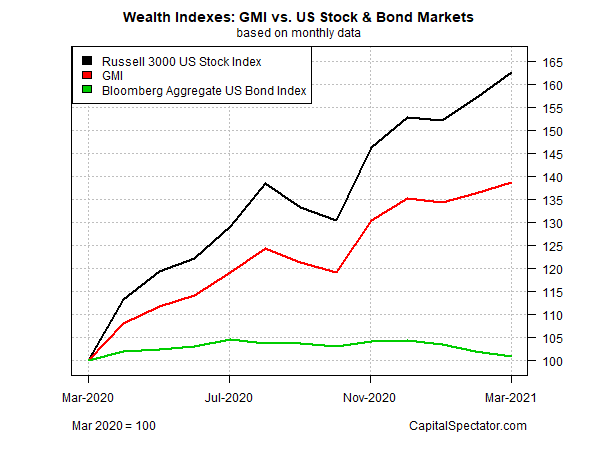 GMI Vs US Stock And Bond MarketsOriginal Article
Leave a comment