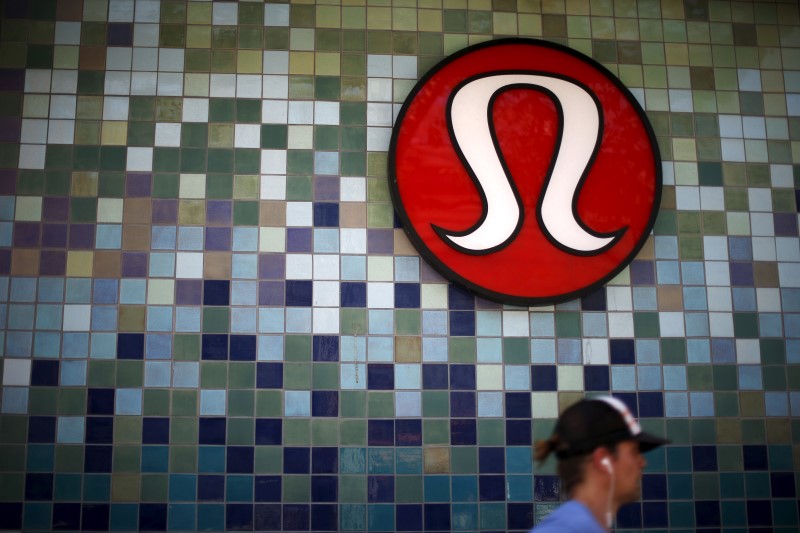 © Reuters.
By Christiana Sciaudone
Investing.com — Lululemon Athletica Inc (NASDAQ:LULU) investors have some lofty expectations.
Sales rose 22% for the third quarter to $1.1 billion (that's an awful lot of luon leggings), gross profit was up 24% and earnings per share of $1.10 beat the expected 86-cent estimate. What more can they possibly want?
A better outlook, apparently. On the earnings call, executives said total sales for the current quarter would increase in the mid- to high-teens, versus that swell 22% jump in the third quarter. It's even higher than what they previously had expected, and yet investors are unhappy. Shares fell 5.4% on Friday.
Productivity for the fourth quarter is expected at about 70% of last year's levels with trends in line with the third quarter during non-peak weeks, Lululemon executives said.
That tends to happen when you have a valuation of about 57 times forward price to earnings. That compares to Apple (NASDAQ:AAPL)'s 31 times and Alphabet (NASDAQ:GOOGL)'s 31 times. Gap, which owns rival Athleta, has a valuation of 17 times.
Still, analysts from BTIG, UBS, Susquehanna and Wells Fargo (NYSE:WFC) all found reason to boost their price targets on the stock.
Shares are up more than 50% for 2020, reaching a record around September.
Leave a comment