Almost a year and a half ago, in July 2019, we wrote that Lockheed Martin (NYSE:LMT) is likely "setting the stage for an unpleasant surprise." The stock had just reached a new all-time high and was trading at $370 a share. Optimism was in the air and analysts were more bullish than ever.
An indeed, fundamentally, Lockheed is a top-notch company and was hardly overvalued at the time. It has been growing both revenues and profits using relatively little debt over the years. Nevertheless, instead of joining the bulls right away, we decided to take a look at its weekly chart first.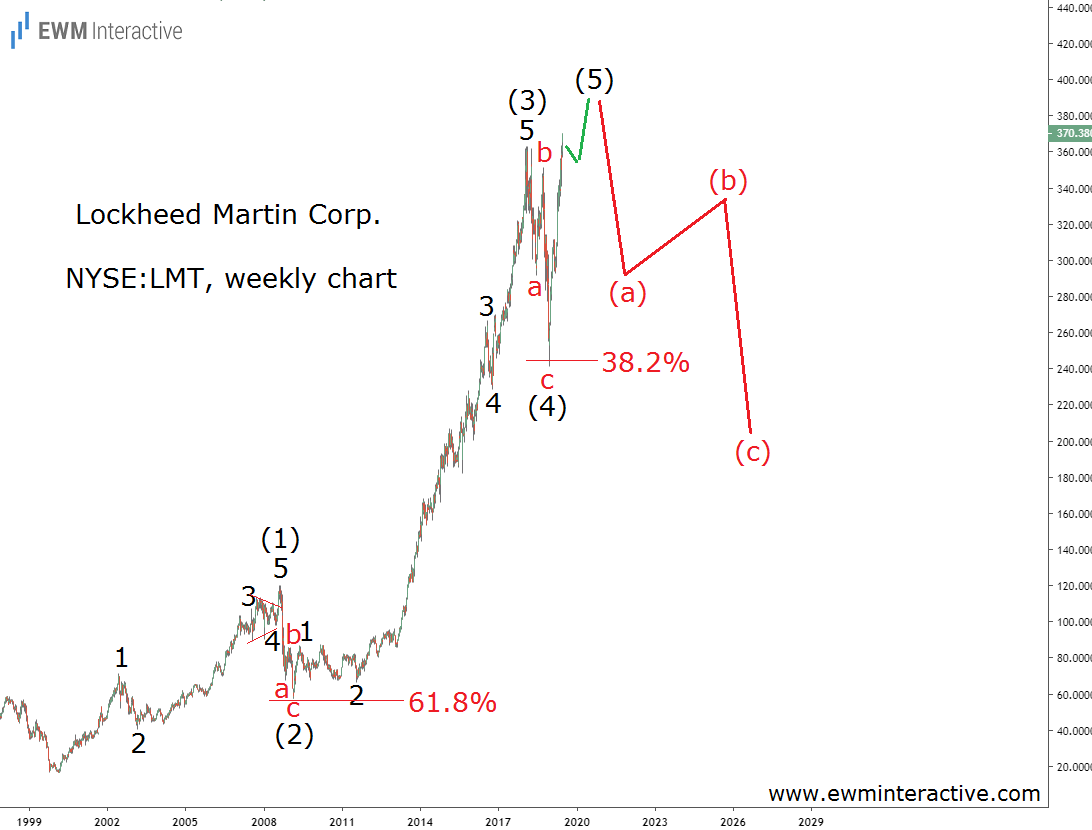 Lockheed Martin Weekly Stock Chart
The company's weekly chart revealed that the uptrend from $16.38 in 1999 was taking the shape of a clear five-wave impulse. We labeled it (1)-(2)-(3)-(4)-(5), where the sub-waves of both (1) and (3) were also visible. The two corrective waves—(2) and (4)—had retraced to the 61.8% and 38.2% Fibonacci levels, respectively.
The analysis led us to believe that wave (5) was in progress. Unfortunately for Lockheed investors, the Elliott Wave principle states that a three-wave correction follows every impulse. So, we concluded that "a bearish reversal can soon occur, followed by a 40-50% drop in the next few years."
Lockheed Can Lose Another 30% From Current Levels
The bulls managed to add another $73 dollars to Lockheed's per share price by February 2020. Then, COVID-19 struck.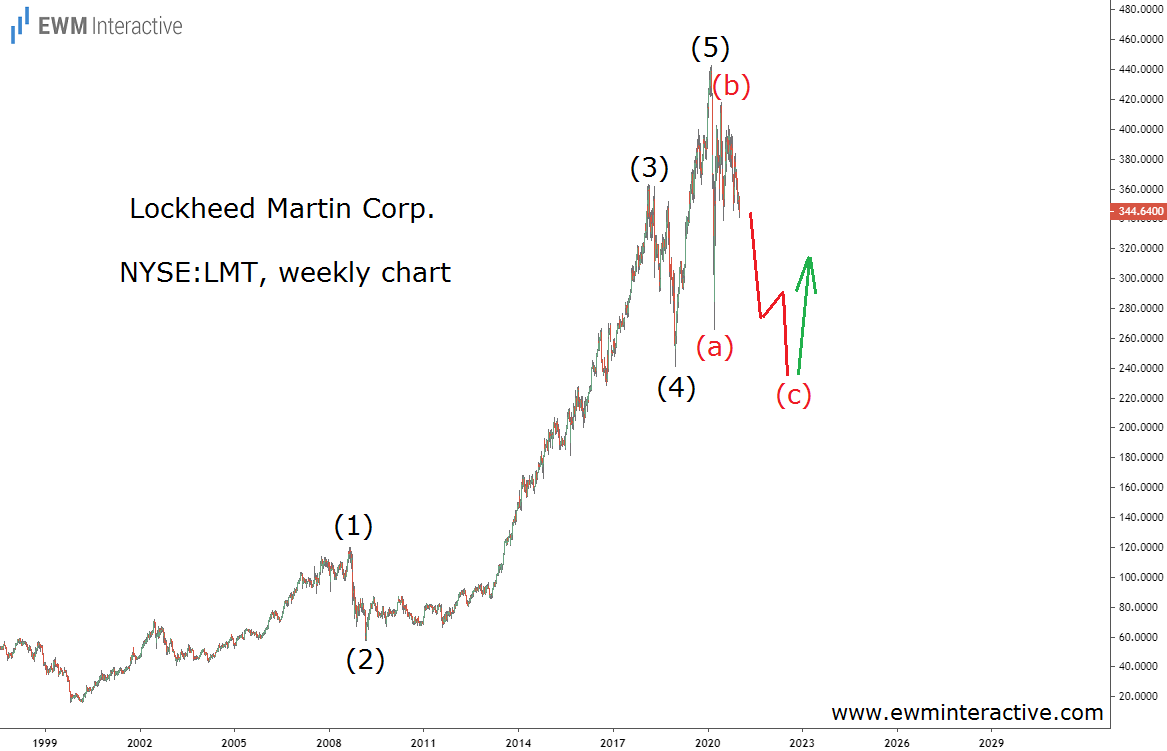 Lockheed Martin Corp Stock Chart
In just a month during the coronavirus selloff, LMT stock fell by 40% from $443 to $266 a share. That drop was sharp and fast, but still too shallow for us to be able to conclude the correction is over. In addition, the structure of the following recovery to $418 by June 2020 looks corrective, as well.
If this count is correct, the March plunge must be labeled as wave (a) of a simple (a)-(b)-(c) zigzag which is still unfolding. The rally to $418 must be wave (b), meaning wave (c) can be expected to drag Lockheed down again. Wave (c) is supposed to breach the bottom of wave (a), making bearish targets near $240 plausible.
This translates into another 30% decline to the support of wave (4) before the bulls can return. Lockheed can be a wonderful buy-and-hold stock in the long-term. However, we think investors can get a much better price if only they wait a few more months.
Leave a comment