Investors aren't thrilled with Salesforce.com's (NYSE:CRM) acquisition of Slack Technologies (NYSE:WORK), announced Tuesday, for $27.7 billion, mostly in cash. It is the software and cloud-based services company's most expensive deal to date.
Shares of Salesfore.com have lost about 8% since the Wall Street Journal first reported the deal last week. The stock closed on Wednesday at $220.78, after falling about 8.5% on the day.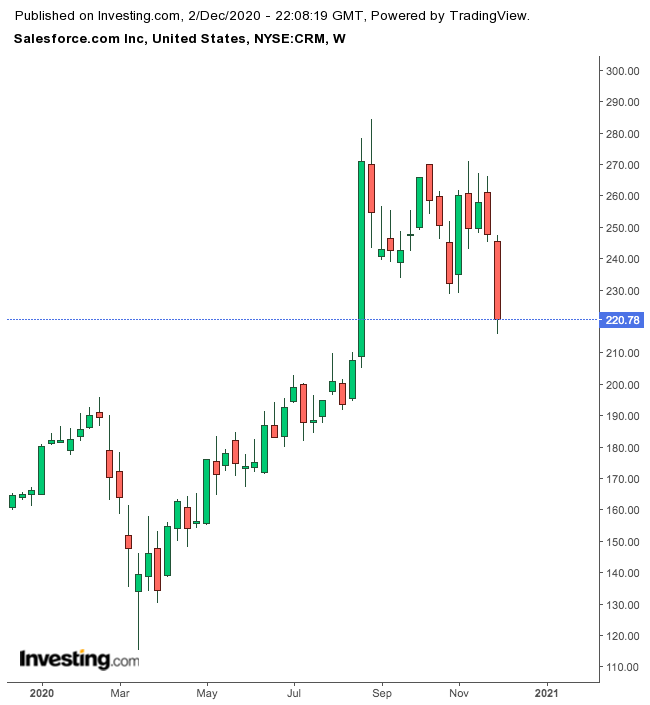 Salesforce.com 1-Year Chart.
The transaction is valuing Slack, whose platform makes it easy for offsite workers to communicate and coordinate work documents, at about $45.50 a share, a 54% premium to its unaffected price, representing a multiple of about 26 times forward sales.
As such, Slack is Salesforce's most expensive deal by a variety of measures. Its previous two acquisitions—$14.7 billion for Tableau Software last year and $5.8 billion for MuleSoft the year before—valued those enterprises at 11 times and 15 times forward sales, respectively, according to a WSJ report, which cited Brent Thill of Jefferies Group for these estimates.
But price is not the only issue making investors uneasy. Some believe the acquisition won't bring the kind of synergies and competitive advantage founder and CEO Marc Benioff is trying to achieve through this deal, the biggest wager of his career.
First, Salesforce will be competing directly with the tech giant Microsoft (NASDAQ:MSFT), which is aggressively promoting its workplace collaboration platform, Team. This videoconferencing and chat software now has 115 million daily active users, up from 75 million in April.
Poster Child
Slack, on the other hand, didn't benefit from the pandemic's great work-from-home shift the way other companies did. It stopped updating its number of daily active users late last year when it reached 12 million.
Wedbush analyst Daniel Ives, who has an underperform rating on the stock, termed Slack a "poster child" for the (work-from-home) trend, adding that Teams will aggressively look to court Slack's "unparalleled installed base of customers." Ives said that this remained "the main competitive threat to Slack."
That said, there are legitimate reasons that prompted Salesforce to acquire Slack that could make it a whole new type of business in an environment when customers are reconstructing how they are working. With Slack under its belt, Salesforce gets a strong opening into a collaborative interface, combined with its other relationship management services.
Despite the challenges that come with this acquisition, CEO Benioff remains quite bullish on his bet, saying the deal was made in heaven and is a major step towards doubling Salesforce's revenue. In a statement on Tuesday he said:
"Together, Salesforce and Slack will shape the future of enterprise software and transform the way everyone works in the all-digital, work-from-anywhere world."
Bottom Line
Clearly, the market has doubts about Salesforce's latest move and that's going to depress its share price in the short-run. But Benioff and his team have a history of producing powerful growth through acquisitions.
In its last five fiscal years, Salesforce has grown sales at a pace of more than 24% each year, a performance that many tech CEOs dream about delivering. More weakness in Salesforce shares, in our view, should be taken as a buying opportunity.
Leave a comment