It seems as if oil supermajor ExxonMobil (NYSE:XOM) is winning back investor confidence in the wake of the devastating year that was 2020. Its stock has gained more than 50% during the past three months, on hopes that the worst is over for the largest U.S. oil and gas giant as it restructures its operations and makes some drastic cost cuts.
Before getting into the merits and demerits of investing in ExxonMobil, it's important to understand what has changed for the company during this pandemic and where this energy company is headed after enduring the most challenging market conditions it has ever experienced.
While announcing its fourth-quarter earnings last month, Exxon reported its first annual loss in at least three decades as demand for oil collapsed and prices plunged during the COVID-19 pandemic. The earnings report showed that Exxon took a $19-billion impairment, and its cash flows swung negative, -$20 billion after dividend payouts were included.
That blow had a more devastating impact on Exxon when compared with other energy giants. It turned the company's expansionist approach—which was based on huge spending to find more oil and gas at a time when the world is moving to clean sources of energy—upside down.
Besides the pandemic-triggered crash in oil markets, Irving, Texas-based Exxon laid off thousands of employees, and was dropped from the 30-component, blue-chip Dow Jones Industrial Average in late August, after its market value plunged.
During that period, investors were extremely doubtful about its ability to continue paying dividends. Along the way, there was also a whistleblower complaint that Exxon was overvaluing its Permian assets and a report that it had considered merging with rival Chevron (NYSE:CVX).
New Plan To Survive
After facing what has clearly been the most challenging year in the company's history, CEO Darren Woods has come up with a plan to win Wall Street's confidence. Woods' new blueprint for XOM diverts capital spending to advantaged assets with the highest potential future value, including developments in Guyana and the U.S. Permian Basin, targeted exploration in Brazil and chemicals projects to grow high-value performance products.
Investors seem to be cozying up to this turnaround strategy. The company's stock price, which closed Tuesday at $50.61, is up more than 50% in the past quarter. Its closest rival, Chevron, delivered almost half the gains XOM delivered over the same period.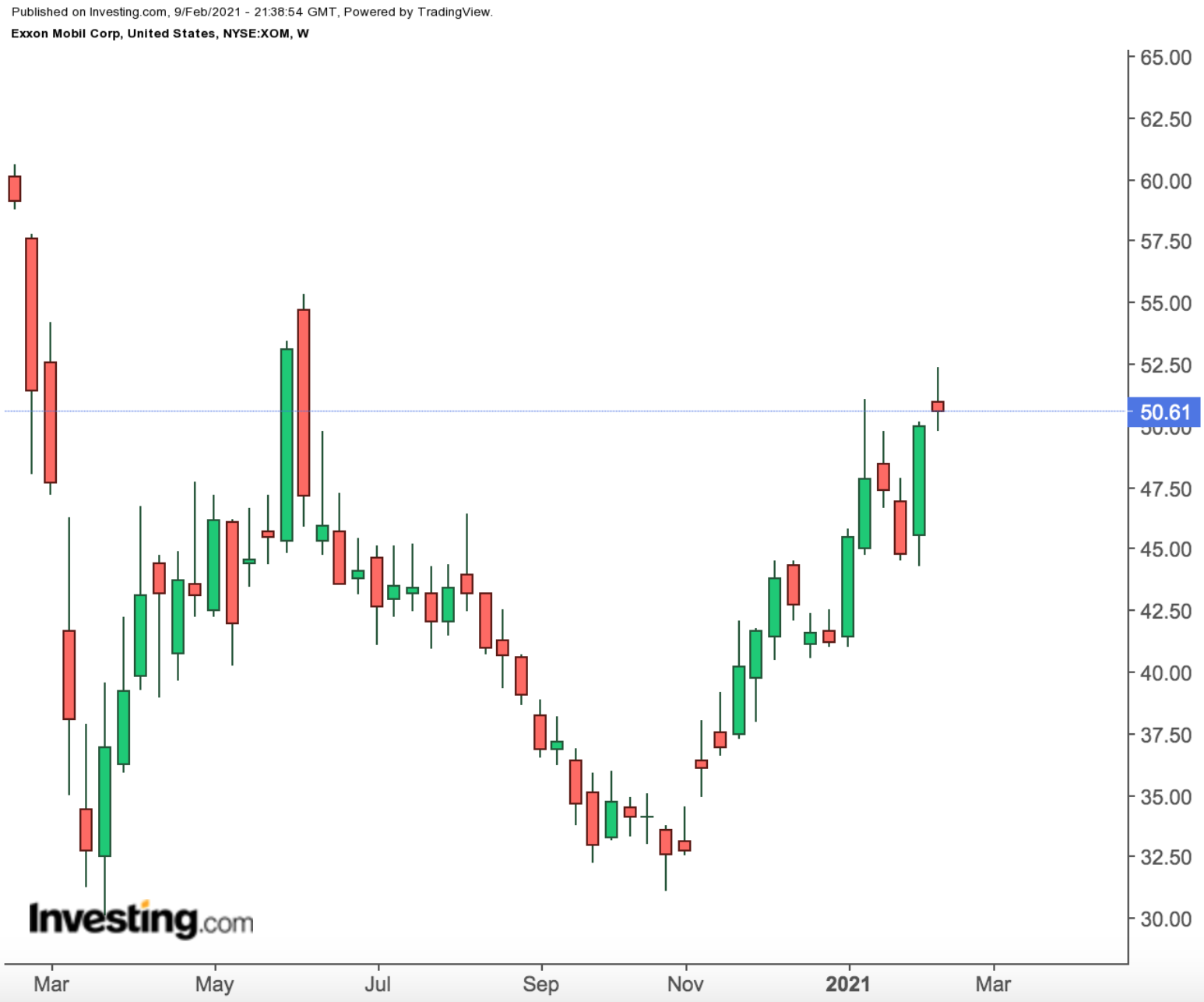 Exxon Mobile Weekly Chart.
Analysts at JPMorgan, Goldman Sachs, Wells Fargo and Morgan Stanley have all issued positive recommendations for Exxon in recent weeks, according to CNBC.com. They've built their bullish views after seeing improving oil and gas prices. That will help the company save its $0.87-a-share quarterly dividend from being slashed. The annual dividend yield on the stock is now around 7%—one of the richest among U.S. large cap stocks.
Woods assured investors last month that with Brent crude futures, then at $45 per barrel, the company could pay its dividend and invest in the low-end of its flexible capital spending problem. Brent at $50 per barrel would allow the company to invest $16 billion in its capital program spending, which is at the low end of the company's 2021 guidance.
Brent traded around $61.10 per barrel on Tuesday, its highest level in more than a year, rebounding from less than $20 per barrel in last April.
Bottom Line
With increasing oil prices and drastic spending cuts, Exxon seems to be heading in the right direction. With these moves, Exxon is in a better position to continue paying its dividend—the main attraction for long-term investors to buy this stock.
That said, Exxon is still a risky bet. It remains highly dependent on the successful reopening of the economy in which oil demand would remain strong.
Leave a comment