Tesla's founder and CEO Elon Musk has proved his critics wrong multiple times. Among other things, Musk has become known for outrageous, sometimes controversial comments during interviews and via Twitter. Still, the shares of his electric car company have gained 400% during the past 12 months, making it the S&P 500's best performing company.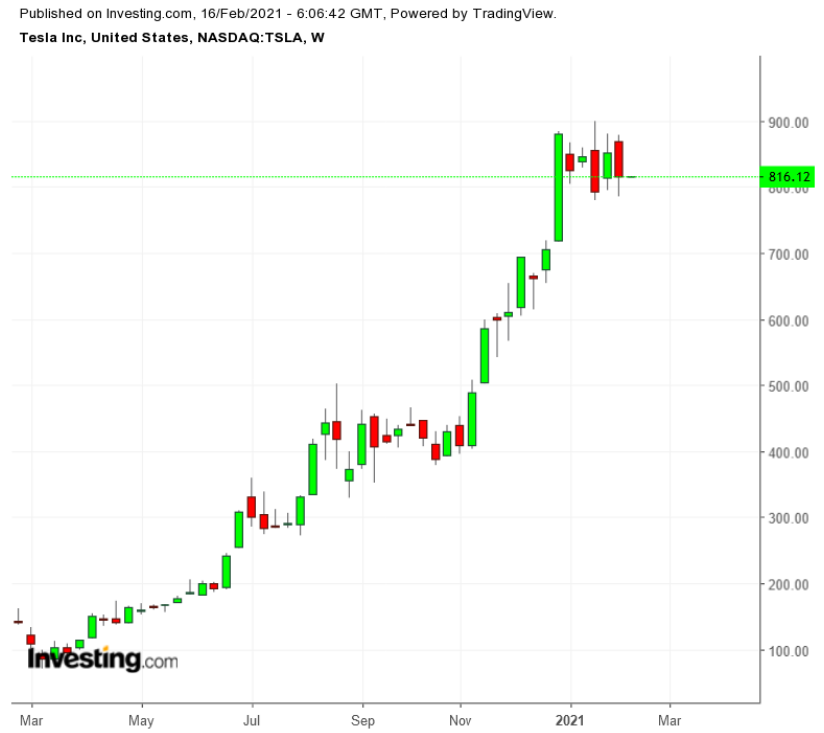 TSLA Weekly TTM
Last month, Tesla (NASDAQ:TSLA) reported quarterly results that marked a sixth straight profitable quarter and wrapped up a fiscal year that saw car deliveries touch 500,000 units, up 36% from the previous year. After witnessing one success after another, even some of Tesla's most vocal bears capitulated, admitting they were wrong to recommend a 'Sell' on the stock.
"There is no graceful way to put this other than to say we got TSLA's stock completely wrong," RBC Capital Markets analyst Joseph Spak wrote last month. Evercore ISI analyst Chris McNally said he's been:
"…on the considerably wrong side of TSLA for over a year now."
Indeed, McNally almost trebled his price target on Tesla shares to $650. At the same time, Credit Suisse Group AG analyst Dan Levy doubled his target price to $800. The stock closed on Friday at $816.12.
These frank admissions by the sell-side community, however, don't obscure the fact that it's still difficult to see the rationale behind some of Musk's recent moves.
The one garnering the most attention currently is his recent bet on cryptocurrencies using Tesla's cash to make the investment. In an SEC filing released on Feb. 8, the Palo Alto, California-based carmaker revealed that it had purchased $1.5 billion worth of Bitcoin, in order to diversify its cash holdings.
Tesla also said in the announcement that at some point it plans to allow customers to buy its cars using Bitcoin.
Bitcoin's Wild Moves
By entering this highly speculative segment of the market, Musk has put at stake $1.5 billion of the company's roughly $19 billion in cash that was on Tesla's balance sheet at the end of December. The electric vehicle manufacturer raised $12 billion of that last year by selling additional equity as it planned aggressive expansion.
Despite its recent surge in value, Bitcoin continues to be a highly volatile asset class with an unpredictable future. The currency can rise or fall 20% in a single day, sometimes for no apparent reason.
Last month, the U.K.'s financial watchdog, the Financial Conduct Authority, warned that investing in crypto assets, or investments and lending linked to them, generally involves taking very high risks with investors' money. "If consumers invest in these types of products, they should be prepared to lose all their money." the regulatory body said.
While digital assets are relatively new, financial history suggests similar speculative use of an industrial company's funds has occurred before—and it's generally ended badly, said Wall Street Journal opinion writer Charley Grant in a recent piece.
As an example, Grant noted that a century ago, General Motors (NYSE:GM) required a bailout due to speculative stock activities by its founder William Durant. In the 1980s, widespread corporate speculation on Japanese land prices helped drive a stock bubble that eventually collapsed.
Along with the widespread criticism of Musk's crypto move, investors in Tesla stock have other reasons to worry. Shrinking profit margins, stiff competition in China and Europe and some quality issues related to Tesla's cars are some of the headwinds gathering on the horizon.
Last month, Tesla told investors that its operating margins shrank to 5.4% in the latest quarter, down from 9.2% the previous three months, due to price cuts in China, supply-chain costs and a big pay package granted to Chief Executive Officer Musk and other key executives.
Tesla was recently summoned by Chinese regulators to answer complaints about quality and safety issues with its cars. China is a crucial component of Tesla's growth story since revenue in the U.S. seems to have peaked, at least in the short-run.
Does this mean Tesla's breathtaking rally is coming to an end after fueling a 1,000% acceleration in the value of its shares since March? Some analysts think so. According to RBC Capital Markets:
"Given the run in the name, an earnings 'miss', no specific 2021 guidance and potential supply constraints, we could see the stock take a breather. But, to long-term believers, there is likely little to deter their thinking."
Their analysts now have a $725 per share price target on the stock.
Bottom Line
For investors who have held Tesla shares during this pandemic, the results have been eye-popping. However, that doesn't justify a founder risking shareholders' money on a highly speculative bet in a segment of the market that remains volatile and unpredictable. In our view, Tesla itself continues to be one of the most speculative stocks on Wall Street. That alone should warrant caution from anyone holding or trading it.
Leave a comment