While there has been no dearth of positive news for Tesla (NASDAQ:TSLA) during 2020, investors bullish on the Palo Alto, California-based electric carmaker may have something of a bad taste left as they say goodbye to this tumultuous year, courtesy of Apple (NASDAQ:).
Reuters is reporting that the maker of the iPhone and the world's most valuable company is targeting 2024 to produce a passenger vehicle that could include its own breakthrough-battery technology.
After facing setbacks during the past six years, Apple's car initiative, known as "Project Titan," is now progressing well, and aiming to build a personal vehicle for the mass market, the news service reported Tuesday, citing sources. Central to Apple's strategy, the report claims, is a new battery design that could "radically" reduce the cost of batteries and increase the vehicle's range.
The news of Apple's potential entry into the electric vehicle market in the next four years comes at a time when many analysts are raising red flags about the electric vehicle (EV) market leader's extremely rich valuation. Tesla's stock has soared 665% this year, taking its market cap beyond $600 billion, which is more than the valuation of the top seven automakers—combined.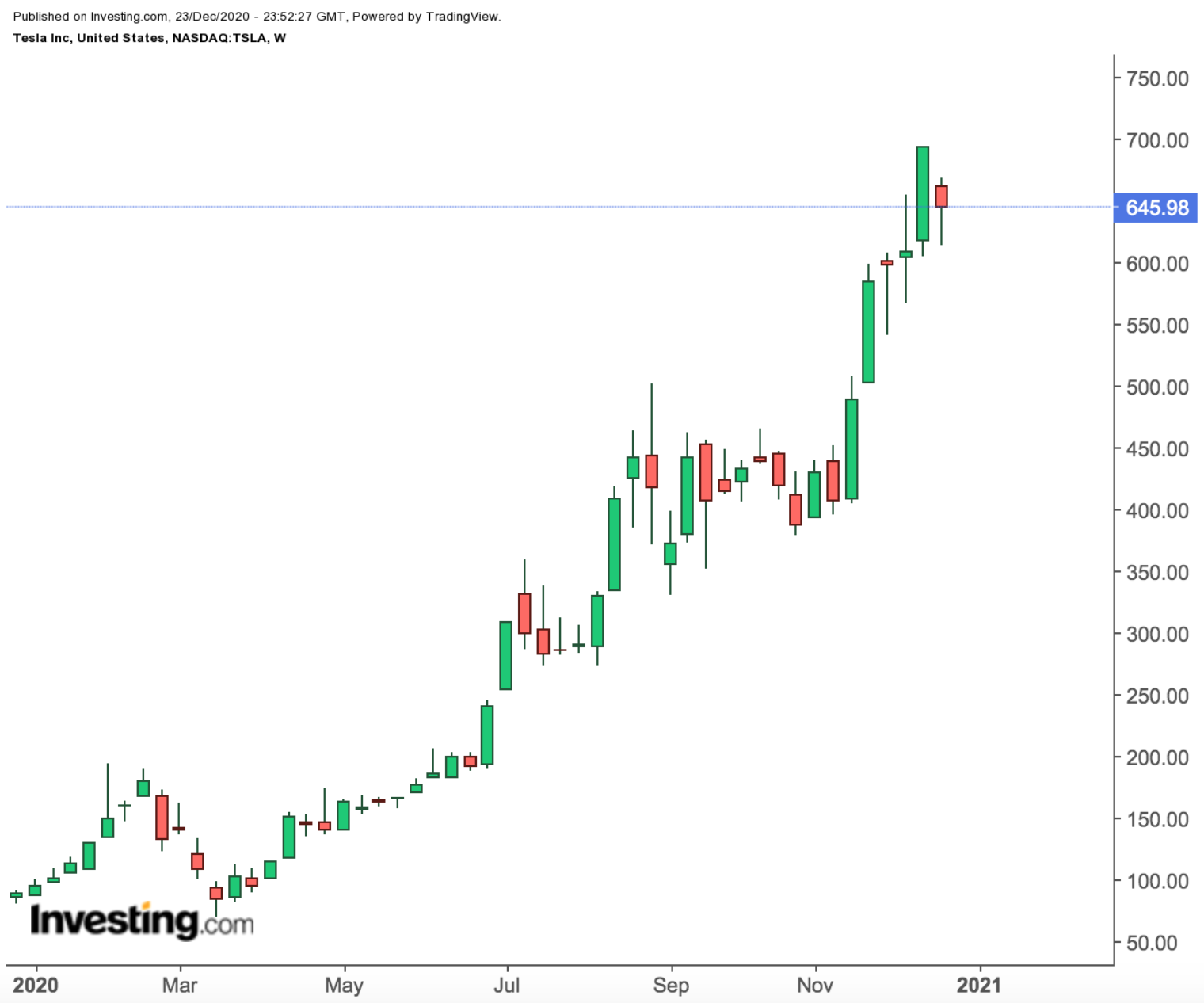 Tesla Weekly Chart.
Though there could be many other reasons Tesla's eye-popping rally might sputter in 2021, Apple's car plan is probably not one, at least in the short-run. The car business, analysts say, doesn't fit into the company business strategy, which revolves around producing high-margin products.
Project Titan
The world's top 10 automakers by market cap average gross margins of 15%, according to data from S&P Global Market Intelligence. This is far less than the 38% gross margins of Apple's products—an impressive number driving the financial success that makes Apple a very different company than Tesla.
Said Citi analyst Jim Suva in a note:
"Apple conducts R&D in many areas, and while we are not surprised to hear the media once again discuss Project Titan for autos, we are very skeptical that Apple will actually produce a car, as auto sector profitability is much lower."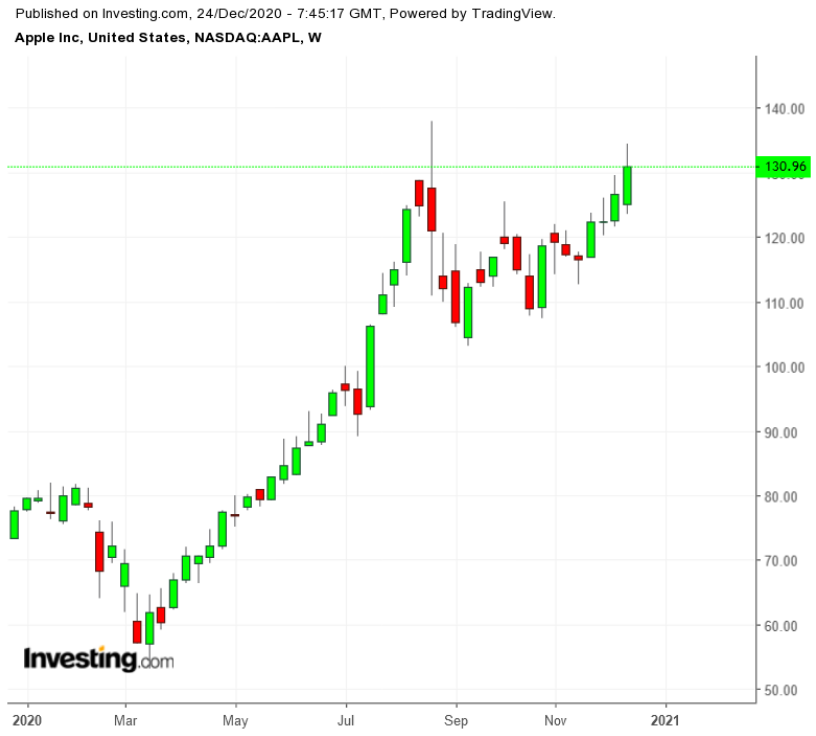 AAPL Weekly TTM
With these doubts, however, there are a number of developments on the ground that show Apple is preparing something that will disrupt the existing players in the EV marketplace.
The biggest among them is the restructuring of Apple's car unit. According to Bloomberg, Apple's artificial intelligence chief John Giannandrea is taking over the self-driving car unit, an indication that Apple sees software and systems as the key ingredient. Previously, the effort was headed by Bob Mansfield, vice-president of hardware engineering.
In another development, Foxconn Technology Group, which assembles iPhones and supplies numerous, less-significant components for them, is entering the EV market.
Foxconn announced plans in January and unveiled its own open-vehicle platform in October. The company says it will start shipping an EV development kit in April, allowing any developer to build a car on top of their bare-bones chassis and electrical system.
In a note carried by CNBC, Morgan Stanley analysts raised the possibility Apple could sell some kind of transportation subscription, which would not compete with traditional automotive companies that sell cars:
"It's not that we believe Apple wants to get into the auto industry as conceived by today's auto companies."
Instead, the analysts said, Apple may be aiming to build a better car experience using its design and software chops. It could monetize that through its current matrix of subscription and services products.
Bottom Line
Rumors about Apple's EV ambitions can certainly make investors in the iPhone-maker more excited, as this could be the next big thing they are looking for. But we don't believe this news poses a serious threat to Tesla's stock rally.
What's more likely to derail Tesla's powerful rally next year would be the company's failure to ramp up its production, sell more cars and improve its margins. These factors are more significant measures for justifying the massive surge in Tesla's share price.
Leave a comment