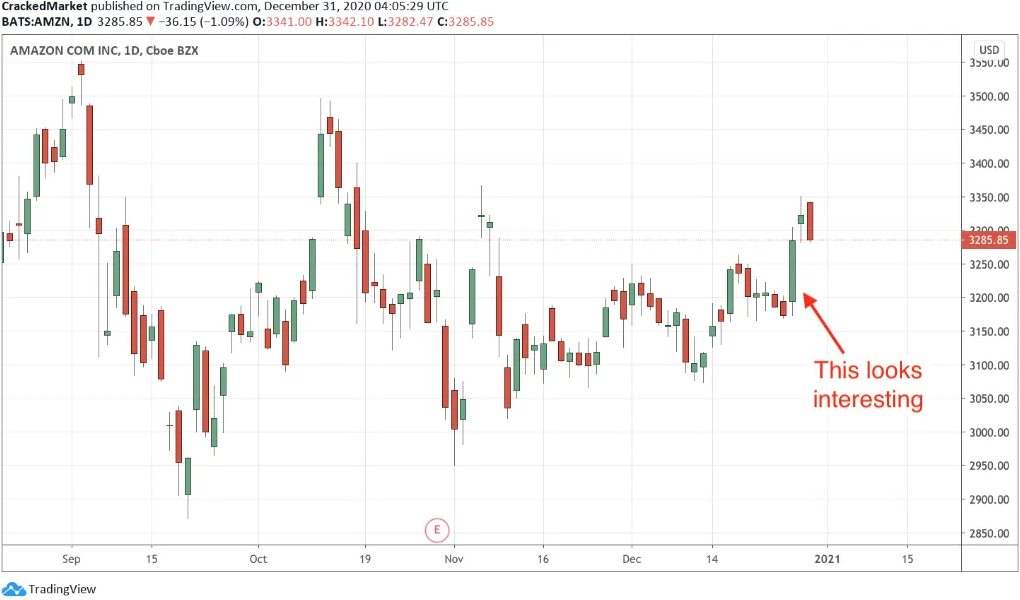 Amazon Inc Daily Chart
As expected, the S&P 500 has been gliding gently higher into year-end. Nothing surprising or interesting to report there. As long as we keep getting more up than down, everything is going according to plan.
That said, there have been quite a few interesting stories developing underneath the surface. I already covered Zoom (NASDAQ:ZM) and Bitcoin earlier this week. Now it's time to turn our eyes toward Amazon (NASDAQ:AMZN).
It was actually a fairly disappointing Christmas season for the stock and AMZN has been going more sideways than anything since late summer.
Amazon was an obvious COVID winner as locked-in consumers were forced to order everything they needed online. But as is often the case, stocks that rebound first also tend to stall out first while everything else is catching up. That was definitely the case with AMZN this fall.
But more interesting is Monday's 3.5% pop. That was unexpected and happened on a day when the S&P 500 was only up 0.9%. That healthy outperformance tells us there is strength bubbling under the surface. And following a multi-month sideways consolidation, this stock might finally be ready to make its next move higher.
AMZN is buyable as long as it remains above $3,170. And even if it dips under this level momentarily, it is buyable again as soon as it reclaims it. Either way, expect this stock to be making fresh highs over the next few weeks.
Leave a comment