The past two months have been quite an eye-opening journey for Chinese e-commerce giant Alibaba Holdings (NYSE:BABA). Its shares, after hitting a record high of $319.28 per share in late October, have lost more than quarter of their value.
And there are signs that the worst isn't over for the company co-founded by the legendary entrepreneur Jack Ma. The initial sell-off in BABA shares began in November after Chinese authorities began a crackdown on Ma's sprawling internet empire by blocking the $35-billion initial public offering by its financial arm Ant Group.
Regulators ordered Ant, in which Alibaba has a 33% stake, to formulate a recertification plan and implement a timetable for the overhaul of its businesses, including its credit, insurance and wealth management services.
The move set in motion a string of regulatory decrees that threaten to reshape the landscape for China's online operators, including new anti-monopoly rules, establishing a framework for curbing anti-competitive behavior like colluding on sharing sensitive consumer data, alliances that squeeze out smaller rivals and subsidizing services at below cost to eliminate competitors.
These regulatory moves, if approved, could substantially weaken Alibaba and other Chinese internet operators and change their business models. Last month, China's top commerce regulator said it is investigating whether Alibaba abused its dominant market position in online retailing through activities, like making merchants sell products exclusively on its platforms.
In Chinese context, however, the problem is that it's hard to figure out what's behind these regulatory actions: Is it just a regulator trying to fix the market imbalances? Or, is the motive political?
Politics Or Regulations?
Ma's current troubles began soon after he infuriated China's leadership by criticizing financial regulations and quoting a phrase from Chinese President Xi Jinping in a controversial speech, according to the Wall Street Journal.
This complex situation makes it hard for investors to take advantage of BABA's share price weakness, which some analysts believe is up for grabs due to the company's immense growth from online shopping and its fast-growing cloud business.
Baird analyst Colin Sebastian, while cutting BABA's price target to $285 from $325 in a recent note, said it's "very hard to predict the outcome" of the investigation.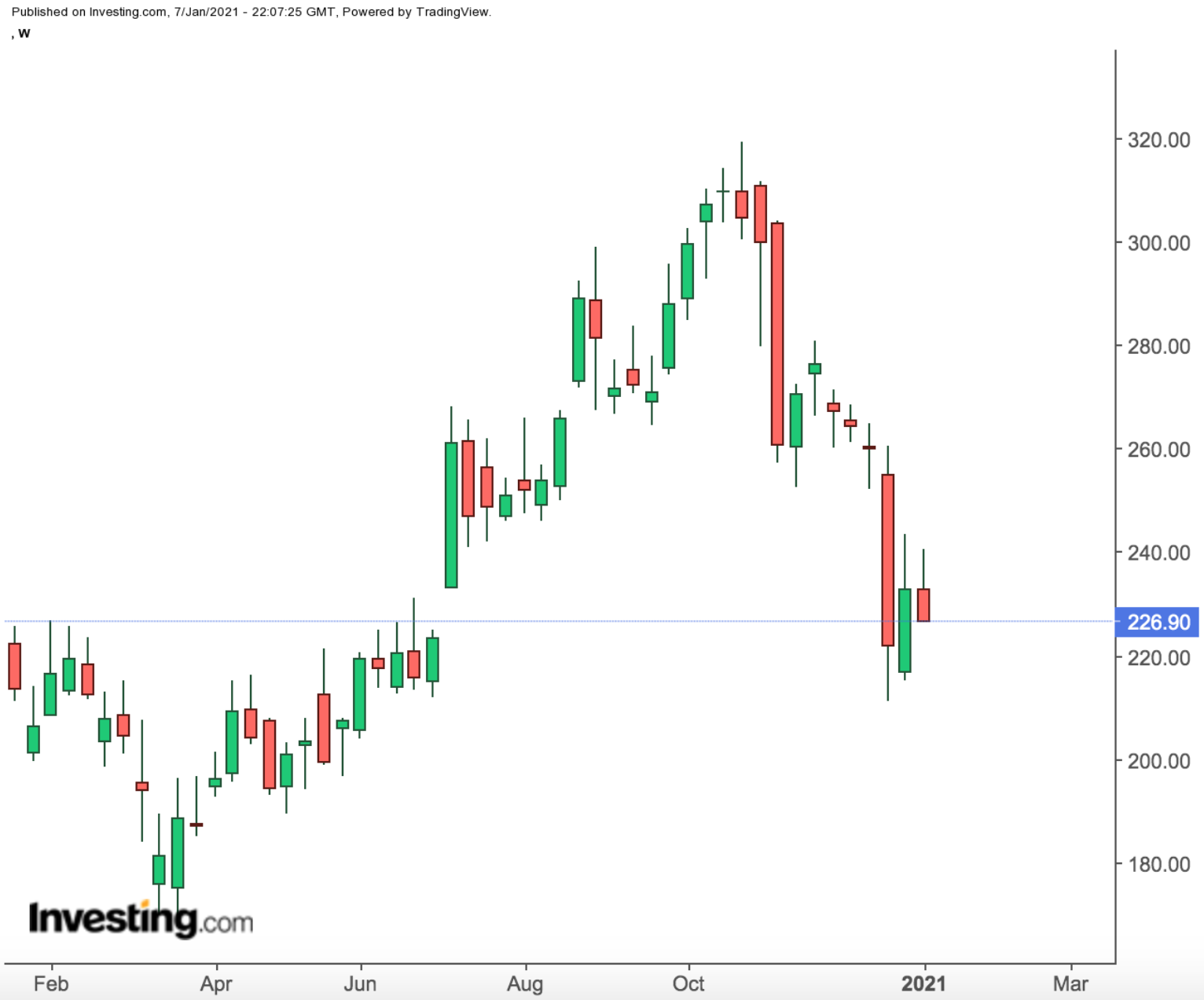 Alibaba Weekly Chart.
It "will not likely result in significant changes to the company's core business," but stronger regulation "may open the door for competitors, including smaller regional players, to gain market share," Sebastian said. That could put a small dent in Alibaba's growth, but won't have a major impact.
KeyBanc Capital Markets, on the other hand, said the stock's recent weakness has generated a juicy buying opportunity, assigning an overweight rating to the stock with a $355 a share price target.
Besides the Chinese regulatory action, BABA could also be the main target of the US-China trade war, further weakening its investment appeal. Media reports yesterday said the outgoing Trump administration is considering barring investments in Alibaba and Tencent Holdings (OTC:TCEHY).
The State Department, Department of Defense and Treasury Department are among authorities involved in the deliberations, according to a report by the Wall Street Journal. Imposing a ban on the two companies would mark the most dramatic escalation yet by President Donald Trump's administration in a trade dispute, given the sheer size of the two firms and the difficulty unwinding positions, the report says.
Bottom Line
A 25% plunge in BABA stock makes it an attractive bet, especially for those with a long-term investment horizon and with a higher risk appetite. That said, it's hard to predict how much damage these headwinds will produce for the internet giant in the short run. We believe there is risk of more downside and investors, on the sidelines, will get a better entry point.
Leave a comment