Intel's (NASDAQ:INTC) new CEO, Pat Gelsinger, has an ambitious plan to revive growth in the world's largest chip-maker. The strategy, which is a mix of in-house production and outsourcing, comes after years of underperformance that allowed competitors to gain market share.
While outlining his plan to analysts this week, Gelsinger said Intel will rely more on outside manufacturers to produce some of its most cutting-edge processors, starting in 2023. He also announced a $20-billion investment to build two new chip-fabrication facilities in Arizona, called Intel Foundry Services (IFS), to make chips designed by other companies.
By doing this, Intel aims to supply the world's largest cloud-computing customers, like Amazon (NASDAQ:AMZN) and Microsoft (NASDAQ:MSFT), which are now designing more of their own processors and need foundries to manufacture them. This hybrid model is a winning combination, according to Gelsinger, who was named Intel's top executive just two months ago, after his stint as CEO at VMware (NYSE:VMW).
"Intel is back. The old Intel is the new Intel," he told analysts in a presentation. "We're going to be leaders in the market and we're going to satisfy the new foundry customers because the world needs more semiconductors and we're going to step into that gap in a powerful and meaningful way."
For Intel investors, the past two years have been quite disappointing. While other semiconductor-makers rallied on explosive demand for new and faster chips, Intel struggled to bring its latest products to market on time due to manufacturing challenges.
Its competitors, including Advanced Micro Devices (NASDAQ:AMD) and NVIDIA (NASDAQ:NVDA), design chips that are built by outsiders, including Taiwan Semiconductor Manufacturing (NYSE:TSM)—a company that Intel is trying to imitate with this new business plan.
Mixed Reactions
Intel stock rose just 16% during over the last two years, while the benchmark Philadelphia Semiconductor Index more than doubled. Will the current plan be enough to bridge that gap and make Intel stock a good long-term investment? Analysts have mixed reactions, given Intel's earlier missteps and the highly competitive landscape.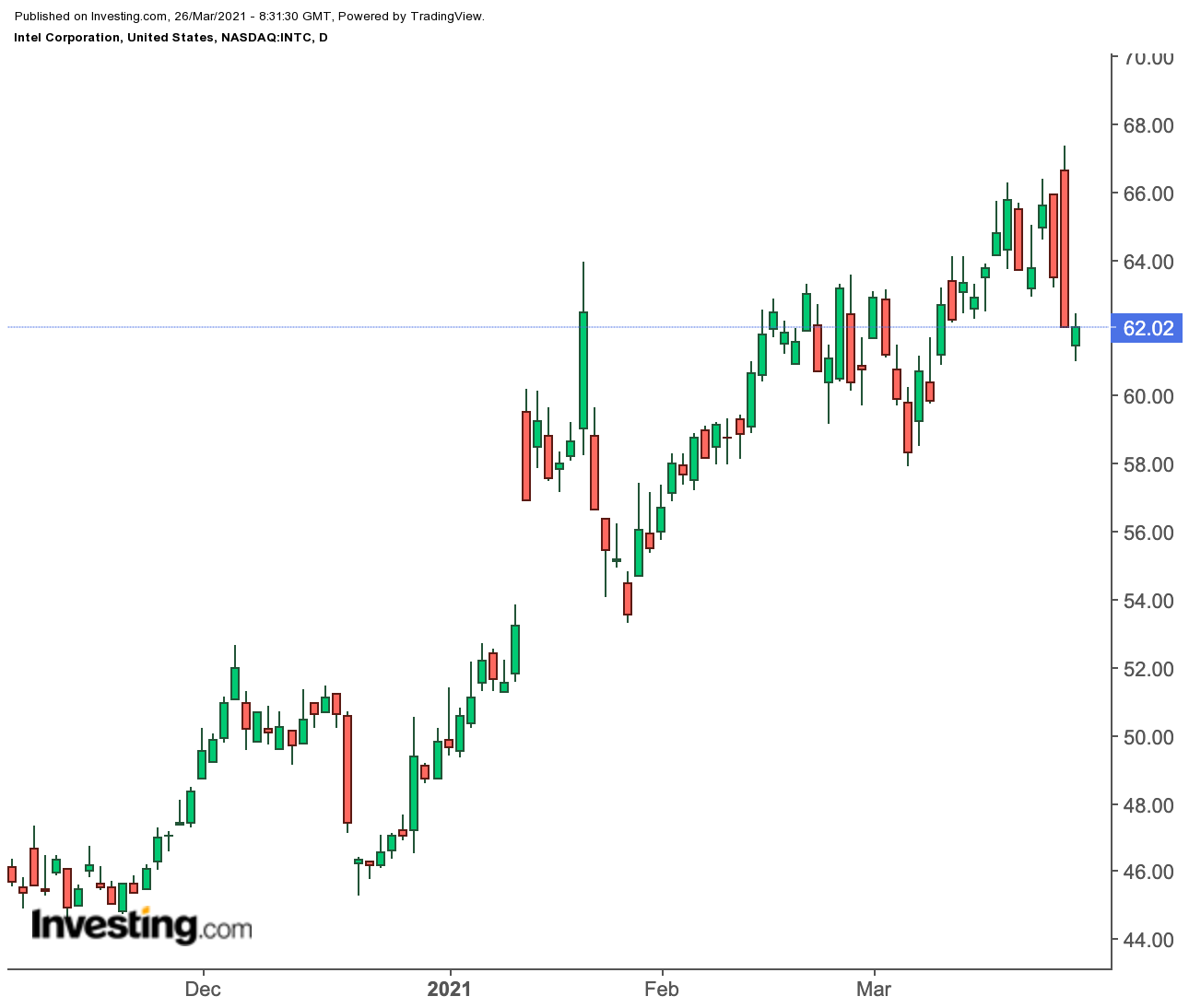 Intel Daily
Goldman Sachs reiterated its sell rating on the stock, noting that the $20 billion to build the new factories could hurt free cash flow and create conflicts of interests with competitors. As Goldman said in a note, cited by CNBC.com:
"Even if IFS is set up to be a stand-alone business separate from core Intel, we believe many of the large fabless consumers who compete with core Intel will be hesitant to work with IFS."
However, the conditions on the ground are quite fertile for Intel if the company succeeds in executing its plans.
Global chip shortages and China's massive investments to become a leader in chip manufacturing have made the industry a part of the geopolitical tussle. US President Joseph Biden signed an executive order last month requiring a 100-day review of key supply chains, including semiconductors. He also said he would seek $37 billion in funding to help the domestic chip industry boost capacity.
With political and financial backing, demand for chips is likely to remain strong even after the pandemic as people spend more on smartphones, games and connected devices that all need chips. According to a note from investment firm Baird, which named Intel a fresh pick and reiterated its outperform rating on the stock with a target price of $85 a share:
"We are currently witnessing arguably the worst capacity constraints since the late '90s, while the geopolitical landscape makes it increasingly risky to bet solely on TSM. Intel just has to execute in what is the most friendly environment in past decades for US-based semiconductor production."
Bottom Line
Intel's new turnaround plan is impressive and offers solid reasons to be optimistic about this company. But the stock's current level doesn't offer much upside in the short run as investors adopt a wait-and-see approach. For long-term investors, it's better to wait on the sidelines and look for a better entry point.
Leave a comment