Diversified electric vehicle (EV) products and fintech portfolio company Ideanomics (NASDAQ:IDEX) stock has been on a controversial run riding the electric vehicle (EV) revolution. The Company has been the subject of short-sellers claiming the Company as being more hype than substance. In addition to EVs, Ideanomics has investments in various themes ranging from internet of things (IoT), cryptocurrencies, artificial intelligence (AI), smart tractors, real estate transaction platforms and EV charging solutions. The Company tends to be very promotional with any material and non-material developments which has been able to propel shares from thematic speculators. However, the Company has also been diluting shareholders with steady secondary offerings and convertible debt deals to finance investments. For this reason, only experienced speculators and nimble traders should consider monitoring shares for opportunistic pullback levels.
Mobility Division
The EV related division is named the Mobility Division. Main subsidiaries include Mobile Energy Global (MEG), Medici Motor Works and WAVE. MEG manufactures taxis and ride-hailing EVs along with EV battery systems in China. The Company reported 439 units delivered in December 2020 and 706 units in Q4 2020 including 13 bus battery systems and 1 charging station. The Company has an agreement to fulfill 2,000 BYD D1 units to Meihao Chuxing Automobile Technology Co. in 1H 2021. Medici Motor Works will produce U.S. specialty EV and zero-emission pick-up trucks. WAVE (Wireless Advanced Vehicle Electrification) develops inductive charging pads for medium to heavy-duty vehicles in the U.S. WAVE deploys 250 kW embedded ruggedized pads that allow for wireless charging during scheduled stops for transit operation systems. The Company is developing a 500kW to 1MW charging system. WAVE had an estimated $7 million in 2020 revenues. The Company customers include the largest bus system in the U.S., the Antelope Valley Transit Authority. Ideanomics owns a 24% stake in California-based Solectrac, which makes EV tractors for agriculture. Ideanomics owns a controlling stake in Treeletrik, which manufactures EV mopeds and bikes but plans to expand to EV buses, trucks, cars, and light rail in the ASEAN region which includes Malaysia, Cambodia, Vietnam, Philippines, Indonesia, Laos and Singapore.
Q3 2020 Earnings Release
Ideanomics Q3 2020 revenues rose to $10.6 million, with MEG representing nearly 95% of the top line. This is up over 330% year-over-year (YoY) from Q3 2019 revenues of $3.1 million. Treeletrik received over 1,000 units for Thailand and Indonesia during the quarter. The Company acquired privately-held Timios, a leading title and settlement solutions provider with over 280 clients, operating in 44 states with $60 million in YTD (as of Nov. 12, 2020) revenues. Timios has completed over 380,000 transactions and $62 billion in closings since 2008.
Conference Call Takeaways
Ideanomics CEO, Alfred Poor, commented on Medici Motor Works:
"We're encouraged by the fact we are already getting inbound links from commercial fleet operators both in North America and other non-China markets."
He went on to point out:
"Our MEG business unit will support Medici in Three Electric in terms of financing, battery-as-a-service and charging service as an expansion of China-based activities. We believe MEG's S to F to C model will translate well to our global markets. MEG will be available not only for support in Three electric brands outside of China, but also to support needs of commercial fleet operators for the broader range of vehicle cost of manufacturers."
Dilution
On Feb. 12, 2021, the Company filed a 12.59 million share stock offering by selling shareholders, sending the stock cratering from $4.75 to $3.71 lows in the following days. While the Company has a diverse portfolio of EV and fintech companies, the shareholder dilution has been the problem as outstanding shares have grown to 371 million. Since the growth by acquisition strategy requires constant funding, the dilution will likely continue as investors can expect deep price drops when they occur. Speculators should monitor opportunistic pullback levels to position for cheaper prices for slingshot reversions.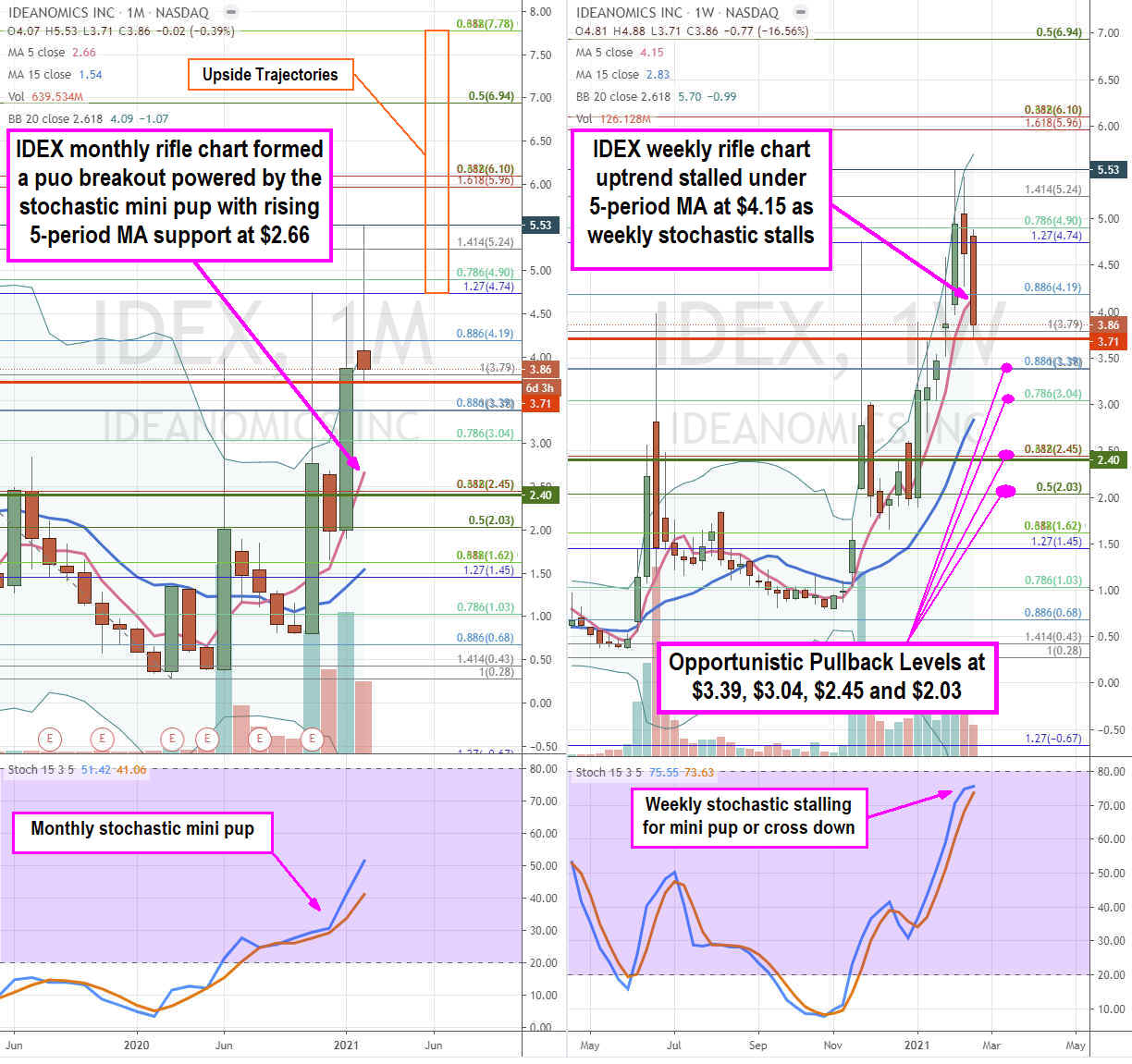 Ideanomics Stock Chart
IDEX (NYSE:IEX) Opportunistic Pullback Levels
Using the rifle charts on the monthly and weekly time frames provides a precision broader view of the landscape for IDEX stock. The monthly rifle chart formed a pup breakout powered with the monthly stochastic mini pup with a rising 5-period moving average (MA) support at $2.66 and upper Bollinger Bands (BBs) near the $4.19 Fibonacci (fib) level. The weekly rifle chart has been uptrending with a rising stochastic since triggering the market structure low (MSL) buy signal above $2.40. The Feb. 12, 2021, secondary share offering caused a panic sell-off which also formed a market structure high (MSH) sell trigger under $3.71. The weekly 5-period MA went flat at $4.15 with weekly 15-period MA still rising at $2.83. The stalled weekly stochastic will either resume higher with a mini pup if shares can rise back over the weekly 5-period MA or potentially crossover down if the weekly MSH triggers. Speculators and nimble traders can look for opportunistic pullback levels at the $3.39 fib, $3.04 fib, $2.45 fib, and the $2.03 fib. The upside trajectories range from the $4.74 fib up to the $7.78 fib.
Leave a comment