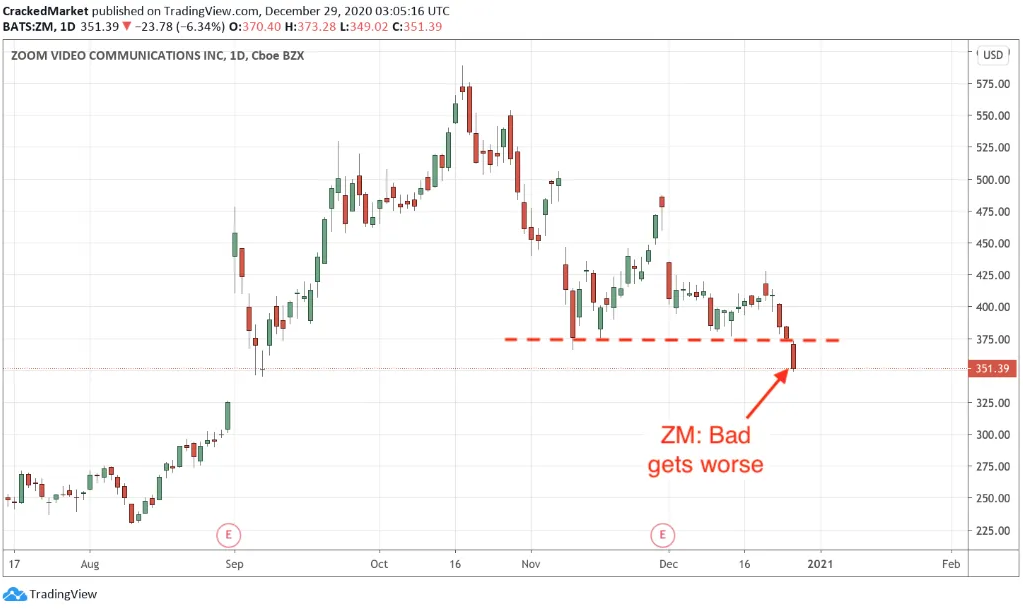 Zoom Video Communication Daily Chart
Monday was a noteworthy session with significant price developments in S&P 500, Bitcoin, Tesla (NASDAQ:TSLA), Netflix (NASDAQ:NFLX), and Apple (NASDAQ:AAPL). All were behaving exactly as I expected and wrote about over the last few weeks. But on a day where so much was going on, Zoom Video Communications (NASDAQ:ZM) definitely posted the most shocking move, and unfortunately for ZM owners, the news wasn't good.
On a day when it seemed like everything was going up, ZM went the other direction and tumbled 6.3%. It's never a good sign when a high-flying stock falls while everything else is up. And equally significant, the stock undercut the November lows. Last week's bad news turned even worse when the stock violated this widely followed technical level.
But all of this was expected and I've been warning ZM owners for a while. Between the disappointing price-action following blow-out earnings and tumbling under $400 support last week, it was hard to see anything but further losses ahead for ZM.
In early December I wrote:
There are few things more worrying than a stock that falls on good news. That signals unrealistic expectations and once the selling starts, it usually doesn't stop. The market loves symmetry and rallies that go too high are almost always followed by pullbacks that go too low.
Last week I noted:
I'd love to be proven wrong and see this stock bounce decisively, but this price action is dreadful and we should be prepared for the worst. If a person still believes in this name, take profits with a plan to jump back in after the stock retakes $400. As I often say, it is better to be a little safe than a lot sorry.
And unfortunately for ZM, I don't see things getting better anytime soon. Once sentiment sours on these high-fliers, the punishment is relentless. The buying euphoria on the way up turns into a selling frenzy on the way down. The mad dash for the exits won't stop until this becomes so ridiculously oversold value investors cannot help themselves. And we have a long way to go before that happens.
At the very least, don't expect a meaningful bounce until prices test $300. Until then, this remains a strong short.
And while it doesn't do any good to cry over spilled milk, we can learn from our mistakes so we don't make them again. The smart play here was following ZM higher with a trailing stop that got savvy traders out at $550.
And because I'm not always right, ZM is buyable if it bounces back above $400. But I wouldn't touch this until it reclaims and holds $400. It is better to be a little late than a lot sorry.
Leave a comment