The shares of Tesla (NASDAQ:TSLA) are on fire these days. After rallying strongly in a broad-based market recovery since March, they have gained another 40% in just the past 10 days. That upswing is making investors wonder: How much higher can they go?
Before discussing the extent of this tech darling's relentless upward trajectory, it's important to understand what's driving the move. Tesla's latest rally started after S&P Dow Jones Indices announced on Nov. 16 that the electric car-maker will be added to the S&P 500 Index.
After the move, money managers and investors who closely track the S&P will now have to buy the stock in order to accurately mirror the world's most tracked index. The electric car-maker's scheduled Dec. 21 inclusion in the index could result in $8 billion of demand from active U.S. large-cap mutual funds, according to analysts at Goldman Sachs. In a Bloomberg report the analyst wrote:
"Of the 189 large-cap core funds in our universe, 157 funds that manage around $500 billion in assets under management did not hold Tesla on Sept. 30."
Assuming those funds chose to hold the car-maker at benchmark weight, they would need to buy $8 billion of the stock, or about 2% of Tesla's market value, the analysts said.
Tesla shares rose another 3.35% on Wednesday to close at $574. After the pandemic, Tesla has been the best-performing large-cap stock in the U.S. this year, soaring about 586%, on increasing optimism that the Palo Alto-based company will dominate the electric-vehicle market.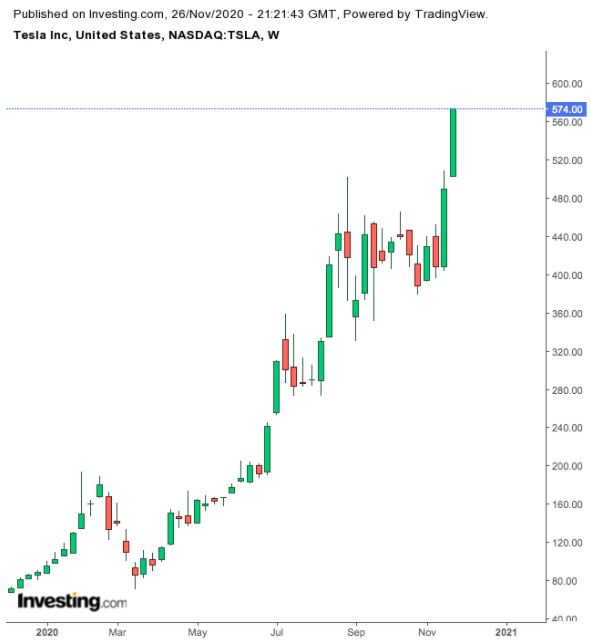 Tesla 1-Year Chart.
The stock spectacular rally helped co-founder Elon Musk add $100.3 billion to his net worth this year and overtake Bill Gates to become the world's second-richest person. Behind this strength are very strong earnings reports over the past year, showing that Musk is now able to sell cars for a profit, and his technology is far superior when compared with other entrants in the electric vehicle market.
Last month, Tesla reported a fifth consecutive quarter of profits, easily beating analysts' estimates. That profit streak was coupled with the company hitting production and delivery records and an all-time high free-cash flow. These achievements came at a time when other car-makers' struggled amid the global downturn triggered by the COVID-19 pandemic.
More Than A Car-Maker
Another attraction of Tesla's highly volatile stock for long-term investors is the belief of some analysts that the car-maker has more value than the stock's current valuations show. Morgan Stanley this month changed its bearish stance on Tesla, predicting that the company will also generate money by selling high-margin software and services.
"To only value Tesla on car sales alone ignores the multiple businesses embedded within the company," analyst Adam Jonas wrote in a note as he upgraded the shares to "overweight" and raised his price target by 50% to $540.
Jonas's valuation now includes Tesla's network services, energy storage and insurance businesses. The internet-of-cars opportunity is also real, and a prerequisite to unlock further gains for the stock, the analyst wrote.
According to some of the most bullish analysts, Tesla's rally has much more room to run. Dan Ives, managing director of equity research and an analyst at Wedbush Securities, is betting that the stock can even reach $1,000 in his "bull case" scenario.
Surging EV demand in China will play a major role in this scenario as the world's second-largest economy incentivizes companies like Tesla to make new-energy vehicles to account for 15% or more of the market by 2025, according to Ives.
Bottom Line
Tesla is going through an unprecedented boom after the S&P inclusion and the company's impressive earnings reports in recent quarters. With Tesla's valuation at extreme levels, there is little room for the company to disappoint either on production or demand projections that the market is expecting. Investors should tread with caution.
Leave a comment