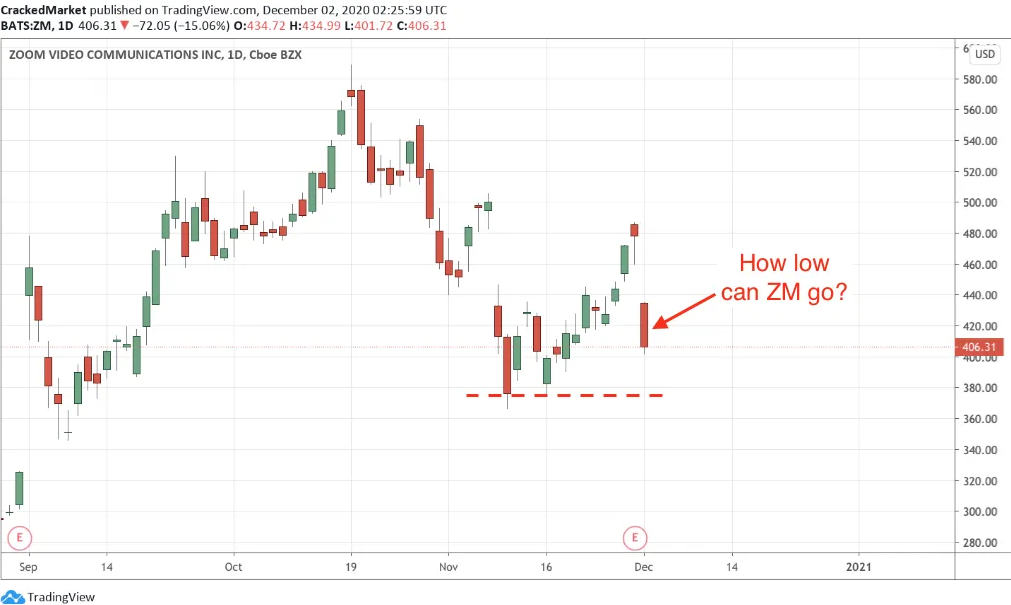 Zoom Video Inc Daily Chart
Zoom Video Communications (NASDAQ:ZM) reported blowout earnings Monday after the close, but rather than cheer 367% revenue growth, the stock was whacked 15%. Quarterly results were great across the board, but unfortunately, investors were looking for outstanding.
Stock pricing is all about expectations. "Less bad than feared" launches powerful rallies in beaten-down names and "not as great as hoped for" triggers massive selloffs in highfliers.
ZM had already run into a wall this fall, retreating more than 30% from the October highs. The stock was attempting a bounce off of the November lows and was making good progress, that is, until yesterday. While ZM remains above recent lows, there isn't much margin for error.
There are few things more worrying than a stock that falls on good news. That signals unrealistic expectations and once the selling starts, it usually doesn't stop. The market loves symmetry and rallies that go too high are almost always followed by pullbacks that go too low.
While ZM could bounce off of recent lows and that would be a valid entry point, if this dip undercuts recent lows, look out below. If the bubble is truly bursting, don't expect the selling to stop until prices fall 80%. For anyone tempted to hold the dip, that means this still has room to fall another $300!!!
Don't let a huge profit turn into a spectacular loss. If the stock retreats under $375, get out no questions asked. You can always buy back in if this selloff turns out to be a false alarm. But this is definitely one of those times when it is better to be safe than sorry.
And for the most aggressive traders, short a break under November's lows with a stop just above this level.
Leave a comment