Hooker Furniture; The Rebound Accelerates
It has been a bit of a hit-or-miss year for the furniture makers. While demand is high, operating results are heavily dependent on the ability to meet demand. For many, supply chain disruptions that began well before the pandemic persisted into the 2nd half of this year. Those disruptions are tied to the trade war (remember that?) and were only exacerbated by the pandemic. Now, three quarters into the crisis, operators like Hooker Furniture (NASDAQ:HOFT) are in a rebound that will last for at least another three.
"As we head into the fourth quarter, we are encouraged by our significant backlog and robust demand from all residential channels," said CEO Paul B. Toms, jr. "We're making progress with our supply chain challenges, as our overseas suppliers and own factories ramp up production to allow us to service this additional demand … As we look forward to the next two to three quarters, we are optimistic and believe we have the backlog, order velocity and momentum to deliver strong results, despite the on-going challenges of the COVID-19 pandemic and its impact on our supply chain,"
Hooker Furniture Beat On The Top And Bottom Lines
Hooker Furniture has not quite recovered from the pandemic but it is well on its way. Part of the problem is the company's mix, it operates in four segments and one of those is senior/assisted living. That market had the bottom fall out before the pandemic due to overcapacity and that is something we shouldn't expect to change soon. Regardless, the $149.69 million in revenue is only down 5.4% from last year due to strength in all of the home-oriented segments. The analysts were only expecting $140 million so there is that to consider as well. On a sequential basis, revenue is up 15% and expected to grow in the coming quarters.
On a segment basis, the Hooker Meridian segment saw the worst decline at -14% YOY. This segment is focused on both home brands as well as mass-market brands for upscale hotels and residential facilities. The silver lining is that much of the decline can be attributed to inventory shortfalls/supply chain issues. While not good, the supply chains issues are getting fixed while order volume and backlogs continue to grow. The Other segment declined -9.4% while the Hooker Branded segment grew 8.2% and the Upholstery division 1.3%.
In terms of orders and backlogs, both are growing on a system-wide basis. On a consolidated basis, order growth is running in the range of 33% while backlogs are nearly 80% above last year's levels. On a segment basis, the Hooker Branded segment which is 100% home-focused has a backlog nearly 160% above last year's level.
Hooker Pays A Safe And Growing Dividend
The really good news for Hooker Furniture and something investors need to take note of, is that earnings are growing despite the decline in revenue. The company's GAAP EPS came in at $0.84 or $0.24 better than expected and up 154% from last year. Why you might ask? Because the home-focused brands are higher margin sales and the sales mix is incredibly favorable for the company. This has allowed them to pay off some debt, pay a nice dividend, and increase the cash position by 85% on a YTD basis. Some of that cash will be used to rebuild inventory but the rest is free for use.
Regarding the dividend, Hooker Furniture pays $0.72 annually for a yield near 2.20%. The company has been increasing for the last five years so there is precedent. The payout ratio is very low at 38% of consensus, about 32% the YTD results, and the balance sheet is a fortress. The company has ample cash, nearly no debt, and very high coverage for what debt there is.
The Technical Outlook: Rally On For Hooker Furniture
I think this chart says it all but I will recap briefly anyway. This stock is in a clear uptrend following a strong v-bottom recovery. The Q3 news was well received by the market and sparked a surge to new highs. The stock is now in the midst of a strong updraft/melt-up that could see another 33% of upside over the coming quarters.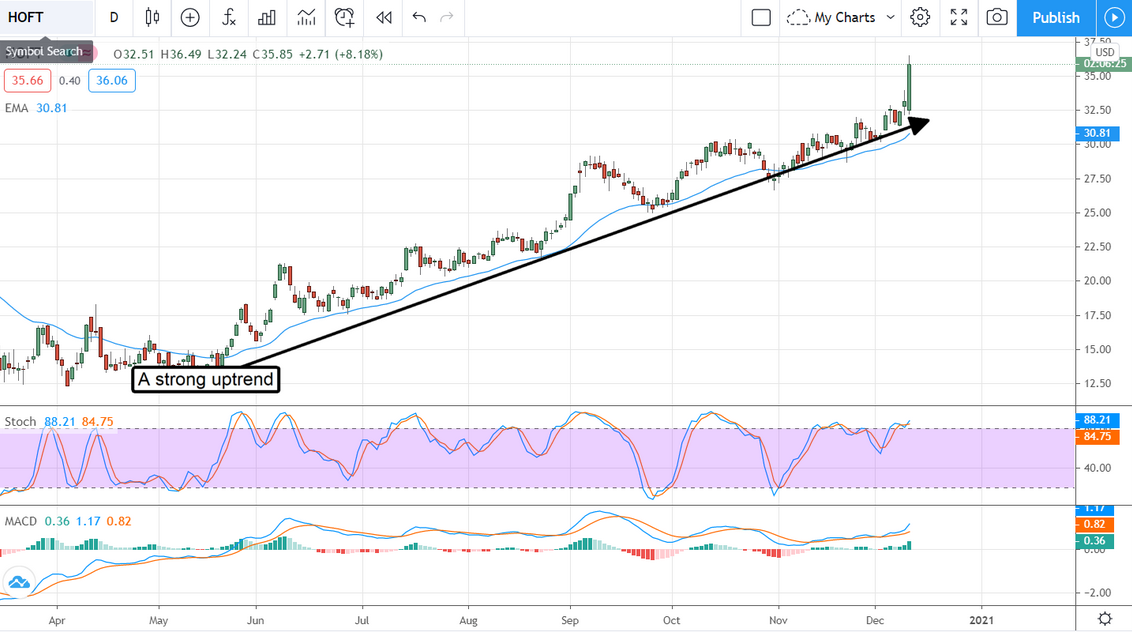 HOFT Stock Chart
Leave a comment