It's been a tough ride in 2021 for many growth companies that saw their share prices soar during the pandemic. One example: e-signature company DocuSign (NASDAQ:DOCU). Its stock has been trading in a range since it hit a record high in September.
The San Francisco-based application software business experienced explosive growth for its digital services as the shift to remote work and social distancing prompted companies to seek digital signatures and manage their contracts electronically.
These trends contributed to DocuSign being among Wall Street's biggest 2020 success stories, behind Zoom Video (NASDAQ:ZM), Tesla (NASDAQ:TSLA) and Moderna (NASDAQ:MRNA). Even with a drop of more than 20% from a record close of just under $269 per share set at the start of September, DocuSign stock is still 192% higher during the past year. Shares closed Wednesday at $213.34, up about 1% on the day.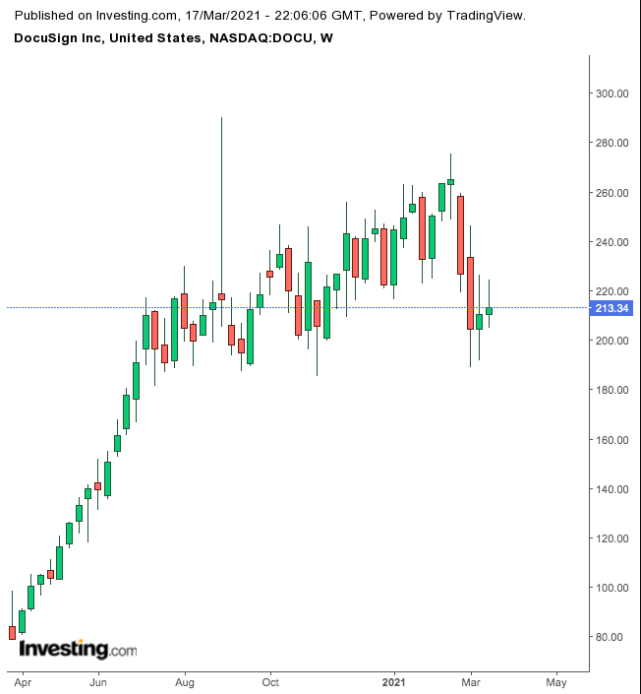 DocuSign Weekly Chart.
One dilemma for investors interested in these new technology stocks is whether they will be able to sustain their growth momentum once the pandemic is contained and businesses start operating normally. The nature of DocuSign products suggest that it has a lot of post-pandemic growth ahead.
DocuSign's success during the pandemic offers strong evidence that its products have a permanent place in an economy fast shifting to digital. The company offers individual e-signature plans starting at $10 per month up to enterprise-level packages for large companies.
$50-Billion Market
DocuSign tools enable companies to manage the end-to-end agreement process digitally, from initial drafts to executing the contract and managing it after signing. Its Agreement Cloud suite also allows clients to use its artificial intelligence capabilities to examine contracts to identify issues, assess risk and build smart purpose-built contracts from scratch.
According to the company's CEO Dan Springer, DocuSign is still in its early stage of growth in what he predicts is a $50-billion addressable market.
In a statement last week he said:
"Fiscal 2021 was a milestone year for DocuSign. We became a pillar of the 'anywhere economy' that lets people increasingly do anything in life and work from anywhere, In the process, we grew our business nearly 50%, reached almost $1.5 billion in revenues and achieved a record net retention rate of 123%. We believe this performance represents an acceleration of the ongoing trend towards the digital transformation of agreements."
DocuSign topped revenue and earnings expectations for its latest quarter, while delivering a better-than-expected outlook on those metrics. The company reported a fiscal fourth-quarter adjusted profit of $0.37 a share on March 11, up from $0.12 cents a share a year prior. Revenue for the quarter rose to $410 million from $258 million.
The company is pushing for growth, particularly overseas, where it currently derives just 21% of its revenue. Its sales from international clients jumped an impressive 83% year-over-year to $89 million in the fourth quarter.
Bottom Line
While it's not hard to see DocuSign continue to grow after the pandemic, its stock is unlikely to repeat the past year's performance. A big challenge for high-momentum stocks, like DocuSign, is that investors are avoiding companies that demand a significant valuation premium when interest rates are inching higher.
Perhaps that's the reason analysts don't see much upside this year in DocuSign stock, with their consensus price target remaining close to $280 a share. That said, DocuSign is a good stock to buy and hold in your high-growth portfolio.
Leave a comment